Article:
Apprenticeship Q&A Employers Should Read
Wednesday 01 August 2018
Newcomer guide: The University of Portsmouth answers employers' first questions about apprenticeships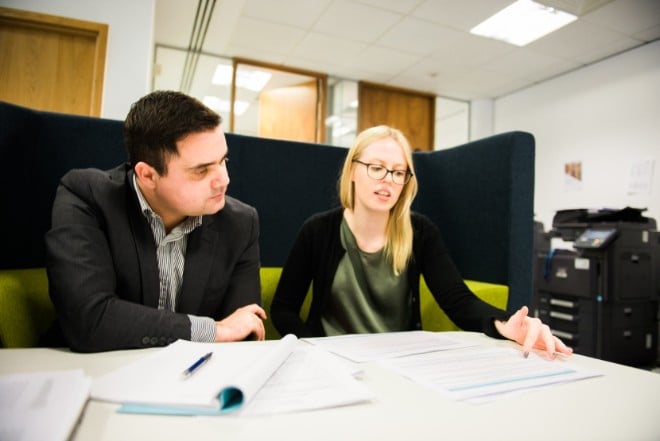 [sponsored feature]
Every business is alive with opportunity. Today's leaders are finding new and innovative ways to elevate their organisation above its competitors, surpassing current demands and anticipating future changes in industry. Degree apprenticeships offer a way for you to do the same – by filling skills gaps and attracting fresh talent – in an affordable, practical way.
What Are Degree Apprenticeships?
Degree apprenticeships are a three-way partnership between the Government, universities and employers, combining academic study for the student with practical, on-the-job experience with the employer. Students earn their Bachelor's or Master's degrees simultaneously, and study on professionally accredited courses that respond to industry needs.
What Can They Do For My Business?
Students on degree apprenticeship programmes at the University of Portsmouth spend most of their study week working with their employer, meaning you'll have access to skilled, motivated staff who are as eager to bring new ideas to the table as they are to learn. You'll develop a highly skilled, performance-driven workforce, while having unparallelled access to tomorrow's talent.
What Can My Business Do For Them?
As an employer of a degree apprenticeship student, you'll give them personal mentorship they wouldn't otherwise get, giving them the invaluable opportunity to build hands-on experience in industry while earning a degree. Many apprentices choose to stay at their organisation once they graduate, so this is your chance to invest both in someone's career, and the future of your company.
Who Pays For It?
If your organisation pays the Apprenticeship Levy, taking on an apprentice is an astute and resourceful way to spend it. If it doesn't, the Government will subsidise up to 90% of the overall costs, making it one of the most cost-effective ways to upskill your workforce available.
What Kinds Of Apprentices Can I Hire?
In addition to a range of existing programmes such as the Chartered Manager Degree Apprenticeship and a Senior Leader Degree Apprenticeship (MBA or MPA), the University of Portsmouth offers the chance to build a bespoke course, relevant to your company's needs and goals. Students on these courses will all be on their way to becoming Chartered and accredited professionals, capable of making a real impact on your business. You can even upskill existing members of staff using a degree apprenticeship programme.
Why Partner With The University Of Portsmouth?
Our strong relationships with business and industry are what set us apart. The University is involved with research programmes, innovation and knowledge transfer partnerships and a range of placement schemes. This means students are at the forefront of the latest industry changes – and have the skills, ambition and initiative to bring innovative ideas and new perspectives to your organisation.
What's more, degree apprenticeships could transform the way your business attracts and retains the brightest talents of the future.