Ground-breaking New Research From CMI Reveals How Much Giving Ownership to Employees Can Improve Business and Individual Performance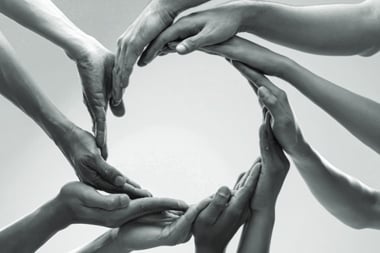 John Lewis; Arup; WL Gore and Associates. These companies regularly top the lists of the most successful and respected companies in their fields, but what is the secret behind their success?
One characteristic they all share is that they are all owned by their employees.
New research from the CMI, published today, reveals that employee-owned companies are more ethical, more motivated and more successful than traditional shareholder-owned companies.
The research found that 94% of employees agree that being employee-owned positively affects people's commitment to the organisation, and 90% said it helps improve overall business performance.
One of the reasons for this uptick in performance is the management culture at the majority of employee-owned firms.
Nine in 10 of those surveyed said their prevailing management style is "high-performing", "democratic", "visionary", "coaching" or "affiliative" – compared to just 59% in non-employee-owned organisations.
Employees who had a share of ownership in their company were also more than twice as likely to say that management was democratic, highlighting the success of such businesses in introducing effective management structures (see chart).

A Successful Experiment
"John Spedan Lewis described his famous retail company as an 'experiment' in employee ownership and called for others to set up their own," said Ann Francke, chief executive of the CMI. "This research shows the success of such experiments.
"Employee ownership goes hand in hand with more democratic management styles and the benefits are clear, with high levels of employee commitment, more caring ethical mindsets and a more long-term approach to business decisions. The economy would benefit from having more employee-owned companies and we can all learn from their example."
Staff at employee-owned businesses also scored higher on the ethic of care than a comparison sample of almost 52,000 employees from other sectors, and lower on the rule-driven ethic of obedience (see below). In other words, they care more and they feel confident to exercise their judgment, rather than just blindly following diktats from above.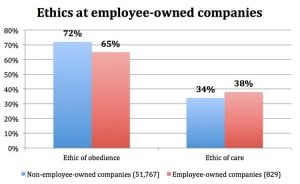 But aside from creating more ethical and motivated employees who buy into the business's purpose, what other benefits are there in becoming employee-owned?
Graeme Nuttall OBE, partner at law firm Fieldfisher and author of the Nuttall Review of Employee Ownership for the Government in 2012, believes that recently introduced tax breaks are making the business model more appealing for firms exploring new ownership structures.
"Becoming employee owned doesn't have to be complicated and it has become more attractive thanks to tax changes introduced in 2014," he said. "Existing research shows how employee ownership helps deliver better business performance and improved employee wellbeing.
"This ground-breaking CMI-MoralDNA research helps us understand why, through highlighting the positive impact of the democratic management styles typically found in employee owned companies."
The research was conducted by MoralDNA on behalf of the CMI, and features data from 829 employees across 14 employee-owned firms.
The interim paper can be downloaded now. Join the conversation on Twitter using @CMI_managers and #CMIethics plus #EODay2015 for Employee Ownership Day.