Strong leadership from the top and clear integrated initiatives for black, asian and minority ethnic employees is required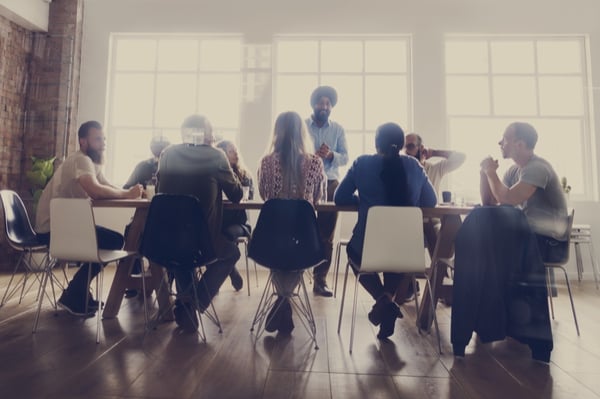 Surveying human resources and diversity and innovation (D&I) practitioners from 24 of the hundred biggest listed companies in the UK, the Delivering Diversity report from CMI and the British Academy of Management found that some employers are paying little attention to the lack of black, asian and minority ethnic (BAME) employees climbing the ranks of their organisation.
The research suggest that some firms are reluctant to invest to improve their ethnic diversity in decision-making jobs, potentially limiting their own business performance.
At management level, 54% of HR practitioners in the study reported that less than 5% of their senior management positions are filled by a someone from an ethnic minority. Furthermore, 83% report that this is also the case at boardroom level, showing a major deficiency in BAME leaders and decision-makers in the country's largest listed companies.
A boost for the bottom-line, an improved understanding of a diverse customer base, benefits to the business culture, and access to different perspectives are just a few reasons British businesses can significantly benefit from investing in ethnic diversity.
The study also revealed an admittance by many of the respondents that the level of support for BAME staff across all levels needs substantial improvement. None of the respondents to the study rated their company's record as very good for creating a diverse management pipeline for BAME people, with only a further 17% deeming their company's current performance on race as good. Nearly half of respondents (46%) rated it as average and two-fifths (38%) rated performance as fairly poor or very poor.
By comparison, 84% of HR and D&I personnel said gender diversity in the management pipeline at their organisation is very good or fairly good (21% and 63%, respectively), while no one surveyed felt gender diversity was either poor or fairly poor at their FTSE 100 workplace.
Lack of role models, data and commitment to BAME employees
In the past decade, FTSE 100 companies have made important strides in boosting the number of female employees in senior positions. The Government-backed Davies Review, launched in 2010, helped the FTSE 100 reach a milestone of 25% of board positions being filled by women in 2015.
Therefore, for many employers investing in diversity in their ranks isn't new, and researchers suggest that this experience can help bosses apply solutions to tackling the challenge of boosting the career prospects of their BAME talent.
CMI's Delivering Diversity report showed that a lack of BAME role models was ranked as the top challenge facing companies in promoting race and ethnic diversity, cited by 67%.
The use of strong role models to fix the gender imbalances at senior and board level management has been an important strategy in boosting female representation. In addition to acting as a good example to junior female staff that managerial progression is achievable, comparative studies have shown that, once in a role, women tend to promote more women to senior roles than men. These are the type of techniques that could be applied in promoting race and ethnic diversity in the management pipeline.
Additionally, the report has showed that the priority given to gender was the second most widely-cited challenge for improving ethnic diversity. The management time and resources have been dedicated to driving change on gender and some businesses may have become complacent that their efforts on gender means they have 'done' diversity, the report suggests.
Then there is the extra layer of complexity that comes with intersectionality. With BAME data often not viewed in the context of gender either, the report asks, how can HR departments develop appropriate solutions to satisfy the needs of both BAME men and women? Are their obstacles different?
The process of setting targets for the progression and representation of BAME staff in the junior, middle and senior ranks of a company is also an integral part of actively engaging staff and building successful strategies to improve the BAME pipeline.
However, this is being hampered by the lack of accessible data available, the CMI study revealed.
Some 83% of respondents reported their company needed better quality data to improve race and ethnic diversity. Although 79% of D&I and HR staff collect and hold some employee data, only 54% then monitor and track diversity.
Furthermore, only 21% report publicly on race and ethnicity and set progression and representation targets. This is incredibly poor, especially when considering 75% of employers set progression and representation targets for all divisions of their organisation for gender.
Keys to Good Bame Diversity Workplace Practices
The few companies that lead the way on building a sufficient management pipeline for BAME employees have done so through an integrated approach including strong involvement from senior bosses, the expansion of positive action programmes and unbiased recruitment processes.
Without the support of a company's leadership, there is little hope for genuine progress on other good practice elements, the research concluded. One respondent stated: "There does not seem to be a real effort to acknowledge this by non-BAME senior managers who are the biggest influencers of the management progression pipeline."
Secondly, employer outreach programmes are an increasingly valuable way for FTSE 100 firms to promote, build relationships and recruit more talented BAME personnel. Outreach recruitment strategies to hire more BAME managers were most common with applicants to entry level positions through outreach to schools and colleges (54%) and outreach to undergraduates/graduates (50%).
Other employers used their website to demonstrate their commitment to race and ethnic diversity (42%) and BAME role models in publicity (42%). Around a third (33%) set diversity requirements for recruitment agencies. During the process of interviewing applicants for management positions, 71% of firms provide diversity training for all interviewers. Each of these initiatives was rated as effective by 70% or more of those using the strategies, suggesting an opportunity to increase their use across business.
And the report shows that there are several clear areas of improvements.
A third of HR bosses said that they did not have specific strategies for recruiting BAME managers. Meanwhile, around six in 10 companies (58%) do not ensure that there is a diversity of race and ethnicity on recruitment panels.
Such investment could be essential in taking ethnic diversity in management to the next level, as unconscious biases can undermine the recruitment decision-making. Yet, only a quarter of the respondents also reported that they anonymised applications by race and ethnicity and gender, and 29% by age.
Cmi Race: Time to Make a Difference
In the wake of the research, CMI is developing a new network, CMI Race, to help managers across the UK deliver diversity.
The network will be chaired by Pavita Cooper, a CMI Companion who chaired the Delivering Diversity Research Advisory Board, and who is the founder of diversity and talent advisory firm More Difference.
"This research shows that even today, in modern multicultural Britain, many managers still feel deeply nervous talking about race and ethnic diversity at work," Cooper said. "Every manager in the UK should be able to talk about difference with their teams in an inclusive way, and we need to see far more leadership from senior business leaders on this issue.
"CMI's new network, CMI Race, will put diversity and inclusion at the heart of good management and drive real change in the years ahead."