Article:
The Changing Nature of Employee Benefits: Does Pay Really Motivate Your Team?
Wednesday 08 August 2018
The CMO of Perkbox Explains How to Motivate Your Team and Devise a Great Benefits Package.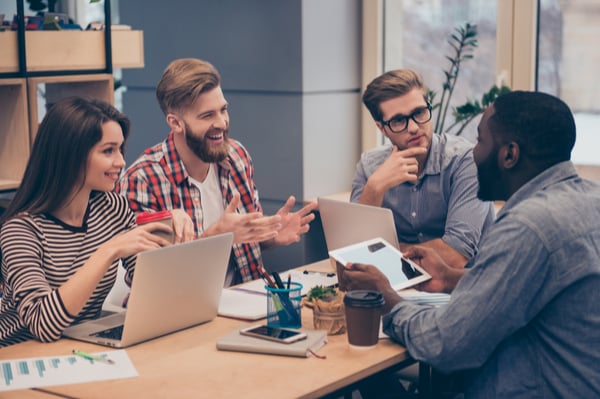 It seems common sense to think that higher pay produces better results.
Recent CMI research on falling executive pay and bonus payments led to fear that managers would struggle to boost productivity and performance in their teams.
However, evidence indicates that the link between compensation, motivation and performance is much more complex than that.
Research such as that by Tim Judge and colleagues, shows that the association between salary and job satisfaction is, in fact, very weak. Employees earning salaries in the top half of their data range report similar levels of satisfaction to those in the bottom-half.
The truth is, to effectively motivate staff and increase productivity, businesses need to employ a set of initiatives that promote a sense of meaning, and encourage employees to do great work. These initiatives should include – but go beyond – pay.
What enables us to tap into our employees' potential? How do we achieve this? Let's discuss.
The 'Why': Salary Can Only Go So Far
In an age where employees get bombarded on a regular basis with job offers from sources such as LinkedIn, Twitter and email, companies need more than just salaries to differentiate themselves from the competition.
When the demand for candidates is high and there is no urgency to change jobs, employees consider the entire benefits package that a company (current or potential) is offering, in order to evaluate their preferences. This means considering things such as the availability of some sort of mental wellbeing support, a fun culture, flexible working hours and many more.
With this in mind, how does one go about evaluating what benefits will have the most successful impact on their staff?
The 'What': Morale's Huge Role in Employee Productivity
Morale in the workplace plays a huge role in the success of any business. Low morale can cause unnecessary expenses such as employee turnover and a drop in productivity.
High morale, on the other hand, usually correlates with greater teamwork and shared vision, reduced absenteeism, esteem and satisfaction.
It therefore makes sense to choose company benefits that are likely to impact the morale of your staff positively. However, within reason.
It's key that you tie your benefits programme to the company culture and values that you want to encourage in your organisation.
For us at Perkbox for example, it's very important to make people feel at home. Employees are encouraged to bring their dogs to work and listen to music. The company's great culture is also down to its values – 'it's not a job,' for example, 'it's a family.' It's not uncommon for Perkboxers to be working alongside their best friend.
Ultimately, every successful business starts by having a 'culture that sticks', one that everyone in the organisation wants to belong to. Use perks and benefits as a way of highlighting this culture further so that it keeps everyone aligned.
This works well on a group level, but what about on an individual level? How can we go about motivating each and every one of our employees so that they feel truly happy?
The 'How': Trust Your People
On an individual level it's key to build relationships with your teams that are based on trust, commitment and engagement. They should be based on boundaries rather than rules. This helps organisational goals to be achieved with enthusiasm and efficiency. It comes down to giving employees options. It's not just about the benefits, but also about the delivery and execution of them.
For example, the value of perks such as flexible working, or 'working from home' days varies depending on the level of trust the company has for its employees. What's the point in allowing staff to work from home once a week when you're micromanaging them through communications channels such as Slack and Skype?
Benefits make a difference. To be motivated, employees need to feel comfortable being themselves and doing what works well for them within reason. This lets authenticity flourish and consequently great things happen – new product ideas, processes and campaigns.
Ultimately, the way your employees feel about their job and their workplace determines how motivated they are. While money is important, it's not everything.