Article:
Don't let graduate schemes fall behind in the wake of Covid-19
Monday 13 July 2020
Many Graduates are still uncertain about their future plans, despite having secured a Graduate Placement. What's going wrong?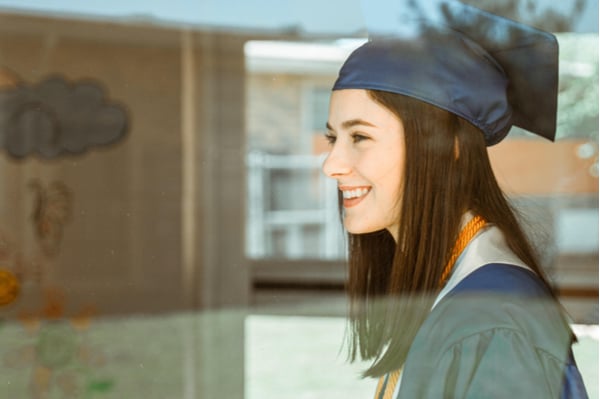 While many UK employers are gearing up to reopen their doors in July, there's a group of people still in the dark regarding their future employment.
Thousands of graduates have been accepted onto schemes starting in the second half of 2020, only to find that now, due to the ongoing uncertainty in the wake of Covid-19, their employment position is on shaky ground.
A number of organisations are going ahead with their graduate schemes as planned – such as the civil service which expects around 1,000 graduates; PwC which is expecting a 100% take-up of the scheme; and Aldi, who are "recruiting as normal".
At others, the graduate scheme may look a lot different. Deloitte has honoured its offers to graduates and apprentices but has delayed some of the start dates; according to The Tab, the BBC and HSBC are delaying their programmes; BAE systems "may have to reduce our numbers".
A poll by YouGov revealed seven in ten 18- to 24-year-olds worry that the coronavirus will harm the job market and cause higher unemployment for a long time. Graduate schemes offer valuable experience and a route into the job market – if these are damaged in the post-Covid ether, it could be a tough time for graduates competing in a tight labour market against those with many years under their belt.
One chemistry graduate from Birmingham University we spoke to said that the anti-climax of four years' work culminating in a series of cancelled farewell and congratulatory events was bad enough, but now she faces a new period of uncertainty. She's enlisted on a graduate scheme that is supposed to start in September in a different city. While she's been made aware from other graduates on the scheme that their starting dates have been pushed back, she is yet to receive personal clarification.
"It's understandable that the university was only relaying what little information they could," she says, "but now we're coming out of lockdown, it would be great if my employer could respond to the two emails I've sent asking when I'm meant to be starting. It is stressful and I don't feel supported." There are probably thousands of other graduates in the same boat.
There's an important message here about onboarding, even in these unprecedented times: don't forget that new employees need to be kept in the loop just as much as those who have been in the organisation for years. As Martina Ruiß, head of HR at Personio, says: "It might sound obvious, but communication is key. To help new recruits deal with these anxieties, it is important that HR managers contact them regularly and communicate openly about the current situation and how it is impacting their working conditions."
There may be good reasons for the lack of communication: graduates haven't yet started at the company, so may not be included on all-staff emails or meeting invites; employers may be prioritising the back-to-work guidance for employees who will be in the physical space sooner.
Martina says there are still ways to keep in contact. "Why not send a video that answers any questions they may have, and emphasises how much the team is looking forward to meeting them? Every effort will help the new hire feel welcomed and reassured before they start – and ensure they settle in quickly once they do."
Even in more normal times, organisations devote huge attention to recruitment but can then overlook onboarding. Even if not for new recruits, have you thought about how you'll welcome back employees who have been furloughed, or have been unable to work since lockdown began in March? In a webinar with CMI, Simon Blake stressed the importance of keeping these lines of communication open, and sharing information with these members of the team.
In an article for Training Journal (CMI members can view the whole article via ManagementDirect), the CEO of Skill Soft, Bill Donahue, suggests the following tips for onboarding new recruits:
Make onboarding accessible in all areas: "The onboarding experience should start as soon as a candidate has accepted the job offer, not on their first day at the office," writes Bill. "Pre-first day is the time to communicate essential corporate information, collect any necessary details and show the employee how pleased you are to have them working within the organisation."
Make it useful for both old and new staff: "Good onboarding will also benefit those in managerial roles. A sophisticated onboarding programme will offer managers real-time visibility into the strengths, weaknesses and knowledge gaps of their team members."
Make it instant and interactive: "The key thing is to reduce the onboarding window by integrating it into everyday work life. The new workforce is very receptive to this. It also helps the ongoing review process. People have different 'ramp up' times to full productivity - and the right tools can help organisations reduce overall onboarding time by breaking it up into bite-sized chunks, thus hiking productivity."
Make it engaging: "If the employee is not interested, they will not retain information. Here are a few key considerations to take in when choosing onboarding software: First, the interface used for the onboarding process should be enjoyable and easy to use (look for a Netflix-style interface that is easy to navigate and appealing to look at). Second, ensure that the content is clear and engaging, and that there are choices that suit different types of learners. Third, employees should be able to clearly see their progress."
If you're on the lookout for a new role, why not check out CMI's CV360 review tool? There are heaps of job-hunting tips and interview techniques available in our Career Development Centre.
You might also like these posts on this topic:
Don't miss out - get notified of new content
Sign-up to become a Friend of CMI to recieve our free newsletter for a regular round-up of our latest insight and guidance.
CMI members always see more. For the widest selection of content, including CPD tools and multimedia resources, check out how to get involved with CMI membership.