Article:
How the British Army defined leadership
Wednesday 24 July 2019
The fascinating story of the British Army's initiative to define and codify what it means by leadership – and what the resulting Centre for Army Leadership tells us about how we view leadership and management in 2019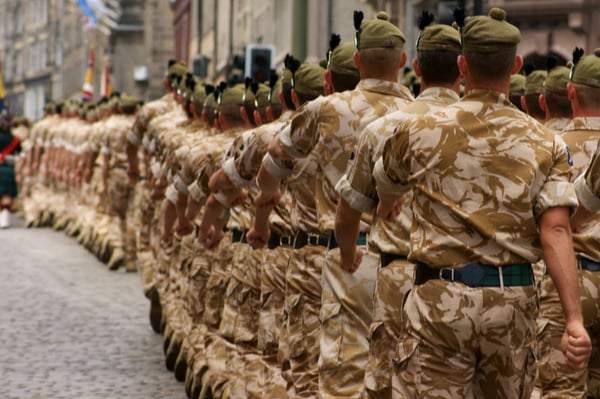 "There is nobody who cannot vastly improve his powers of leadership by a little thought and practice," said Britain's great military leader Field Marshal William Slim. He would be pleasantly surprised to learn that the Army he headed has taken him at his word – exercising that little bit of thought and practice is now being actively encouraged among sappers and surgeons, technicians and tank crew.
The words 'army' and 'leadership' may seem an obvious combination, but back in 2015 the British Army commissioned a leadership review. After prolonged and intense campaigns in Afghanistan and Iraq, it seemed the right time to reflect on mistakes and failures – and learn from them.
More pressingly, the Army needed to look hard at how it should adapt to future challenges. It wasn't short of them. Its operating environment was changing, uncertain and complex. As chief of the defence staff General Sir Nicholas Carter put it, in an era of cyberwarfare and fake news there were "no longer two clear and distinct states of 'peace' and 'war'". Soldiers had to cope with being back in barracks. Defence cuts meant that the Army was continuing to shrink. How did the diversity and inclusion agenda map with the Army's recruitment and retention strategies?
Whichever challenge was considered by the review, the answer always came back to leadership – and a fundamental insight emerged. Recalling Henry Kissinger's famous (if apocryphal) question – "Who do I call if I want to speak to Europe?" – the Army did not have an agreed definition of what it meant to be an Army leader. Nor did it have an individual point of contact, or specific place, for its leadership thinking. It was such a commonplace – the Army just 'did' leadership – that the concept had not been accorded that sort of focus. While everyone had a vested interest in leadership, there was no one individual to write the policy, nobody with ultimate responsibility for specifically developing leadership and no place in which the discussion could be had.
This insight led to two actions: the writing of the British Army's Leadership Doctrine and the establishment of the Centre for Army Leadership (CAL). The two dovetail: the doctrine codifies what the Army does, and the CAL institutionalises and underpins the doctrine.
The Leadership Doctrine
The Leadership Doctrine, which was published in 2016, is described as "a handrail" by Major General Paul Nanson, commandant of Sandhurst and British Army director of leadership, to guide actions and decisions. "It ensures coherence," he adds, "and is a common thread of Army leadership for all to follow."
It's a slim volume, not a weighty tome. It's also colourful, with plenty of photographs and anecdotes. The intention was to create something that was easy to learn from and that could be a catalyst for discussion among corporals and generals alike.
Responsibility for the strategy of the CAL lies with Nanson. The keeper of its intellectual flame is its director of research, Professor Lloyd Clark.
A military historian (he is also course director of modern war studies and contemporary military history at the University of Buckingham), Clark had long been intrigued by leadership, coaching and mentoring. He provided academic input into the crafting of the doctrine.
The CAL did not have a grand formal launch; Clark simply found a spare office in a building that was once the Army Staff College and stuck a piece of paper on the door. (Later, in January 2016, Carter, then chief of the general staff, 'cut the ribbon'.) The building may be in its grounds but the CAL is not actually part of the Royal Military Academy Sandhurst. "We are siblings," says Clark.
The Centre for Army Leadership
There are two distinct parts to the CAL's role. The first is the development of leadership in the British Army. "Leadership development has always been part of what we do, but it was in stovepipes," says Nanson. "What we are trying to do now is create a common pathway for leaders." So whether you are an infantryman or a logistics professional, and whatever specialist training you require, a golden thread of leadership will run through every course.
This year, the findings of a survey of 1,000 officers and soldiers about their leadership challenges and what they expect in the future will help to inform and shape the programme. Apart from intellectual consistency, the CAL is also there to ensure that everyone gets leadership development at the right time in their career. And that means everyone – this is not just an officer sport. "My ambition is for the CAL to improve leadership development for soldiers and to make sure they have the interventions in their career that do justice to their potential," says Clark. "As the Army is now smaller, we have to embrace change and put more power in the front line. There is an expectation among youngsters that they will be valued and given responsibility, and be listened to. They want it and the Army needs it, so let's empower them."
The second part of the CAL's role is an academic one. It feeds research-led material into the Army's leadership courses, draws in best practice, scopes the landscape of leadership, and generally creates a buzz about leadership across the Army.
Independent and professorial – "I don't wear uniform," says Clark – the CAL can also speak uncomfortable truths to senior officers. "We look at problems that might not be on their radar," he says.
"It's a powerful hub of expertise and the research is important to the Army as a whole," says Nanson. "One thing I don't think that the Army has necessarily done as well as it should have is to look forward and to anticipate future leadership challenges and to prepare our younger officers now." So the CAL is charged to reach out and talk to a host of external organisations about the challenges that the Army will face in ten to 20 years' time. With the CAL, the Army now has a place in which to explore, discuss and develop its thinking around difficult topics. Take artificial intelligence (AI) and robotics. The technologies are here now, but how will they affect the Army's appearance and capabilities in ten years' time? Will an infantry platoon be half robot and half human? What are the implications for leadership and command with autonomous weapon systems?
Is the ability to kill without human control beyond leadership? Where do leadership, command, authority and AI come together? And how well is the Army developing leaders for this role? Another case in point: the CAL's first ever research project has been about Anglo-French approaches to leadership. "The French approach is very different," says Clark, "and, if you are working in a joint HQ, you need to understand these different styles of leadership."
Measuring the impact of leadership
These are still early days. It's one thing to measure the number of organisations that have copies of the Leadership Doctrine. But that does not in itself improve leadership. What matters right now is whether discussion about leading by example, encouraging thinking and demanding high performance is capturing imaginations across the ranks. Nanson is encouraged by "a palpable sense that people want this and are excited by leadership". An active social media presence, vigorous online discussions and a growing group of leadership "activists" are all evidence of that.
So, too, is turn-out at events. "Traditionally, a speaker event at Sandhurst would have had 100 delegates," says Nanson. "Most of them would have been officers, and many would have been there because they were told to attend. We had 950 people come to our CAL conference [in October 2018] and half of the delegates were junior NCOs who wanted to join in the conversation. It's a good measurement of the effect of the CAL."
"Are we stimulating argument?" asks Clark. "Yes, we are. Are we undertaking research that is feeding into courses so that they are improved? Yes, as the courses are more up to date and we are getting better feedback from them." He also points to the publication of a growing number of papers, many of which have been written by junior NCOs.
Helping recruitment
Recruitment and retention is an important area that will benefit from this Army-wide focus on leadership development. It is also an area for which Nanson has recently taken responsibility, and it is going through dramatic changes. In the past year alone, women have been allowed to apply for all roles in the British military; residency-based restrictions on Commonwealth citizens have been dropped; and eye-catching recruitment advertisements are appealing to gamers, 'snowflakes' and millennials stuck in boring jobs.
"Our leadership offer for officers has always been very powerful," Nanson says. "They come to this amazing institution, Sandhurst, and we turn them into leaders. They leave with the Sandhurst stamp and go on to do amazing things."
However, he is "not entirely convinced" that the same offer is there for soldiers, but "it could be equally powerful. We need to map soldier leadership development to career and civilian accreditation so that, if and when a soldier chooses to leave the Army, their CV accurately translates their leadership achievements and learnings for prospective employers. If we get that right, people will want to join us for that journey."
Mutual learning
While its leadership model is unique in many respects, the Army can learn much about leadership from external organisations. And vice versa.
"The Army gets leadership very nearly right most of the time," says Clark. "British Army leadership is a good news story, but it can always be improved." The CAL can hold a mirror up to the Army and show it where it is ahead of, or behind, other organisations.
Nanson cites a two-day "mutual consultancy" with a major bank: much of the discussion centred on empowerment of staff. The Army is excellent at empowering junior commanders when deployed on operations using the philosophy of 'mission command'. But, during peacetime in barracks it sometimes struggles to empower its commanders to the same degree. Conversely, civilian organisations such as banks routinely empower relatively junior employees and allow them to take significant risk – often involving large sums of money. One could argue that some of the lessons of the 2008 financial crisis point to an inability of those same people to take risks in a sensible and ethical way when under significant external pressure.
A range of diverse institutions have engaged in this two-way consultancy with the Army. Nanson is keen to hear from CMI members about how the Army can translate its battle-space leadership capabilities into an asset that can be usefully deployed in their businesses. As an officer-training institution and the home of the British Army officer, Sandhurst has a powerful international reputation. The British Army remains highly regarded around the world for its training, professionalism and operational expertise. So it is not surprising that Nanson says he is looking at how its leadership development programme can be taken around the world, with the aim of having "something on the stocks" for export later this year.
Projecting the British Army as a place for diversity and innovative thought about leadership? Now that does give a new dimension to the concept of 'soft power'.
This article was originally published in Professional Manager, the official magazine for CMI members. Find out more about becoming a member...
You might also like these posts on this topic:
Don't miss out - get notified of new content
Sign-up to become a Friend of CMI to recieve our free newsletter for a regular round-up of our latest insight and guidance.
CMI members always see more. For the widest selection of content, including CPD tools and multimedia resources, check out how to get involved with CMI membership.