Organisational culture is under threat in this strange new, contact-free world. How do you preserve your special workplace spirit?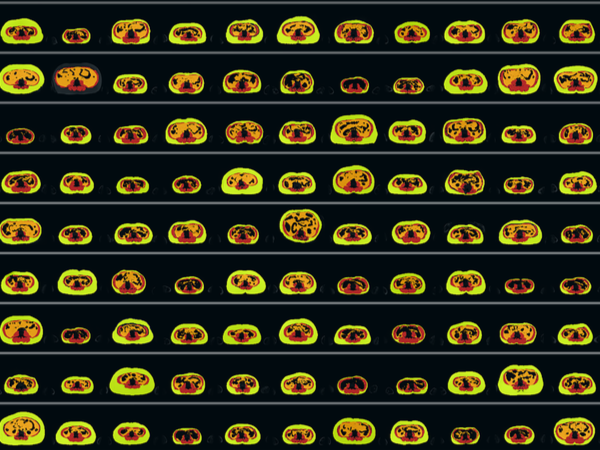 If you wanted to paint a picture of a knowledge-economy business, it'd look a lot like Perspectum. As a spin-out from the University of Oxford, this medtech company is tackling some of the world's biggest healthcare issues. Its 200+ employees have a total of 41 nationalities between them, and the gender split is 60:40 female to male. Almost a quarter of the team has a PhD; close to half have master's degrees.
Early in the first lockdown, one member of the Perspectum team – a young South Korean researcher – was facing a family issue. While she herself was doing fine, thousands of miles away, her parents were growing increasingly anxious about their daughter's wellbeing because she was unable to travel home. "She was isolated from her family – she could have been in prison for all they knew," recalls Dr Rajarshi Banerjee, Perspectum's CEO, who is known to all as 'Banjo'.
So Banerjee, a former hospital doctor, decided to FaceTime her family. "It was culturally very important to them that the company's CEO and senior management team were sponsoring her and to know that she was being very well looked after," he says. "It was the best thing we could do."
The story ended up on ITV News, and the clip provided a further comfort to the anxious parents. That moment has also become a cultural touchstone for Perspectum. "We are a caring organisation with a caring culture, and the first people you have to care about are your own people," says Banerjee. "If you're a healthcare company and you want to embed it into your culture that people give a damn, then it's important that people really do give a damn."
All over the world in 2020, as workforces have dispersed and the usual management and communications channels have been thrown into disarray, organisations have been grappling with the organizational culture question: how do you maintain and nurture the secret sauce that has got you so far? Banerjee is firmly of the belief that remote working doesn't mean an organisation has to lose its soul.
A quick rewind about his company: Perspectum specialises in groundbreaking high-tech diagnostic scans for chronic conditions such as liver disease (it's currently carrying out the world's largest study into the whole-body effects of 'long Covid. Put simply, Perspectum uses artificial intelligence to interpret MRI organ scans in new, better and faster ways. Its LiverScan technology can replace slow, invasive and uncomfortable liver biopsies with a straightforward, pain-free quicker MRI scan. It's the only such technology appearances at the office currently approved by the US regulator, the FDA.
Corporate culture is a crucial component of sustainable success in a market that spans health and technology, says Banerjee. "Healthcare and tech businesses are traditionally very different: healthcare has very tight regulatory processes but is not always very innovative. Tech is super innovative, but often not well regulated."
The right workplace culture for a hybrid like Perspectum combines the best of both worlds – the innovation of tech plus the regulation of health – and provides the company with a crucial competitive edge. As Banerjee observes, even the world's biggest companies struggle to blend innovation with regulation when dealing with people's health. "That's why it's difficult when companies like Apple and Google try to get into healthcare."
The ultimate test of corporate culture
The onset of COVID-19 presented an immediate test of organisations' cultural resilience. Millions of employees were packed off to work from home. Even when people started to head back to their workplaces, screens were – literally – put up to prevent normal human contact. The everyday interactions that instil and reinforce an organisation's culture were quickly lost.
MVF Global leads on its company culture. Headquartered in an edgy warehouse in north London, the customer generation business has featured in the Sunday Times Best Companies to Work For ranking every year since 2013, and this year made the top ten. "Culture is the glue that binds us together. It's an incredibly important part of everything we do," says chief operating officer Andrew Harkness. "We're a fast-paced, dynamic business and we need our people to invest in discretionary effort and bring their best to work every day."
The company has a high proportion of young first- and second-jobbers among its 450 employees, and before the pandemic hit MVF had forged a work-hard, play-hard culture and a high-energy, high-performance environment. Regular get-togethers and team-building sessions in and out of the office built towards the annual highlight for hitting targets: a trip to the legendary party island of Ibiza for a weekend of company-sponsored sun, fun, clubbing and sangria.
This sociable, collective culture was crucial when lockdown was imposed in the UK, says Harkness. It meant the team was together for a lightning-fast pivot to remote working at the start of lockdown. "We had our first Gold Command meeting on a Thursday, and by Friday we'd sent everybody home. It was our culture that gave us the confidence to make that move."
They've kept it going through the crisis, too. If the team can't go to Ibiza, bring Ibiza to the team. On regular Thursdays between 5pm and 6pm, one of the MVF Global wannabe party DJs – Harkness among them – performs an Ibiza livestream set for colleagues, online. "We hosted at least ten of them over the summer," Harkness says. "It really helped people bond and deliver outstanding results."
Strategies for going beyond the new normal
As the marathon crisis continues, and the "new normal" becomes the "normal normal", leaders and managers will have to find ways to maintain their culture. This will be hard, says Bruce Daisley, former European VP at Twitter, self-described workplace culture enthusiast and bestselling author of Eat Sleep Work Repeat and The Joy of Work.
"At the start [of the pandemic] we all naturally went into a heightened productivity mode – that's what happens when circumstances change, because we're paying more attention. But there's a big difference between finishing work and it's still bright and sunny outside, and finishing work when it's dark and you're worried because the heating's been on all day. I think the 'Keep calm and carry on' spirit of the spring will be increasingly difficult to access."
So where should leaders and managers be focusing as they try to keep their organizational culture alive over the long term? It could help to focus on these areas:
Culture is indefinable
First, it's important to recognise that culture isn't always the product of deliberate thought. "Quite often, culture was a plate of sandwiches and a room full of laughing people," says Bruce Daisley. "We didn't necessarily know how we did it, but we knew it when we saw it." An issue with translating real-world culture into this contact-free environment is that what worked before was often serendipitous, poorly understood and hard to replicate. Leaders should bear this in mind as the novelty of working from home starts to wear thin.
Onboarding
It's hard enough with those who have already been exposed to your culture, but starting from scratch with contact-free new staffers will be even harder. MVF has continued to hire during the pandemic – and the learning curve has been steep, says Harkness. "The onboarding experience is really important," he says. "We put a lot of energy and attention into making it as good as possible." Instead of sitting next to their 'buddy' in the office, new joiners have a permanently open Zoom session with them instead, where they can ask all the questions that everyone needs to ask in the early days of a new role. And there are virtual 'Meet the directors' sessions to introduce new team members and company leaders. "It's an opportunity to find some common interests and learn a little more about each other," he says.
Training
This is another milestone when you're embedding culture. MVF has taken its training programme for new staff members, called Start Smart, fully online. "It's a two-week intensive programme that every new MVFer goes through," Harkness says. Sessions are now streamed live online, but also recorded so that they can be consumed later. It's available online so even old hands can dip in for a refresher. "It's become a really valuable resource for everyone," he adds. One recent contact-free joiner described the whole process as the best onboarding experience she'd ever had, Harkness explains.
Accessible leadership
In turbulent times, a little empathy goes a long way, especially online. At Perspectum, the leadership team has found that sharing more than just their professional selves with colleagues has helped to break down barriers and build virtual togetherness. One big hit has been the weekly 'Dear diary' blog, written by different senior managers, in which they share not only their work thoughts but also the trials and tribulations of everyday life. "It's personal – not just about who you've spoken to at work and what you've done, but maybe about the fact that you're thinking home-schooling sucks, or that you're fed up because the dog has eaten all the toilet roll. It encourages people to be real with each other and gives them permission to say, 'Be nice to me, I'm having a bad day' when they need to," says head of HR Aimee Lockley.
Cross-functional communication
Perspectum holds two company meetings per week, with a rota that gives each department a chance to update the rest of the company on what they've been doing. The aim is to keep everyone engaged.
Morale
Keeping spirits up is as important as managing performance. "Teams perform best when they go from 'I' to 'we', and that requires intentional acts of community-building and leaders who create experiences for others," says Bruce Daisley.
Build on existing communities
Daisley says that, chances are, somewhere in your organisation, communities are already forming – be they team chats, specific interest groups or even former pub-goers who have replaced Friday drinks with Friday Zoom drinks. As a leader, your job is not to try and come up with your own 'better' ideas but to find the ones that are working already and build on them. "Ask the team, canvass their opinion," he advises. "Take something the company is already doing, really lean into it and celebrate it. The great thing about doing that is that it feels organic and fosters the sense that we are part of something bigger than ourselves." At Perspectum, they have Zoom rooms themed around shared non-work interests such as sports and hobbies, all with the aim of replicating the kind of informal conversation that would normally take place
This article was originally published in CMI's magazine, an exclusive member benefit. (Have you logged in and read your edition yet?)
Find out more about other benefits of CMI membership here.
CMI members can discover many more resources around organizational culture in CMI's ManagementDirect. Checklist 262, for example,  explores ways to analyse, develop and implement values as part of an overall organisational strategy.
You might also like these posts on this topic:
Don't miss out - get notified of new content
Sign-up to become a Friend of CMI to recieve our free newsletter for a regular round-up of our latest insight and guidance.
CMI members always see more. For the widest selection of content, including CPD tools and multimedia resources, check out how to get involved with CMI membership.