Article:
How to manage a 'hybrid' workforce
Tuesday 22 September 2020
Some people are working from home; some are in the office; many are doing both. It's a potential management nightmare, but there are new rules emerging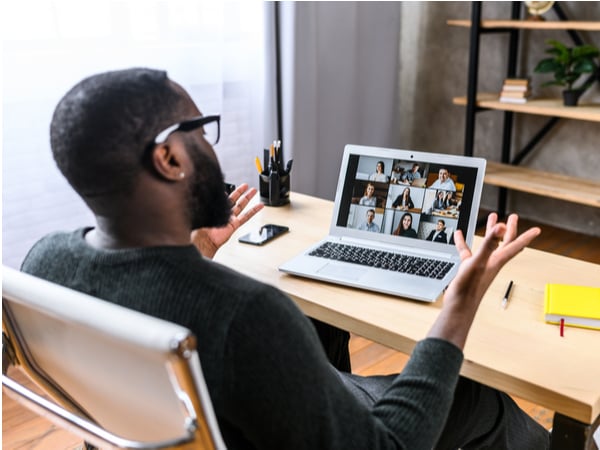 Aryana Neo is working at her office one day a week – the rest of the time is split between home working and furlough. She works as a business engagement manager for Go! Southampton, and also produces a show on BBC Radio Solent. It's been a massive change, even from the beginning of lockdown.
"It has definitely been an adjustment," she says. "But I do also find there are benefits of working from home: there's a little bit less stress and you get a lot more work done."
This isn't the case for everyone Aryana knows; for some, homeworking has had a detrimental effect on their mental health. But for the most part, having the balance between home and office working has been beneficial. "It's good for more family time. You spend more time on your personal relationships as well as your professional ones. So I think people could have more of a balanced lifestyle," she says.
As businesses look to get employees back into the office, it's important that they don't just 'restore factory settings'. A recent report by several universities on behalf of the fintech company Soldo found that an 'agile' approach to workforce management – with team members splitting their time between work and home – was a better way to ensure a happy and productive workforce.
The report reveals five crucial areas that managers need to look at when redesigning how they run their teams:
1.    Structuring the team for agility
2.    Transforming key employees into leaders
3.    Being aware of duty of care responsibilities for their team's physical and mental health
4.    Distributing company money efficiently to empower autonomy
5.    Leveraging technology to facilitate new levels of productivity
Richard Michie runs his own marketing business, the Marketing Optimist, and has worked and consulted with his team throughout lockdown. He spoke to each of them about what they felt comfortable with before reopening the office around six weeks ago. Between them, they worked out the circumstances in which it would be vital to actually be in the office. "We meet for creative collaboration around certain pieces of work, or more structured team meetings around critical areas of the business – but team events like that are only really organised when it's vital," Michie says.
When it comes down to it, there's no easy single model that will immediately offer the right balance between remote and office-based working. Most of the time, any new 'contract' will rely on managers being highly attuned to the different needs of their people; and then implementing robust new operational plans that meet employee needs and those of the business. All organisations, large and small, are grappling with the issue. What many are trying to avoid is a flexible working free-for-all.
But you can put the foundations in place in a way that will give your organisation the best chance of getting to the right answer. Building on the insights of managers interviewed for this article, we reckon these three are crucial:
1. Build a sense of psychological safety
The first step in creating any new, agile working set-up is to ensure that the office environment is safe and that employees feel psychologically safe in returning to work. Michie, for example, even checked transport links for each member of his team to ensure that they had a safe route into the office.
"There's obviously still a lot of COVID nervousness around," says Michie. "I'm not forcing people to come in if they don't want to. We're still facilitating lots of calls via Zoom to ensure that people are happy. My first priority is their safety."
2. Devolve responsibility to line managers
The Soldo report recommends that more autonomy is given to line managers to ensure that everyone is well managed and connected. Giving certain employees more responsibility, from leading the morning meeting to full responsibility for team performance, frees up senior management to focus on the wider business strategy.
"It might make sense to have one person lead one stage of the project lifecycle, due to their expertise or location," says Dr Petros Chamakiotis, associate professor of management at ESCP Business School, Madrid, and associate fellow at Digit Research Centre, who worked on the report. "They might then hand over to somebody else who manages the following stage and so on." He calls this "a shared leadership model".
"Our research tells us that remote working seems to create a greater degree of complexity and responsibility per employee. It's too much of a workload for one person to lead at a distance. It's better to have more leaders with specialist skills."
3. Set clear expectations about good performance
The Soldo report highlights research from businesses in China which showed that, while productivity fell as people adjusted to remote working, it increased once that period was over. To get that high output, managers need to give employees the autonomy and ability to manage their own time.
This comes from setting clear expectations around what acceptable performance looks like. "Managers must specify what good performance looks like, for both teams and individuals. They should set clear expectations: what delivery can we expect, what quality can we achieve?" says report collaborator Kishore Sengupta, reader in operations management, Judge Business School, University of Cambridge.
The Objectives and Key Results (OKR) model is an effective way to set expectations and targets at a team and an individual level. Objectives set out what needs to be done, while key results measure how those objectives can be met. (Here's a great Insights article about OKRs.)
Be excessively clear about what is expected. Line managers should keep in regular personal touch with all of their team members. Make sure that everyone on the team is heard and watch for signs that individuals might need feedback. Keep email use to a minimum – sometimes employees will compensate for a lack of office presence by over-communicating via email. Keep meetings to a tight schedule, or these can also become a time drain – make sure everyone sticks to the point.
Check out our Leading Through Uncertainty hub for all of our crisis-related content, with management tips, case studies, and more. 
You can see the exclusive benefits of CMI membership here.
You might also like these posts on this topic:
Don't miss out - get notified of new content
Sign-up to become a Friend of CMI to recieve our free newsletter for a regular round-up of our latest insight and guidance.
CMI members always see more. For the widest selection of content, including CPD tools and multimedia resources, check out how to get involved with CMI membership.