Article:
How to Manage Out-of-office Workers
Wednesday 30 September 2015
Flexible working patterns have been on the rise but what is the best way to manage people who are rarely in the office?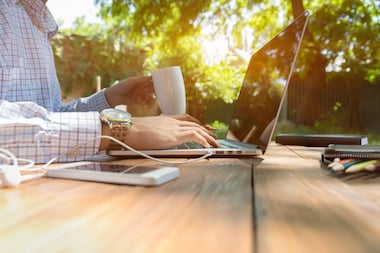 The easy access and wide availability of technology has made working away from the office easier than ever. Allowing workers to break away from the challenges of a regular nine-to-five, businesses also benefit through lower office costs and access to a team of skilled independent workers. Some bosses, such as Frank Van Massenhove of the Public Service Social Security in Belgium, even propose that allowing employees to work the hours they want, and in a location suitable for them, leads to higher productivity rates.
Around 45% of UK workers are currently based outside of their main office for more than half the working week, and while some workers thrive on the flexibility and autonomy of their work, spending the bulk of their time alone isn't for everyone. This means managers need to make sure they are taking all the necessary steps to ensure home workers remain happy and productive.
For even more tips on managing remote workers sign-up for the CMI's latest webinar
A new survey conducted by global workplace provider Regus found that more than one third of home-based workers suffer from loneliness. One of the biggest challenges of working remotely is the lack of social contact with managers and colleagues. Based on a survey of more than 4,000 senior business professionals across the UK, almost two thirds (65%) of home-based employees admitted they miss socialising with their work colleagues.
And with the rise of flexible working set to continue to rise over the coming years, here are three tips for ensuring a productive and motivated workforce regardless of their working environment.
Communicate Regularly
Make sure remote workers feel that they can reach out to managers and colleagues at any point during the working day. Also, use a variety of online communities and social networking facilities to talk to each other daily, whether it be about work or just a friendly chat.
Define Team Goals and Objectives
Making clear to remote workers the team's goals and informing them of the progress that is being made is a valuable way of involving the employee in the organisation. Outlining how the individual's work plays a role in the business's objectives allows workers to understand their position and what their contribution is, improving engagement and providing a boost to motivation.
Provide Regular Feedback and Work Recognition
As face-to-face discussions are likely to be limited, managers should encourage their home workers by using standardised performance metrics and evaluation criteria to provide feedback on their work. By awarding virtual badges or rewards for employee achievements, bosses can show their staff that they're really recognising their efforts.