Article:
"It's hard to be what you can't see": Making female leaders more visible
Written by Ann Francke OBE
Wednesday 10 March 2021
Women leaders are hungry for inspiration and want to learn how to navigate the uneven professional playing field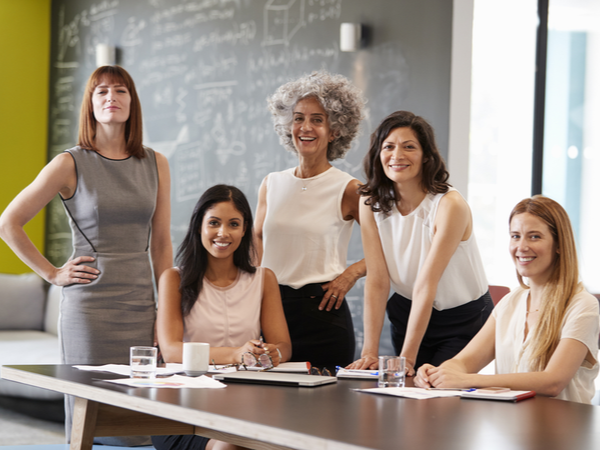 My guest on the latest Better Managers Briefing webinar was serial entrepreneur Edwina Dunn OBE, co-founder of data management firm Dunnhumby, chief executive of consumer insights company Star Count and co-founder of educational non-profit The Female Lead, which seeks to increase the visibility of women's success stories in all walks of life and offer girls a wider selection of role models than those represented in popular culture.
With more than three million followers on social media, The Female Lead has quickly become one of the most successful sites for women in the world. They've recently released an absorbing piece of research, too – Women at Work: Breaking Free of the Unentitled Mindset.
For International Women's Day 2021, I asked Edwina to share how she is helping others hear the stories of real and inspiring women, shaping the world around them today ­– while highlighting systemic issues that urgently need addressing.
Increasing the visibility of female leaders
When Edwina and husband Clive Humby sold their final stake in Dunnhumby to Tesco in 2011, she asked herself what she'd learned during her time building the business. "I had spent most of that time in a world that was completely male-dominated," she recalls. "When I walked into a boardroom, I found it was just men who were running the biggest retailers in the world. They were charming and clever men, but among them, I was a lone female voice.
"It made me realise that it's very hard to be what you can't see. That was my inspiration for The Female Lead project: to inspire girls with fantastic stories of women who are amazing and diverse and interesting."
At first, Edwina says she thought the project might lead to a book, possibly some short films. But then she discovered there was demand for teaching materials and that to engage teens, the Female Lead needed a significant presence on social media. "We want to be an honest channel for women's stories and voices, showcasing what women think, believe in and want," she says. "And we want to be wherever that's happening, whether it's LinkedIn or Tik Tok or Instagram. I also want to curate good, relevant content for women and soon we'll be launching a simple but effective recommendation or suggestion engine to provide the right content to build your skills, work on your strengths and weaknesses, whatever you want to do."
Daring to be different
Women take a different approach to leadership, says Edwina. "What I loved about Oprah Winfrey when I met her was that she was the same behind the screen as she was when she stepped out on the stage," she recounts. "Oprah explained that the reason she is so successful – and rich – is because she has been underestimated at every point in her life and career. So many people had told her, 'you won't do that, you won't make it, you won't get the audience that you want'. So, she made people write it into the contracts that if she did manage to do it, she would earn half of all the income. She used other people's lack of belief to her advantage.
"In successful women leaders, I see passion, ambition, a strong sense of, 'I have to do this, I believe in it even when no-one else does'. Women leaders dare to be different, willing to put their heads above the parapet. I see women leaders staying curious, continuing to learn, being humble enough to say, I don't know, but I'm going to ask for help. The more people you ask, the more you learn, the cleverer you become. These are the traits of fantastically successful leaders."
Shattering the myths
In its latest research, The Female Lead commissioned expert psychologist Dr Terri Apter to study how and why women make career-shaping decisions, with particular focus on mid-stage careers, where female progression typically plateaus while male progression continues to ascend. The study, based on 70 confidential, in-depth interviews with women (and four men) at mid-stage careers uncovered myths and outdated assumptions about who women are and what they want. Those myths included:
Myth 1. Women resist the term 'ambitious' and suffer inner conflict about being career focused. "Wrong. They do. And they're very comfortable with it," says Edwina.
Myth 2. Motherhood trumps all else and shifts career and professional identity to a backseat. "Wrong. It's just as strong when a woman becomes a mother, just as important."
Myth 3. Women are uncomfortable earning more than their partners and place less value on their earning power. "Wrong again," says Edwina. "Women don't mind at all, because it represents freedom and control."
Myth 4. Imposter syndrome is a significant inhibitor to job performance and drive. "Wrong. It makes you work harder, cleverer and makes you more ambitious."
Myth 5. Female workers (particularly mothers) are more averse to embracing new challenges and risks. "Not true either. Women are careful and they pick their risks. That gives them more advantage, more control," says Edwina.
Breaking free of the "unentitled mindset"
The research also highlights persistent problems that need to be tackled. "Women have inherited a legacy that tells them they're very lucky to have reached a senior position, lucky that they're allowed to take maternity leave, lucky they're allowed to leave at five o'clock at the end of the day," explains Edwina. "And because they're lucky, they shouldn't ask for promotion or a pay rise, because they get other benefits. Flexible benefits have become almost the alternative offer to women who really ought to be saying I'm good, I'm great at my job, pay me more, promote me. And we need to ask men to help women release themselves from this mindset, because it's not just men who think this, it's women who think it, too."
The mental load on women also needs to be discussed more, argues Edwina. "That mental load isn't just doing the work at home and doing the work for the office," she says. "It's the fact that the woman owns all the complexities of childcare, organising the food in the house, when the house gets cleaned, and so on. Let's build jobs around the kind of flexibility that women need. Let's design jobs that excite women, adapt to women where we actually ask women not based on myths, but reality."
To read more, check out The Female Lead research.
You might also like these posts on this topic:
Don't miss out - get notified of new content
Sign-up to become a Friend of CMI to recieve our free newsletter for a regular round-up of our latest insight and guidance.
CMI members always see more. For the widest selection of content, including CPD tools and multimedia resources, check out how to get involved with CMI membership.