We now know what a real crisis looks like. Now's the time for managers to prepare for the next one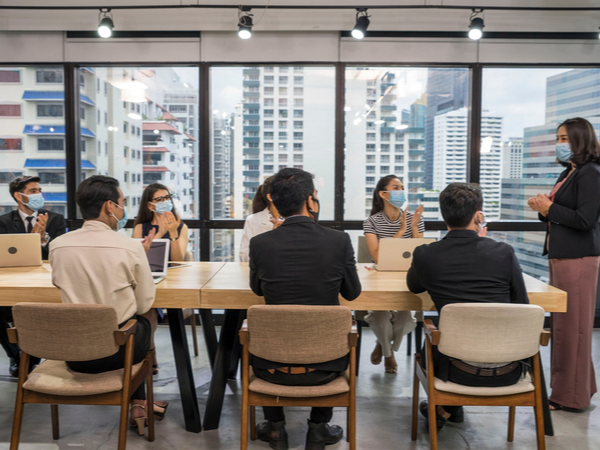 Some managers would prefer not to think about the possibility of a crisis. They'd rather try to persuade themselves that "it won't happen to us." But the Covid-19 pandemic has driven home that a crisis can affect any organisation, large or small, and the impact can be devastating.
The word 'crisis' has long been misused or trivialised: to dramatise the shortage of a popular consumer product; or to describe the panic when the keynote speaker for your conference fails to turn up; or when an over-enthusiastic critic writes a damaging story which goes viral. The global pandemic has changed that.
With more than four million people dead, hundreds of millions infected, and tens of millions out of work, managers should be under no illusion that a real organisational crisis is about life and death and corporate survival, not merely a transient inconvenience or difficulty.
Organisations that had never before experienced a crisis suddenly lost much of their business; were forced to shut down; could no longer access vital markets or raw materials; or had to lay off some or all of their staff. Sadly, many businesses won't survive lockdown, or won't reopen when the pandemic eventually ends.
As a result of Covid-19, every organisation should now have a much clearer understanding of the potential devastation of a real crisis. But that's not enough.
The reality is while senior managers and leaders may be expert at running an organisation, very few have built their career on handling crises – and it's an experience most would rather avoid. Yet a crisis or major public issue can be one of the most challenging and important moments in the life of a professional manager.
The tactical basics of crisis response are well known and not particularly difficult – setting up a crisis management team; developing a manual and protocols; identifying and training spokespersons; and staging an occasional simulation exercise.
The real test for managers is making executive decisions swiftly under the extreme pressure of a genuine crisis. By definition, a crisis is a low-probability yet high-impact event likely to cause serious damage to reputation, or to inhibit the ability to do business. It's typically characterised by ambiguity of cause and effect, overlaid by risk and uncertainty. Most importantly, there is usually no obvious and easy resolution, which in turn calls for making the right decisions.
Crises highlight the importance of critical decisions, all of which could be subject to intense legal, regulatory or public scrutiny. With this in mind, it's very natural – and good practice – for a manager to seek expert advice.
A communication crisis within a crisis
Two of the key inputs into decision-making in a crisis are: legal advice, to protect against the risk of prosecution or litigation; and communication advice, to protect reputation and engage stakeholders.
It's well recognised that the greatest danger of a crisis is less about what happened and more about the perception of how well, or how badly, the organisation responded. And such response often demands the need to balance conflicting legal and communication advice.
At the simplest level, disagreement may come down to this:
The communicator says, "Tell it all and tell it now"
The lawyer says, "Let's wait until we have the full facts; you can't get into trouble for what you don't say".
Senior managers then need to decide.
Communicators, by the nature of their profession, are typically free with their opinions about what to say and why.
To understand better what lawyers think their role is in a crisis, and to help me develop practical guidelines for executives caught in the middle, I undertook an original international survey. In partnership with reputation management consultancy SenateSHJ and its PROI overseas network, we interviewed experienced crisis lawyers in England, Canada, the US, Australia and New Zealand. The full details are reported as a chapter in my new book Crisis Counsel: Navigating Legal and Communication Conflict (Rothstein Publishing, 2020).
When asked which areas are particularly prone to conflict, the lawyers interviewed nominated apologising, as well as public statements and disclosure. (Litigation was identified as a further area prone to conflict.) Specifically, they think communicators' tendency to communicate openly and transparently means they risk disclosing information that may lead to liability or future litigation. The lawyers were also concerned about the lack of legal awareness among communication professionals.
Another perceived area of potential conflict was balancing speed and accuracy. Almost every lawyer emphasised what they saw as the need for certainty before communicating, yet communicators know that decisions in a crisis must be made quickly based on what is known at the time (which is typically incomplete).
Being calm in a storm
When the lawyers were asked to nominate the main strength they bring to a crisis, the most common response was an ability to be calm and predictable, not their legal expertise.
At the same time, when asked to identify what communicators bring to a crisis, the lawyers' focus was not on tactical skills, though they broadly recognised the communicators' ability to develop succinct messages. Instead, they nominated the communicators' understanding of stakeholders. As one lawyer commented: "They understand the imperfections of human nature better than lawyers. They understand the gladiatorial nature of media better than lawyers."
Despite these differences, a striking theme was recognition that both "sides" need to develop a better appreciation of each other's roles.
Overall, the sense was that improved understanding will lead to greater mutual respect for what lawyers and communicators can each contribute when a crisis strikes. Several lawyers in the research stressed the importance of what they called a "hand-in-glove" approach. That was the key, they said, to achieve the best possible overall outcome for the organisation.
In just about every crisis, we don't know what advice was or wasn't given. Whether good advice was provided and ignored, or if bad advice was accepted. Whether the executive took the advice of lawyers or communicators – or no-one at all. However, there are rare occasions where the tension between legal and communication advice becomes public, which can provide valuable insight for other managers.
Case study: Alton Towers
Take for example Nick Varney, CEO of Merlin Entertainment, owners of Alton Towers theme park in Staffordshire, England, where a disaster struck in June 2015.
One of the carriages on the 14-loop "Smiler" ride crashed into a stalled empty carriage, injuring 16 people, including two teenage girls who each needed a leg amputation.
Stepping up to do the right thing when the facts were still unclear, Varney immediately went to the scene and took the lead in all communication as the spokesperson, stating without hesitation on the day that the company took full responsibility.
After the company was later fined £5mn for health and safety breaches, Varney said: "From the beginning the company has accepted full responsibility for the terrible accident at Alton Towers and has made sincere and heartfelt apologies to those who were injured. In accepting responsibility and liability very early on we have tried to make the healing and compensation process as trouble-free as possible for all of those involved." In fact, Merlin even paid for the families' injury lawyers.
You might question the legal implications of such an early admission of liability. But when it was all over, the company's corporate affairs director, James Crampton told the BBC they never underestimated the severity of the incident and chose not to have a long consultation with lawyers and other advisors. "Our immediate response and subsequent actions were driven by a desire to do what we believed was the right thing by all those affected by the accident," he said. "We didn't try to hide behind lawyers."
Case Study: Thomas Cook
Another high-profile example involved the tragic case of two young children on a Thomas Cook holiday dying of carbon monoxide poisoning in a cottage on the Greek island of Corfu. The gas leaked from a faulty boiler that had not been correctly repaired.
For nine long years Thomas Cook argued that, while the holiday was booked through them, the fault lay with the Corfu hotel, and that the travel company "had nothing to apologise for." This was the line continued by the company's newly appointed CEO Peter Fankhauser at the inquest into the deaths, in 2015. The coroner concluded that Thomas Cook had breached its duty of care.
Soon after, Fankhauser met with the children's parents and offered a sincere and heartfelt apology. He later admitted he should have done so the moment he walked in as chief executive.
"I was confronted with a situation that had gone on for nine years and was dragging and dragging," he said. "Even though I was new to the job, I somehow got stuck in this legacy. I got caught in this corporate behaviour. I listened too much to lawyers."
I do not for a moment recommend that managers carelessly ignore what the lawyers have to say in a crisis. That may well increase risk rather than reducing it, although sometimes it can be the right thing to do.
Reviewing crisis preparedness
Returning to the Covid-19 crisis, even as the pandemic rages, responsible managers should be reviewing their crisis preparedness and asking whether they did the right thing.
Organisations with an established crisis plan should be keenly reassessing its effectiveness considering what happened. How crisis-prepared were we? Was our business continuity strategy anywhere near sufficient? How well did we protect our employees? Did we address legal as well as communication needs? What do we need to update?
Meanwhile, organisations with no crisis plan have – hopefully – at last recognised that it is not an optional extra for effective management. We know from research that after the attacks on New York's World Trade Center on September 11, 2001, there was a distinct spike in the number of organisations reporting they had a crisis plan in place. Regrettably, we also know from research only a year later, that this number started to fall back as complacency returned.
Covid-19 has brought about some real changes to crisis management, and managers need to make sure the benefits of those changes are not squandered once the pandemic passes. Now truly is the time to be looking forward and getting properly prepared for the next crisis.
You might also like these posts on this topic:
Don't miss out - get notified of new content
Sign-up to become a Friend of CMI to recieve our free newsletter for a regular round-up of our latest insight and guidance.
CMI members always see more. For the widest selection of content, including CPD tools and multimedia resources, check out how to get involved with CMI membership.