Anxiety, stress and isolation are natural responses to situations such as the COVID-19 pandemic. We spoke to the UK's workplace mental health leader for advice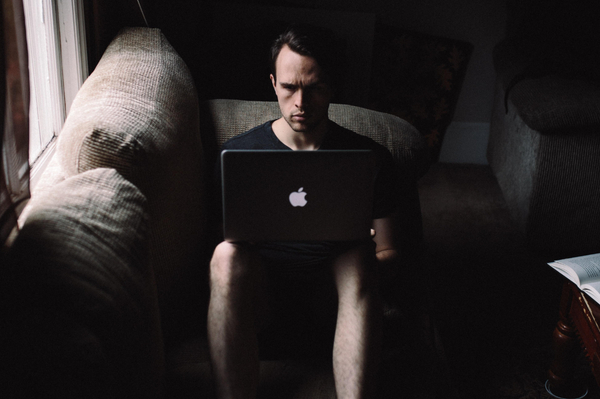 COVID-19 is certainly "focusing all of our minds," writes Simon Blake, chief executive at Mental Health First Aid (MHFA) England. "The pandemic is challenging us all as individuals, collectives and organisations to develop new ways of working together for the coming period. The truth is, none of us really know how long that coming period will be, or quite what the economic, personal and social impact will be. That uncertainty can be extremely stressful and worrying."
Office life plays a central role in sharing worries, problem-solving, learning together and laughing together. Working remotely can sometimes feel isolating, Simon continues.
So how should we respond as responsible, ethical managers to a potential spike in mental health issues?
Anxiety
A natural response to uncertainty and constant change is anxiety. If you're managing someone who is experiencing this, have a one-to-one conversation where they can voice their concerns about their job or their remote working situation. Use your active listening and empathy skills, and work on either allaying their fears or coming up with practical solutions together. For example, if this colleague is worried about having to continue their full-time job while having to also look after their children, talk about what projects they're currently working on and which tasks can either be delegated to another team member or put on hold until the COVID-19 safety measures are lifted. Remind them that it's okay if their child walks into their video conference or needs to be tended to during the day.
If you're experiencing anxiety of this sort, try to communicate wherever possible. A video call to a friend – rather than texting – can help. And remember that you're not alone in feeling this way.
Stress
Naturally, this is a stressful period of time. The majority of us have never been in a situation like this. Part of the problem is that when working from home, we often feel like we need to be attached to our computer and constantly working all hours of the day – but this 'always on' mindset isn't healthy or productive. Remember to take regular screen breaks, check in with your colleagues and friends, and give yourself permission to take a full lunch break, coffee breaks, and start and finish at regular times. If you're able to, remove work emails from your phone and physically pack up your working equipment at the end of the day to mentally distance yourself from work.
Symptoms to look out for are insomnia, high blood pressure, and mood swings. Check in with yourself regularly to see what tasks or experiences are triggering your stress, and see if your manager can help. If you're managing someone who is stressed, see where you can lighten their workload and amend their working hours, if you are unable to give them time off at this current time.
If you're someone whose role does not support homeworking, you may find that your hours (and thus your salary) are cut, or you have to continue to go into work. Again, these are naturally stressful circumstances, so speak to colleagues. They're probably feeling the same way and you can create a professional support network. If you're worried about a colleague, reach out to them and see how they're doing; they may need to have a conversation that isn't about work to ease their mind.
Isolation
Many of us live with flatmates or partners, but that doesn't mean we won't feel incredibly cut off from the world when we have to remain inside for weeks at a time! You may find yourself rattling around the walls after a few days. Again remember, you're not alone! Video-calling services like FaceTime and WhatsApp are great ways of 'seeing' people face to face.
As a manager facing this issue in your team, remind them that watercooler chat is encouraged. Tools such as Microsoft Teams and Slack enable quick conversations with colleagues (including a large library of gifs!) which can help to ease some feelings of isolation. You may need to step up the amount of check-ins your team, whether that's through email, calls, or video chats. If you notice a drop in productivity or changes in mood, get them one on one and tell them that you're there to help.
Finally, Look After Yourself
"Self-care is about actively finding ways to give your brain a rest," says Simon Blake. "To recharge and replenish in order to avoid stress, burnout and poor mental health."
Give yourself permission for simple things such as stepping away from your laptop for your lunch break, eating healthy food. Avoid excessive amounts of alcohol. You can even block out breaks in your calendar so your team knows when they can and can't reach you, by marking yourself as 'in a meeting' for these times. When you're not working, do things that bring you joy and calm you down, like cooking, watching a movie, reading, or picking up your personal hobbies.
CMI's research has shown that half of surveyed managers (49%) have never received any training on managing mental health problems and 20% had received training but more than a year ago – while over half (51%) of managers reported that they have had a member of staff disclose a mental health problem. There's a clear disparity that we want to change.
We believe every manager should feel they have the tools to support their staff during a difficult time, and that every employee should feel able to speak to their manager about their mental health issues. Take a look through these articles to start educating yourself on potential mental health problems that may arise at this very uncertain time.
And check in regularly with us at CMI. We'll be holding regular webinars, such as our upcoming one on Friday at 1.15pm. These are opportunities for managers to exchange experiences and share advice, and we'll also be encouraging CMI members to share tips and concerns across social media #BetterManagers
Stay well!
Image: Unsplash