Article:
The 5 new skills required in the modern workplace
Wednesday 07 August 2019
We round up 5 of the best new ideas on management techniques from thought leaders across the globe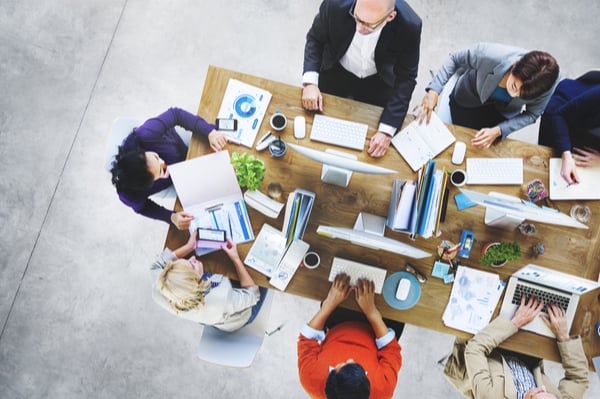 Earlier this year, CMI launched 'Management 4.0' to discover which management and leadership skills we'll need in the future. We've published reports on how technology, patterns of work and society are transforming, and how managers must respond to that change.
Management 4.0 looks to the future, but there are many new skills and behaviours that you need to thrive today. Here are our current top five…
EXTREME ADAPTABILITY
To effectively manage a team with shifting career goals and expectations of the companies they work for, you need to be adaptable. Flexible working, a greater sense of purpose, the alignment of values and extracurricular work perks are all fundamental changes in a company's culture. Embrace it, both in your own role and across the company overall.
The Harvard Business Review writes that: "Those that thrive are quick to read and act on signals of change. They have worked out how to experiment rapidly, frequently, and economically—not only with products and services but also with business models, processes, and strategies." Accept that change is a fundamental part of the modern workplace. Accept – and expect – that your role will naturally evolve alongside technology, culture, and performance metrics.
HIGH EMOTIONAL INTELLIGENCE
What's the use in having an efficient team if everyone is miserable at work? This marks the difference between a manager and a leader – you may have the know-how, but if you can't encourage and motivate your colleagues, you can't lead them to success. "Leaders who are highly self-aware and cognizant of emotional cues are better able to understand others, therefore they are better able to foster an equitable and inclusive workplace," says Janice Gassam in a Forbes article. Use your empathy and communication skills to create and nurture this environment and connect with your colleagues.
Learn how to manage with emotional intelligence here.
AGILE PROJECT MANAGEMENT
With technology moving into the heart of every department in a business, an element of project management will play a part in our day-to-day lives. Specifically, agile techniques will become prevalent: adapting to the constantly evolving technology means making constant, incremental changes to our way of working.
Agile has been an approach favoured mostly by tech and IT teams over the past couple of decades, but it is increasingly being adopted by other disciplines. Companies such as Moonpig are applying the principles of agile project management to every department in the business, allowing for more innovation and cross-team collaboration.
In this context, agile is about constant, iterative changes and improvements to help meet the overall objectives of your team. It means breaking down tasks into their core components and looking at new ways of making them work. It also means a lot of collaboration, creativity and innovation from everyone on the team.
As a manager, you need to create clear objectives and scope, and may need to manage the expectations of other stakeholders within the business. To maximise your project's opportunities and minimise its risks, being flexible to change is key.
DEEP DATA, BIG RISKS
Being digitally literate has become a necessity in the modern workplace. But working well with data doesn't just mean understanding how to use a program or tool – it's understanding the security risks. GDPR has put businesses on their toes when it comes to protecting data, and the increasing use of cloud technology, Customer Relationship Management (CRM) and Content Management Systems (CMS) puts more data in the hands of business than ever before. Managers and their teams will be expected to use more than one data analysis tool to understand the company's successes, failures and competitors: Elizabeth Marsh says: "Digital skills are essential to organisational success in the digital age."As these tools become vital to our day-to-day lives, it's vital not only to understand how to use them, but how to safeguard your data while doing so.
SEAMLESS, FLUID, INTERCULTURAL
International outsourcing, global office networks, and diverse teams are becoming the norm. In this context it's imperative to value cultural diversity and remove all prejudices from a hiring and retention standpoint, and promote an inclusive workplace externally.
A study by Doktor, Tun, and Glinow states that communication technologies have broken down cultural barriers. However, managers still need to be aware of cultural differences when trying to motivate staff – managing different expectations can be tricky. "[It]varies greatly from culture to culture."
You must learn how to think outside of your own cultural bubble and build a management style that's inclusive of all cultures. So how do you push yourself to be 'interculturally competent' – a term used by Glasgow Caledonian University? The key is "seeking out intercultural interactions, [and] viewing difference as a learning opportunity." Embrace the opportunity to explore new avenues, be more inclusive in your working life, and become interculturally competent.
CMI is encouraging all practising managers and those with an interest in the future of leadership and management to join the Management 4.0 conversation.
Image: Shutterstock
You might also like these posts on this topic:
Don't miss out - get notified of new content
Sign-up to become a Friend of CMI to recieve our free newsletter for a regular round-up of our latest insight and guidance.
CMI members always see more. For the widest selection of content, including CPD tools and multimedia resources, check out how to get involved with CMI membership.