Article:
'No jab, no job': a big dose of management challenges
Wednesday 03 March 2021
As restrictions start to lift and workplaces plan for reopening, managers face complex questions around employees' Covid vaccinations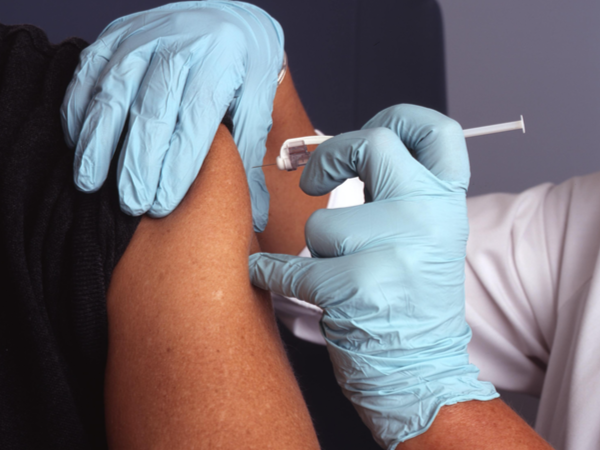 In the UK and around the world, the roadmaps out of lockdown have been the nod that many businesses needed to kickstart their post-Covid plans. But as the ultimate success of workplace reopening depends partly on the continued rollout of the vaccination programme, this process looks likely to bring with it a huge amount of workplace conflict, particularly around so-called 'no jab, no job' policies.
CMI has been engaging with members about these complex issues. According to a recent Managers Voice survey, half of managers are concerned about managing the potential conflict between staff who are reluctant to get the Covid-19 vaccination and the staff who feel unsafe working with unvaccinated colleagues.
In the UK some companies such as the social care provider Barchester Healthcare and Pimlico Plumbers are adopting 'no jab, no job' policies for new hires, where job offers are conditional on getting vaccinated. Barchester Healthcare, in particular, is going further and requiring existing staff to get vaccinated, too. They've warned employees that those who refuse on non-medical grounds would be putting their jobs in jeopardy.
These policies have caused controversy, and legal experts argue such blanket policies would be unlawful. The UK justice minister Robert Buckland speculated that it 'may' be legal for some companies to insist on new staff being vaccinated as a condition of their new employment. However, he conceded that employers could not make vaccinations mandatory for existing employees.
First, some legal questions
The legal risks around no jab, no job are complex and we won't even try to cover them in full here. Please do refer to your government's websites and consult employment law specialists as they will be able to advise on your specific country's legislations. These are some toplines, however, from some people working in the legal sector in England and Wales.
"There's the potential for discrimination claims, especially from those who might be at risk from getting a vaccine, such as pregnant people and those with certain disabilities," says Christopher Hitchins, employment partner at Katten Muchin & Rosenman. "There's also the risk of constructive dismissal claims from the unilateral imposition of a key term of employment without consent, particularly if it is unreasonable to impose such a term without a proper consideration of why it might be necessary."
In Hitchin's view, employers should be asking themselves whether they actually need to introduce a compulsory vaccination policy: what is it about the workplace or the clients and customers they serve that makes it necessary?
Existing employees, he warns, would need to consent to a mandatory vaccination condition. "Any return to work plans including discussions about whether vaccination should be compulsory should form part of an employee consultation process from an employee relations perspective," he says. "A consultation exercise and early assessment of the employer's proposed return to work measures would be the most prudent way to proceed."
Elena Cooper, employment consultant at Discreet Law, believes that in some cases, employers may be able to 'fairly' terminate an employees' contract who has refused a vaccine. "Imagine a care home owner explaining to clients and their families that a number of their employees have refused to take the vaccine. The emotional, reputational, financial and legal risks in this scenario are without doubt simply huge," she explains. "We recommend assessment on a case-by-case basis. The key issue here is understanding why they refuse, the implications for your business and how to take legal but swift and appropriate action."
The management challenges
For organisations, as well as individual managers and leaders, this is uncharted territory. For this article, we talked to one manager who'd raised the question among his senior management group:
"There were so many different points of view! One person said that if someone was applying for a job with us and sitting near colleagues, we have the right to insist on them having a vaccination. Another said it was a dangerous precedent and fundamentally illiberal to try to coerce people into having jabs. As the government hasn't made the vaccine compulsory, neither could employers.
"Another said making vaccinations mandatory could actually dissuade more people from having them. Then there was a view that, if we insist on people having vaccinations, should we also make them have a Covid test. Someone said that we should tie sick pay to getting the vaccination. There were red flags raised about insurance, health and safety, and concern for people who, for whatever reason, aren't able to have the jab. The opinions were all over the place!"
All this points to the challenges that managers are facing, and will have to face in the coming months and years. CMI recently polled more than 1,000 managers to ask their views around vaccination, and it's clear that it's the management challenge that vexes you most. The survey found that:
While 59% of managers agreed it is their role to 'encourage' employees to get the Covid-19 vaccine, 50% said they are concerned about managing the potential conflict between staff who would refuse the vaccine and staff who feel unsafe working with those who have refused.
Respondents also had mixed views on whether managers should restrict access to the workplace to those who had refused the vaccine for non-medical reasons: 43% said access should be restricted, while 44% of managers disagreed.
Vaccine hesitancy among ethnic minority communities
One really tricky area comes up when you speak to employers anecdotally, and this is the concerns that the vaccination debate could lead to racist behaviour and prejudice. Surveys have shown greater 'vaccine hesitancy' among people in the UK from some ethnic minorities, particularly among black, Bangladeshi, and Pakistani populations compared with people from a white ethnic background.
Tackling the reasons for hesitancy requires engagement, understanding and trust, says Mohammad Razai, an academic clinical fellow in primary care, in an important article in the British Medical Journal. "The legitimate concerns and information needs of ethnic minority communities must not be ignored, or worse still, labelled as "irrational" or "conspiracy theories." We need to engage, listen with respect, communicate effectively, and offer practical support to those who have yet to make up their minds about the vaccine."
Trust is always the key
CMI's 2020 Management Transformed report showed that in many instances trust between managers and employees has gone up during the pandemic and, where managers trust their direct reports, they find that productivity rises. But the research did also uncover some trust issues felt by Black people and people from minority ethnic groups during the pandemic, so managers must be mindful of different perspectives when tackling the issue of vaccination hesitancy.
Jo Owen CCMI says that the 'no jab, no job' debate is the classic zebra crossing vs traffic lights problem: "Zebra crossings depend on, and generate, goodwill on both sides (although a few people will abuse it). Zebra crossings are about commitment to a culture. Traffic lights just cause annoyance and frustration because they always go red at the wrong time. Traffic lights enforce compliance with rules.
"Always start with Zebra crossings; only go to traffic lights if Zebra crossings fail."
Clearly, we're just at the beginning of this debate, and we'll continue to cover the topic as more information is made available and more employers take a firmer stance.
So that we can continue sharing insight and advice, we'd be really interested to hear about the management decisions you're taking around vaccinations, vaccination hesitancy and 'vaccination passports'.  Just email us at editorial@managers.org.uk. Do let us know whether you'd like your views to be kept anonymous.
You might also like these posts on this topic:
Don't miss out - get notified of new content
Sign-up to become a Friend of CMI to recieve our free newsletter for a regular round-up of our latest insight and guidance.
CMI members always see more. For the widest selection of content, including CPD tools and multimedia resources, check out how to get involved with CMI membership.