Article:
Older Employees Are The Answer To A Talent Pool Crisis
Thursday 11 October 2018
Aviva And Atos Lead The Way In Supporting Older Employees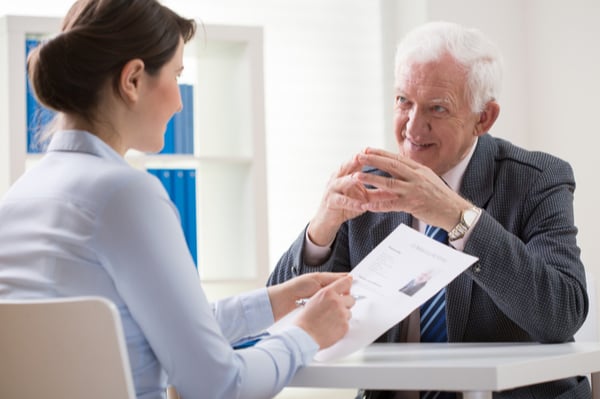 The importance of attracting older employees to the workforce is growing for employers.
Last year, the Government estimated that 14.5 million more jobs would be created by 2022, but only seven million young people are predicted to have entered the workplace by then. Now, speculation about the rights and availability of international workers after Brexit has drawn attention to the issue once again.
Aviva and Atos are two well-known employers that proactively encourage mature candidates to stay working within their businesses. Alistair McQueen, head of savings and retirement at Aviva, says older employees offer vital experience and wisdom to a team.
A Mature Workforce Adds Value
He explains: "The average length of service among Aviva's employees aged 45 and over is 20 years. This is a very loyal population of 5,000 Aviva people, carrying about 100,000 years of Aviva experience [combined]. Employees at the beginning of their career can bring new ideas and fresh insight, but this needs to be complemented by the knowledge and well-honed skills carried by our more experienced employees."
Meanwhile, at Atos, around a third of its 9,321 staff are aged between 50 and 64, and David Haley, senior vice president of Atos' Business Transformation Services, says that they make great role models for younger staff. He says: "Experienced workers can teach important life skills to their younger counterparts. We often find they want to be valued, and ideally leave a legacy of knowledge and expertise to others which is a win-win."
Older Workers Think Their Age Is A Disadvantage At Work
According to a recent Centre for Ageing Better study, older employees are just as productive as their younger colleagues. However, nearly half (46%) of mature individuals think their age is a disadvantage when applying for a job, and one in five think people see them as less capable due to their age.
"Few of us like to be thought of as "old" and a recent survey found that most people think that 'old age begins from about 70," McQueen adds. "There can be an assumption among recruitment managers that people over the age of 50 are on the wind down to retirement. This can be so misguided."
Therefore, managers should look to introduce support networks for the over-50s. At Atos, its age-based diversity group 'Aeon' helps recognise and stamp out age discrimination. It helps boost confidence among older workers; encourages learning; drives internal policy change; and builds engagement.
How To Attract A Mature Workforce
How can managers attract older workers? Aviva offers career development opportunities; in-house financial advice; private healthcare discounts; at least 25 days of annual leave; and a highly rated pension plan.
McQueen reveals: "We see evidence that many of our employees aged 45 and above give increasing consideration to their pension savings and longer-term retirement plans. Health concerns can [also] change as we age."
In contrast, Atos offers staff flexibility. Haley says: "Our initiatives are focused around flexible working and tailoring benefits to meet the needs of older workers. Practices such as flexi-time arrangements, career breaks and sabbaticals are of particular value to the older worker. They are key tool in older worker hiring and retention."
The CMI's Management Manifesto has also drawn attention to the need to boost the UK workforce. It points out that the UK economy needs an extra 1.9 million managers by 2024, and makes recommendations