Are pet-friendly offices an innovative post-Covid talent strategy or an HR nightmare waiting to happen? CMI members share their thoughts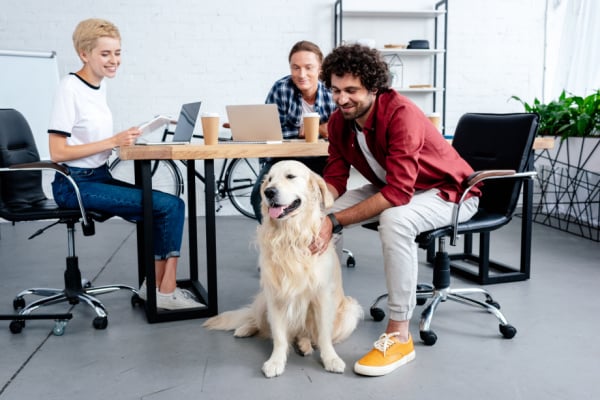 Only around 10% of employers currently allow pets in the workplace. Yet levels of pet ownership soared during the pandemic – with 3.2 million UK households (mostly individuals under 35-years-old) acquiring an animal companion since Covid hit, according to the Pet Food Manufacturers' Association.
As the world started reopening, many owners were left facing the prospect of leaving their beloved furry family members, who had got used to constant company, at home alone for long stretches of the day. 
A trending perk?
Survey after survey has found that the vast majority of owners (think 70–80%) would bring their pet to work if they could, and would even consider changing jobs if they had to return to the office five days a week. In fact, 67% of employees told pet insurance company Wagmo that their pet is the "main reason" that they don't want to return to the office full time. Could this be a novel talent retention strategy?
There have been suggestions that pet-friendly offices could become a trending post-pandemic perk. Besides attracting employees, many firms who already allow it say that having dogs around the office boosts happiness, wellbeing and social connection. Though of course, there are also numerous risks: allergies and injuries; insurance and liability; distractions and disturbance.
Amazon is one of the best-known dog-friendly employers, having hosted its Dogs at Work programme for more than 25 years. Of course, they do have rules: dogs must be registered with the programme (which may only happen if an employee's manager and team are all comfortable with the idea); the dog must also be vaccinated, housebroken and socialised. In return, the company provides plenty of free treats, play spaces and even discounted pet insurance.
Keep reading to discover what the CMI community thinks – and what it means for managers
Register for Free Access
Not yet a Member, Subscriber or Friend? Register as a CMI Friend for free, and get access to this and many other exclusive resources, as well as weekly updates straight to your inbox.
You have successfully registered
As a CMI Friend, you now have access to whole range of CMI Friendship benefits.
Please login to the left to confirm your registration and access the article.