Article:
The confident rise of the management apprenticeship
Wednesday 10 February 2021
In the depths of the Covid-19 crisis, management apprenticeships have given leaders the resilience and team-building skills they've needed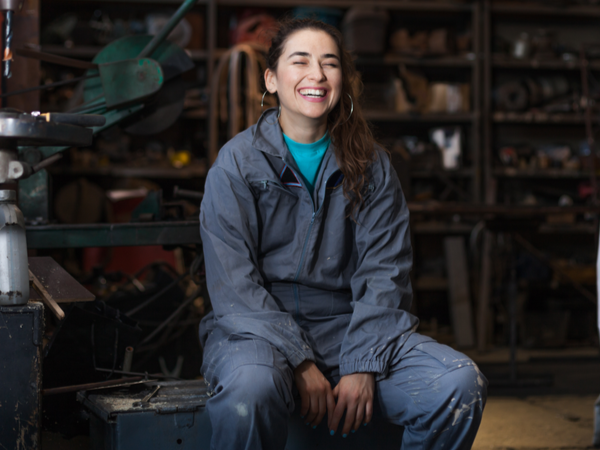 The burden of this pandemic has fallen heaviest on the shoulders of our NHS doctors, nurses and staff. But at the Royal Berkshire NHS Foundation Trust, the upskilling of employees through management apprenticeships is leading to better outcomes – for patients as well as employees.
"The people going through our management apprenticeship programmes tell us they are coping better in the pandemic," says Rosalind Penny CMgr, the Trust's director of human resources and organisation development. "We've been running decompression sessions for staff to help them discuss their work and its impact, and they tell us that, thanks to the apprenticeships, they know and understand more about managing and leading, about immersing themselves in new teams more quickly, asking the right questions and making better decisions."
Penny says staff report that their learning is helping keep them grounded when under extreme stress and pressure and that they are using techniques such as end-of-shift "huddles" to talk to and challenge each other, recognising the value of each other's disciplines. "Before the apprenticeships, there was little conversation between the different disciplines," she says. "Now we have the director of medicine picking up the phone to a portering supervisor who's been on the same apprenticeship, to ask, 'What do you think? What can you do? Could you help me out?'"
The emergence of management apprenticeships
Good managers are essential to the success of any business or organisation, and management apprenticeships have become popular since the government reformed workplace training funding in 2015 by making employers with annual payrolls greater than £3m set aside an equivalent to 0.5% as an apprenticeship levy. And while education secretary Gavin Williamson has questioned the use of apprenticeship funding to enable senior executives to gain MBAs, he agreed this week that "apprenticeships will play a vital role in helping to rebuild our economy after the pandemic."
The Royal Berkshire NHS Foundation Trust's management apprenticeships were designed with Henley Business School to meet the Trust's strategic objectives and build a talent pipeline for its future leaders. With 150 people currently enrolled or graduated, the Trust's management apprenticeships are multi-disciplinary and Penny says a significant number have subsequently achieved promotion. "What has become clear is that the calibre of the people coming off those programmes is often higher than other applicants," she says.
"One of the best things about the apprenticeships is that it has enabled us to bring more Black and Asian minority ethnic people through to leadership, because we realised that many of our BAME employees were hitting a ceiling at a certain level."
The apprenticeships have brought confidence too. During her apprenticeship, a senior doctor in renal and elderly care stepped up to become executive director of medicine and has led the Trust on its Covid response. "She has just completed her apprenticeship, with distinction," says Penny, "and by her own admission, couldn't have done her new job without the apprenticeship and the confidence and knowledge it has given her."
Management apprenticeships through the pandemic
Across all its management apprenticeship programmes, Henley has some 1,650 students from more than 100 different companies and organisations. "Our teaching and learning is largely online, because we designed these programmes from scratch to serve people who are working remotely, so the pandemic didn't require much change in terms of delivery," explains Henley dean John Board. "We've had to reframe assignments, to allow people more flexibility and time to complete them, because of the extra pressure the crisis has placed everyone under. The CMI has also helpfully redesigned the endpoint assessment project to make it more accessible. It's been really important for us to have a professional body leading the way during this pandemic.
"But the other change we made was to refocus some of the assignments towards the pandemic, enabling our students to tell us how they are responding to the crisis and applying what they've been learning to the particular challenges they are facing now."
For example, recent projects have ranged from helping an online food retailer make its supply chain more resilient to panic-buying, to measuring the impact of remote working on employee engagement and improving patient flow in hospitals.
According to Board, learners also report significant benefits from the personal and leadership development gained during their apprenticeships. "We've had lots of students say, I was personally better able to cope with the crisis because of what I've learned on these programmes," he says.
Keeping management apprenticeships relevant CMI head of policy
Daisy Hooper believes that some tweaks could still be made to management apprenticeships. "The system could make it easier for small businesses to access management apprenticeships and for all employers to be encouraged to diversify their apprenticeship intake," she says. "But the value of a management apprenticeship is clear. Through apprenticeships, organisations are identifying ways to operate more effectively, which has a positive impact on their profitability, which in turn enables them to hire more staff."
Hooper points to evidence that management apprenticeships are helping to improve the diversity of the management pipeline. For example, CMI analysis of official figures suggests that 49% of management apprentices are women and 46% come from the country's 50% most socio-economically deprived areas.
However, a CMI poll last year found 34% of managers reporting that Covid-19 had exposed skills gaps among their staff. Survey respondents revealed that gaps were predominantly found in the areas of communication, digital and management skills. "In the next budget, we're calling for government to invest in the core skills that employers need the most, such as those in digital, communications, and leadership and management," says Hooper. "These are very important for ensuring that workers are resilient to the rapidly changing labour market and can compete in the jobs of today and the future."
You might also like these posts on this topic:
Don't miss out - get notified of new content
Sign-up to become a Friend of CMI to recieve our free newsletter for a regular round-up of our latest insight and guidance.
CMI members always see more. For the widest selection of content, including CPD tools and multimedia resources, check out how to get involved with CMI membership.