Article:
The Shocking Impact of Open-plan Offices on Collaboration and Productivity
Friday 03 August 2018
New Research Suggests Open-plan Offices Damage Teamwork and Productivity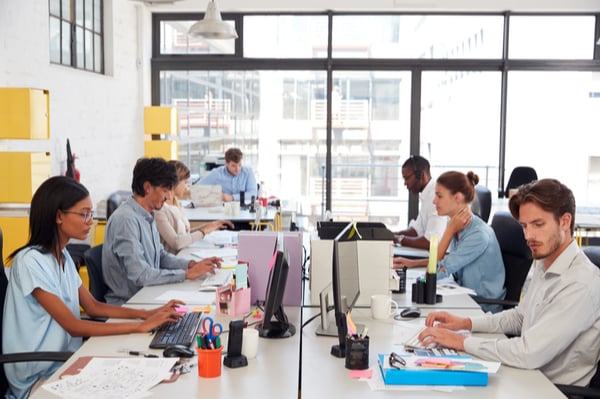 Research shows that open-plan offices negatively impact productivity.
From factories to offices, the open-plan model has dominated workspaces for more than a century, with advocates stating that they encourage a vibrant and cooperative workspace.
However, Harvard University's Ethan Bernstein and Stephen Turban's research has confirmed open-plan offices make it harder for managers to foster collaboration and collective intelligence among their employees.
Studying the interactions of two Fortune 500 multinational companies, both before and after their office was transformed from a traditional, closed cubicle office to a spacious open-plan format, the study found a huge slump in face-to-face interaction time between staff, as well as a sharp fall in productivity. Use of email increased substantially.
Read more: Five trends business leaders don't follow
Open-plan Offices Limit Social Interaction
At the first company studied, the researchers tracked the activity of 52 employees for 15 days prior to the redesign and, three months later, for the same amount of time.
Using infrared sensors to detect face-to-face interaction, microphones to pick up alternating speech, and location monitors to show when employees were close to each other, Bernstein and Turban found that employees spent 72% less time having face-to-face interactions with each other in the open-plan office.
Before the redesign, the first company's staff had an average of 5.8 hours of face-to-face time per day per person, compared to just only 1.7 hours afterwards. Electronic communication increased sharply, with workers sending 56% and 67% more emails and instant messages respectively. Simultaneously, the company's executives reported a fall in staff productivity rates.
Researchers then studied a second company and confirmed their previous findings. Although the second analysis took place over a longer period of eight weeks before and after the workspace redesign, Bernstein and Turban also found a decline in face-to-face interaction of between 67%-71%, while email use surged by between 22%-50%. Although workers with desks close together or who worked on the same team had more interactions, the impact was minimal.
Read more: What's the perfect design for your workplace?
Do Employees Seek Boundaries?
Published in the Philosophical Transactions of the Royal Society B, Bernstein and Turban concluded a lack of personal space and privacy as key factors potentially causing the slump in communication, collaboration and productivity in the open-plan office studies.
According to their theory, people need to feel comfortable and require boundaries to make sense of their environment. Working in a constrained, cubicle-like office space allows employees to open and close themselves off from others as they wish and have an element of control over the space around them.
Conversely, researchers say office plans that make employees constantly observable to others can dampen interaction, as employees find other strategies to preserve their privacy. This includes opting to communicate by email or text, or putting on their headphones to indicate that they do not want to be disturbed.
The findings may help managers to plan an office layout that facilitates productivity at a time when the Chartered Management Institute is warning of a productivity crisis that collectively costs businesses £84bn per year.