More free time gives us more time to develop our skills, at a time when our employers - and the country - need brilliant management to recover from the devastating effects of the coronavirus crisis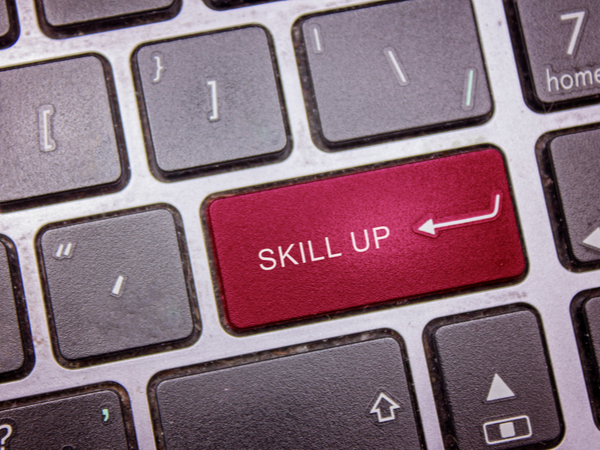 Since the first lockdown began across the UK, followed by fire-breakers, circuit-breakers and lockdown 2, hundreds of thousands of managers have worked from home. This remote working situation was something we all dreamed about, but it is now a practical reality – and probably will remain part of our working lives well into the future.
We have discovered that we don't have to fritter away our time in traffic or on trains and tubes and buses. We can be more flexible about when and how we work, which can improve our morale, and even make us more productive. It certainly lowers stress and gives us more time.
One indication of our greater free time comes from statistics just released by Sports Marketing Surveys Inc, which shows that rounds of golf played in the UK are up by 40% compared to a similar amount of days in 2019.  In the south of England, where golf courses were open longer than in other parts of the UK, rounds of golf increased by 75% over the same period last year.
I'm not suggesting that the U.K.'s managers are now sneaking off to play golf and abdicating their work duties, but this does reflect the more flexible working patterns that the Covid-19 crisis has brought upon us...
I recently read that, as a result of the pandemic, employees are actually spending more time working than before. The average employee is putting in an extra hour of work per week and spending more time in one-on-one meetings or team check-ins, according to a study from a time management company. However, that extra working time is more than compensated for by the time they don't have to spend commuting, as well as the ability to work flexibly.
The thought occurs that with this extra free time, we could spend a portion of that trying to improve not our golf but rather our management skills. A focus on this would not only improve people's careers and their effectiveness as managers but, more importantly, would have a massively positive benefit on the UK economy, at a time when we will never have needed it more.
To become a better manager, I believe that – first and foremost – you have to focus on developing your soft skills.
Research conducted with Fortune 500 CEOs by the Stanford Research Institute International and the Carnegie Melon Foundation found that 75% of long-term job success depends on people skills, while only 25% depended on technical knowledge. Yet, as CMI's research shows, hundreds of thousands of managers in the UK are promoted into leadership positions because of their strong technical skills, and without any training in the soft skills of people management.
The truth is, the managers who get the best from people and who progress the furthest are those who develop their interpersonal skills – yet too few companies invest anywhere near enough in this sort of skills training. So, the hard truth is: it's up to you to find ways to get better.
Poor management has a devastating effect on morale and engagement among employees. Most research shows that employee engagement is still shockingly low – with an average of 33% of workers feeling actively disengaged in their jobs. This brings with it a loss of billions of pounds in productivity, putting the UK behind many of its European competitor countries in productivity terms. With Brexit looming, and with an economy reeling from the Covid-19 crisis, we need an urgent focus on driving up productivity.
Ironically, research published by the Oxford Martin School at Oxford University, shows that increases in productivity bring decreases in working time – so there are multiple benefits to be had, including even more free time.
Crucially, boosting productivity this way requires managers to design and implement actions aimed at boosting their teams' motivation, confidence and engagement. Managers must have the skills to handle what will be an incredible pace of change, especially now that they have to lead people who don't physically work in the same space anymore. All of this at a time when they will be facing unprecedented pressure to perform, to become simultaneously more cost-effective and more innovative, while dealing with huge levels of uncertainty and complexity. Managers will have to put themselves between the chaos of change and their people in order to infuse their teams with positivity and confidence.
This simply won't happen without better management and more motivating leaders.
Global research on employee engagement shows that organisations with high engagement levels outperform competitors and achieve results far better than the average, especially during turbulent economic times. Why? Because their employees have more positive attitudes and more productive behaviours and deliver better outcomes. This happens because the managers are more inspiring. Those who are more inspiring can get members of their teams to go way beyond what they have to do, because they want to, because they care, and because they believe they personally can make a difference.
This is a subject I have researched extensively for my four books and I have found that less than 50% of the 6,000 employees I have surveyed say that their managers are inspiring at all.
When managers are inspiring, and display even a modicum of charisma, employees:
• Are more willing to trust their leaders, which leads to greater autonomy and collaboration
• Have a greater sense of self-worth, a sense of belonging and a sense of safety – as a result of the managers warm and affective behaviour
• Feel listened to, and that their ideas are important – which will make them more willing to be creative and go the extra mile
• Are more aligned to a common cause, and crystal clear about the role they play in delivering it, as a result of their leader's drive and compelling cause
• Are more open to new ideas and constant improvement, unafraid of change in pursuit of excellence
Are more highly motivated because of the persuasiveness of their leader, and the clarity that those leaders give
• Are more communicative, a critical factor in successful teams who display robust dialogue, innovation and agility
So, for those who do find that they have extra time on their hands, pick up those management books you bought but never read, especially the ones on soft skills like communication, listening, motivating, and look for online courses on those subjects available from institutions such as the CMI, search for relevant TED talks, look through YouTube instructional videos, listen to leadership podcasts, and devour everything you can on how to improve your soft skills.
With a big improvement in your soft skills, I predict a dramatic improvement in your career prospects.
Do you have a leadership story to share with the CMI Community? Get in touch with us via email or using #CMIFamily on Twitter and LinkedIn.
You might also like these posts on this topic:
Don't miss out - get notified of new content
Sign-up to become a Friend of CMI to recieve our free newsletter for a regular round-up of our latest insight and guidance.
CMI members always see more. For the widest selection of content, including CPD tools and multimedia resources, check out how to get involved with CMI membership.