Article:
Top 10 tips for a winning CMI Partner Award entry
Friday 20 January 2023
CMI's Partner Awards provide a great opportunity for organisations to showcase their achievements and innovations. If you want to make a successful entry, follow these top tips from past winners and judges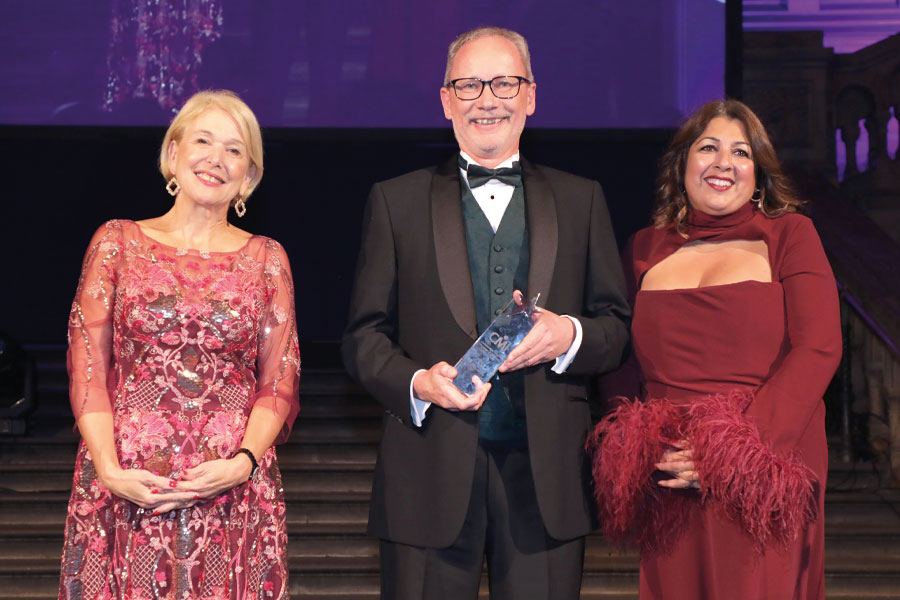 Do you have a project or initiative that demonstrates your impact and innovation? Are you looking to share the inspiring story of a learner, tutor or programme lead?
With 4 categories open to enter in 2023, there are plenty of opportunities to benchmark success in CMI's Partner Awards. By using our top tips, you'll be on your way to an award-winning entry. Don't take our word for it; the Awards' shortlist, winners and a 2023 judge are also on-hand with their advice.
1. Have a clear idea of what you want to achieve
Have a clear idea of what you want to achieve with your submission. Read the descriptions of the Partner Awards' categories and note down the objectives and motivations for your entry. This will help you focus your writing.
Consider the impact that your programs have had on an individual's journey, a department's needs and the organisation's vision.
Alan Woodcock, Premier Partnership, Outstanding Training Provider of the Year (SME) Shortlist 2022
2. Give the entry plenty of time
A good entry usually takes at least a week to produce. Plan out your responses and consider all aspects of impact. Save your entry in several locations, so you can continue to refine it before submitting.
3. Define your goals
Include the objectives, the impact and an x-factor that sets your submission apart from the others.
I am looking for applications that really stand out from the crowd. An outstanding application needs to tell a story that inspires all the judges – it needs to be something that the judges can understand and relate to.
Jamie Anderson CMgr CCMI, Age UK Wirral, Partner Awards Judge 2023
4. Keep your responses concise and easy to understand
Keeping your responses concise and clear is vital for an award-winning entry. Avoid jargon and back up your claims with evidence. Make sure you address the principles of the award in your answers.
5. Provide specific data
Provide specific data to support your assertions. Quantify the impact of your services on clients and learners.
6. Demonstrate the impact of your work
Leave a lasting impression. Include testimonials that catch the judges' attention and show the lasting effects of your services.
For any organisation thinking about submitting an award-winning entry, we would say the most important thing is to focus on both innovation and impact. What makes your initiative unique, distinctive or unusual? What evidence can you present that your work is making a real tangible difference to your people, organisations or society?
Danny Benton, University of Huddersfield, HE Partner of the Year Winner 2021
7. Share real-life examples
Bring your entry to life by sharing personal stories of the difference you have made to people's careers and the achievements of your team.
Get quotes from key people (eg. Learners, customers, Senior Managers) to support your nomination and include individual learner stories. Ensure you highlight the positive impact you are making - not just achievement information, but also the personal impact, for example, on learners' confidence or self-esteem.
Neil Saunders, Pearson, Outstanding Training Provider of the Year Shortlist 2022
8.  Write from the heart
Tell your story honestly, sharing the journey you have been on - warts and all - rather than what you think the judges want to hear. Think of it as writing a piece of history that will make you and others feel incredibly proud.
9. Ask for feedback
It's a good idea to test out your entry on colleagues, clients and others before submitting it. Take in their valuable feedback on the impact of your team or organisation. This will help you refine your responses and make sure your submission is as strong as possible.
Getting input and support from your colleagues is vital – sharing your entry with them helps to give a more rounded view.
Neil Saunders, Pearson, Outstanding Training Provider of the Year Shortlist 2022
10. Proof, Proof, and Proof Again
Award entries are often disqualified due to simple mistakes like spelling errors, grammar issues, and forgotten attachments. To avoid these common pitfalls, be sure to proof your submission multiple times before sending it in.
By taking the time to carefully review your work, you can increase your chances of winning and be recognised for your hard work and achievements.
By following these tips, you'll be well on your way to a winning entry in the CMI Partner Awards. Good luck!
You might also like these posts on this topic:
Don't miss out - get notified of new content
Sign-up to become a Friend of CMI to recieve our free newsletter for a regular round-up of our latest insight and guidance.
CMI members always see more. For the widest selection of content, including CPD tools and multimedia resources, check out how to get involved with CMI membership.