We think these activists, entrepreneurs and politicians are reshaping the very idea of leadership. But what do you think…?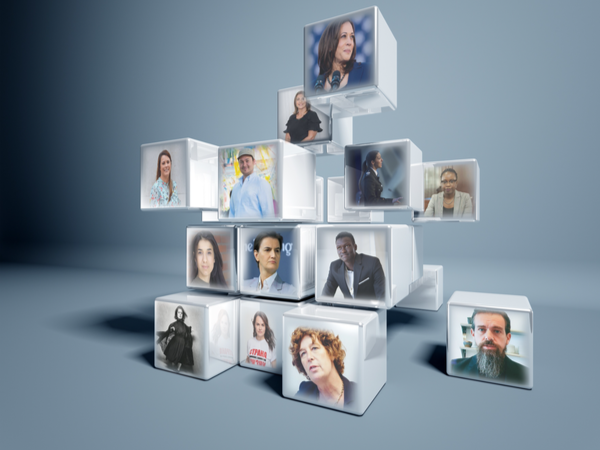 Leaders and managers will have to behave differently as we emerge from this marathon COVID-19 crisis. Some of the attributes that managers will have to dial up post-COVID:
• The ability to build trust
• The need for constant, empathetic communication
• Awesome listening skills
• Being open to diverse perspectives
• Creating a sense of belonging…
These need-to-have qualities, and more, are detailed in CMI's recent Management Transformed project.
Over the past few months we've looked for stories of leaders who embody these new qualities. And wow, what a set of transformative leaders we've found…
1. The Angolan politician countering deep-rooted problems with fresh perspectives and a pioneering spirit
Toughest leadership challenge in the world? Well, the role of Angolan finance minister must be up there. The nation is still recovering from four decades of war: first for independence, then a civil war. Oil accounts for 90% of exports and 65% of government revenue, but a price slump put Angola into a recession in 2015. It's still not out. A plan to peg the currency to the dollar caused the Angolan kwanza to fall by two-thirds. The richest woman in Africa – the daughter of the former president – has left the country amid corruption charges.
Enter Vera Daves de Sousa. Appointed finance minister in 2019 aged just 35, she arrived with a willingness to embrace new perspectives and a plan to overhaul the Angolan economy. Oil is out. Entrepreneurs are in. "In terms of revenues, the economy still struggles with a high dependence on revenues coming from oil," she says. "We'll do our best to make sure diversification starts to happen in a more consistent way, and that we remove the bottlenecks."
Her style fuses academic rigour with plain speaking. She is an economics graduate, and wrote a book on public finance with her professor, who called her "one of the best students I ever had".
Daves de Sousa is just one of two female finance ministers in Africa. Her youth, cerebral approach and desire to break with the unruly policies of Angola's past make her a formidable role model in her nation and across the continent.
2. The FTSE leader setting a kinder tone by making a personal sacrifice during Covid-19
The COVID crisis has been a test for leaders. How do they inspire unity in workers who may be suffering like never before? The COVID crisis has been a test for leaders. How do they inspire unity in workers who may be suffering like never before? Carolyn McCall OBE CMgr CCMI is the CEO of ITV. Her immediate response to falling ad revenues was to take a 20 percent pay cut and give up her bonus – and persuade the board to do likewise. Her move back in April helped to set a philanthropic tone in the corporate world. At Sky, chief executive Jeremy Darroch followed suit by donating nine months of his 2020 salary to coronavirus relief charities such as the National Emergency Trust. Joe Garner, chief executive of Nationwide, agreed to cut his pay and pension by 20 percent. McCall already had a strong track record. Before ITV, she turned EasyJet from a basket case with worse punctuality than Air Zimbabwe to Europe's top-rated airline. Her readiness to be among the first to forgo rewards only burnishes her reputation.
3. The learn-a-language pioneer who says you achieve most when you own your mistakes
Learning from failure, failing fast – these are truisms of modern leadership. Benny the Irish Polyglot is an advocate of a new way of learning languages who says that his mission in life is "giving people permission to make mistakes".
After finishing school he moved to Spain and took a year to learn the language. He researched where he was going wrong and wrote up the results in a book called Fluent in 3 Months. He argues that anyone can reach fluency in three months… with the right approach. He now speaks more than 20 languages and promotes his theories on YouTube and via TED talks.
"The more mistakes you make, the faster you become a confident language learner," he says. He suggests going up to strangers and just saying "Hi", "Ciao", "Guten tag", or "здравствуйте". Stick to that language. Make mistakes. Make friends. And just keep talking to anyone who'll listen. It's the opposite of the UK's regimen of chanting schoolchildren and grades-based tests.
4. The fighter for Yazidi justice rallying others to her cause through unstinting communication
"As a young girl, I dreamed of finishing high school. It was my dream to have a beauty parlour in our village and to live near my family in Sinjar. But this dream became a nightmare. Unexpected things happened. Genocide took place. As a consequence, I lost my mother, six of my brothers and my brothers' children. Every Yazidi family has a similar story."
Nadia Murad is one of the main reasons why we know those stories. Aged 19, she was captured, enslaved, raped and tortured by Islamic State fighters. She escaped after three months and today leads global efforts to bring justice for the Yazidi people and to end sexual violence as a weapon of war. She became the United Nations' first goodwill ambassador for the dignity of survivors of human trafficking. She enlisted the Pope and Barack Obama to support her movement, Nadia's Initiative. Thanks to her tireless efforts, trials of Islamic State leaders and fighters are now under way. In 2018, she won the Nobel Peace Prize for her dignity of survivors relentless pursuit of justice.
5. The fire service leader showing that success isn't determined by where you come from
Class privilege remains deeply entrenched in corporate Britain. The government's latest State of the Nation report on social mobility found that those from better-off backgrounds are almost 80 per cent more likely to land a top job than their working-class peers – an effect known as the "sticky ceiling".
"If we want a meritocracy, we need to recognise that so many people are yards behind the start line. That's not a fair race," says Dr Sabrina Cohen-Hatton, chief fire officer at West Sussex Fire and Rescue Service and author of The Heat of the Moment.
Cohen-Hatton is a rare example of someone who has risen to the top of her profession, despite her background. She grew up in Newport in Wales but ended up living on the streets when she was 15 after her father passed away and her relationship with her mother broke down.
In an attempt to turn her life around, she started selling The Big Issue and eventually scraped enough money together to put down a deposit on a tiny rented flat. She went on to join the fire service and is now one of just six female fire chiefs in the country – and the youngest. "I didn't need a degree or formal qualifications to join the fire service: they hired me on the strength of who they believed I could be," she says.
6. The former refugee showing why it pays to think like an outsider
Refugees are natural entrepreneurs and innovators. Lual Mayen, the CEO of Junub Games, was born during his parents' 200-mile trek from war-torn South Sudan to a refugee camp in northern Uganda. He grew up there and spotted his first computer – at a refugee registration centre – when he was 12. He begged his mother for one. She eventually saved enough money, working as the camp's seamstress, to buy him a used laptop.
By watching online tutorials, Mayen taught himself English, programming and graphic design – and built a video game, which was picked up and shared among the international gaming community. Mayen was subsequently invited to serve as a consultant for the World Bank and was granted a visa to move to the US. His company, Junub Games, is on the brink of officially releasing Salaam, a high-tension runner game that puts a player in the shoes of a refugee forced to flee a war-torn region. Mayen has been recognised as a Global Gaming Citizen and is leading the way in social impact gaming, promoting peace and empathy instead of violence.
7. The US healthcare pioneer with an unstoppable sense of purpose
How American health care killed my father is the title of a 2009 article by Dave Goldhill, an American entrepreneur and former CEO of Universal Studios. His father went to hospital with pneumonia and caught sepsis. Thus began Goldhill's war on US healthcare.
He wrote a book, Catastrophic Care, and then two more on the subject. Then he launched Sesame, an online marketplace for healthcare services that cuts out insurance companies. The prices are upfront and clear – and ten times lower than the usual fees for healthcare in the US.
Goldhill is now a figurehead for reform of a notoriously hard-to-fix problem. He combines a relentless approach with a forensic analysis of what's gone wrong. His sense of purpose and the purity of his motives mean that even his critics take him seriously. And now, after a decade of trying, he's starting to make a serious impact.
8. The social entrepreneur teaching us to learn from people who overcome challenges daily
Great leaders are energised by problems –and Liz Johnson is a phenomenal example. Born with cerebral palsy, she competed in three Paralympic Games in the S6 breaststroke category, winning gold in Beijing, plus multiple world and European titles.
But it's in her life beyond sport that she truly impresses. Liz is a patron of Dreamflight, which organises holidays to Florida for seriously disabled children. She's a qualified accountant with a degree in business management and finance. And now she's an social entrepreneur, as co-founder of The Ability People – an employment agency staffed by people with disabilities.
"I thought they would make perfect recruitment consultants, because it's all about balancing long hours and a life with an impairment, which can be difficult. We have to work towards a goal to get something done, because our first attempt won't be successful. Resilience is high, because we have to focus to get a job done."
9. The UK advertising boss demonstrating the commercial impact of being inclusive
Research from Deloitte shows that organisations with inclusive cultures are twice as likely to exceed their financial targets, six times more likely to be more innovative and eight times more likely to achieve better business outcomes.
Stephanie Drakes is one of Britain's most inclusive leaders. After being made redundant from ad land in her mid-50s, she started her own agency – with a difference. As the CEO of Social & Local, she actively hires individuals who are typically excluded from the advertising workforce, such as mums, carers and OAPs. And she has disrupted the traditional and often harsh "bleed-to-succeed" advertising agency model by providing "flexibility and work/life balance for the sharpest minds in the industry, irrespective of life circumstances".
With clients ranging from the National Grid to Breast Cancer UK, Social & Local is the only communications firm to be established as a Community Interest Company, investing 50% of its profit into social projects.
10. Belgium's transgender deputy prime minister, who's showing that everyone has the right to be who they are
A 2018 survey from LGBT+ charity Stonewall found that half of trans people have been so afraid of discrimination at work that they have hidden their identity. One in eight reported having been physically attacked by colleagues or customers. But the landscape is gradually shifting as transgender rights climb up the boardroom agenda and more trans people move into positions of power.
Take Petra De Sutter, for example. In October, she was named as one of Belgium's seven deputy prime ministers, making her the highest-ranking transgender politician in Europe.
The fact that her appointment didn't cause a media frenzy hints at more progressive attitudes towards trans leaders. Sutter, who is also a gynaecologist and a former professor of reproductive medicine, tweeted that she was proud that in Belgium and most of the EU "your gender identity does not define you as a person and is a non-issue. I hope that my appointment as minister and deputy PM can trigger the debate in countries where this is not yet the case."
This is an edited extract of our major report published in CMI's magazine (winter 2020/21). Find Check out the full story here.
Who would be on your list of transformational leaders? Let us know #BetterManagers
Want to be a part of your own community of forward-thinking leaders? Check out CMI membership.
You might also like these posts on this topic:
Don't miss out - get notified of new content
Sign-up to become a Friend of CMI to recieve our free newsletter for a regular round-up of our latest insight and guidance.
CMI members always see more. For the widest selection of content, including CPD tools and multimedia resources, check out how to get involved with CMI membership.