Trust is the glue that moulds together professional relationships and maintains harmony between managers and employees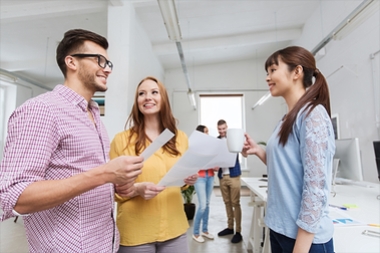 "Employees don't leave jobs, they leave poor managers," the old adage goes, and this is particularly true in scenarios where staff feel they can no longer trust your leadership, the direction of your team and their careers.
Productivity, motivation, punctuality, engagement, and many other performance metrics all to some extent rely on a foundation of trust being present. Each member of the team must establish trust, cultivate trust through his actions and words, and work to maintain it.
Equally, each individual needs to be able to trust his team members to be committed to the team's goals, and and communicate consistently about any issues that may be having a negatively effect.
In CMI's Middle Manager Lifeline report, some 85% of managers agreed trust is vital to an organisation's success and highlighted that building trust between middle managers and senior leaders is more important than ever.
However there are a number of factors, some of which may not be under your control, that damage trust between managers and employees. The downsizing and layoffs of good employees, the cutting of staff benefits and bonuses, managers hiding ulterior motives and an unfair bias towards certain members of the team can all lead to a breakdown in trust, and that's just to name a few examples.
Trust and growth go hand in hand. In rapidly growing organisations, 68% of managers have high trust in leaders. Among those in decline, only 15% fully trust their leaders.
A trusting working culture is a building block for growth and that trusting working culture is built on good communications, the CMI report states, with the survey's respondents stressing the importance and value that they placed on a business leader who engages with everyone in the business and keeps employees informed in an open, honest fashion.
A middle manager, who participated in the study, said: "Our business leader has held many all staff and individual communication meetings. These are always very informative and promotes the all-important two-way communication which underpins the company trust."
Also, the role of communication plays in building trust can help rectify fractions within an organisation and force action on improving negative behaviours in the workplace. A group HR manager at a privately owned manufacturing business in the east of England told interviewers how her 'showdown' talks with the owner of the company, where she expressed her fears that he did not trust the senior managers to do their jobs effectively, led to a series of positive organisational changes.
Before the face-to-face talks, the HR manager said there was a noticeable "feeling of them and us", with staff in the office and the warehouse even having a separate Christmas party. However, she reports that these issues are all being addressed through a successful leadership and management development programme that was introduced this year.
Sessions are held bi-monthly and involve 15 senior managers. Managers are now visible at warehouse staff briefings. Training, which was previously non-existent for warehouse staff, is being introduced. And finally there'll be a joint Christmas party.
Here Are 4 Top Communication Tips for Your Organisation:
1. BE PERSONABLE
Whether it's an open door policy or regular individual or staff meetings, managers need to interact with employees on a personal level, face-to-face, to show them that they are truly interested in who they are and what they are doing.
Taking the time out of your busy schedule to attend to the needs of your staff will be recognised by your team, and that effort is likely to result in them feeling more valued, satisfied and productive.
2. BE OPEN ABOUT COMPANY OBJECTIVES
Trust, like communication, is a two-way relationship, and one of the mistakes bad managers make is to hold back key information from their employees which affects the way they work. For information that is not confidential, good managers openly share corporate objectives - with passion and enthusiasm - to  help employees to better see the big picture and the important role they are playing in moving the company forward.
A weekly email to company staff is a good method of achieving this, or an end of week Friday presentation (with drinks trolley accompanied).
3. ACCEPT HONEST FEEDBACK
As the most important assets in your business, employees want to know that their ideas and opinions count, or else frustrations eventually rise and trust in the organisation dips.
Therefore, good managers recognise this by using a number of methods to encourage employee feedback on what they approve and disapprove of at the company. While having face-to-face interactions is one of the common ways this is done, some managers allow for staff to send in their queries via email or leave anonymous written messages in collection boxes.
4. BE READY TO ACT
Having successfully completed tips one to three, it would then be pretty damning to staff if you failed to take action on any of the great feedback and interaction you've had with your team.
In addition, managers who fail to act run the risk of alienating employees and driving morale, productivity and job satisfaction down significantly.
When employees see that their ideas and suggestions are being taken seriously and acted upon, they will be more likely to keep contributing and have greater satisfaction in their work.
Find out more about how to better engage with your middle managers