During the crisis we've heard a lot about the challenges of delivering apprenticeships but actually very little about the impact on apprentices themselves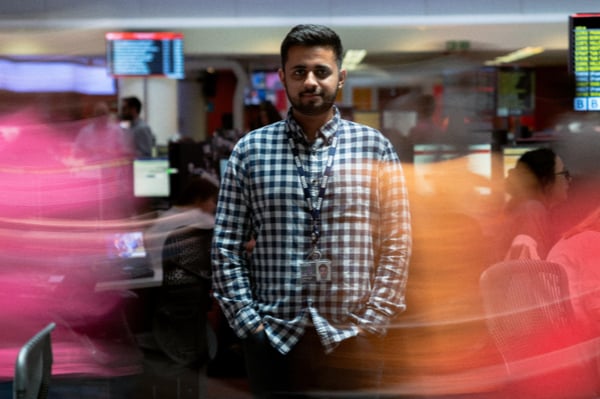 As with the population at large, apprentices are facing considerable uncertainty. I've spent time talking to apprentices, educationalists and training providers to gather intelligence about the issues that apprentices are facing. Here I've included a few of the issues they will be grappling with and some suggestions for what employers, training providers and government could do to support them.
A Pause in Learning
There are a few different reasons why apprentices may be experiencing a pause in their learning –
or break in learning, which is the official term for it. For example, they may be considered key workers, on the frontline of the response to Covid-19 – such as those within the NHS. These apprentices are having to take a break in learning as the immediate delivery needs of their job take priority. This is of course completely understandable but at the same time there's never been a more important time to have the most up to date leadership and management skills. It is important that apprentices in these professions do not lose out, and are able to remain motivated enough to take up their learning again once the health crisis is under control.
Apprentices Who Are Furloughed
Apprentices who are furloughed may also be experiencing a pause in their learning. Government guidance suggests that apprentices can continue to study on their apprenticeship programme, but in some instances where work-based learning cannot take place this will cause challenges for the 'skills' and 'behaviours' elements they need to demonstrate as part of their apprenticeship. Furloughed apprentices are also likely to lack the support of their line manager and coach during the time they are away from the workplace.
These individuals could use the opportunity to catch up on any learning they might have fallen behind on or even to complete their EPA (end point assessment). Working and learning at the same time is really hard, so some apprentices may even feel grateful for the time to focus on the learning element including boosting their skills development.
Naturally this begs the question of how paused apprentices in sectors such as healthcare will catch up. There may need to be extra allowances made to enable this. For many, managing through Covid-19 is the perfect work-based project to evidence skills and behaviours for management apprenticeships.
Employers can support this by continuing to train their furloughed apprentices (where this is possible) including using the apprenticeship levy which is a great way to engage them in workplace training and development while they have some extra time to do so. Rather than immediately implementing a break in learning for these apprentices, employers and training providers should think about how they adapt the training to make it relevant in the new world we find ourselves in.
It would also help if the government could allow some flexibility to those apprentices currently working through their work-based project so that they can receive some support or feedback from their line manager on how they can drive this forward while not working.
A Significant Change in Job Role
Some apprentices will be redeployed as a result of Covid-19 – either within their own organisation or, in some cases, in another industry all together. For those apprentices where a significant change in their job role occurs this is likely to be a challenge. Can the apprentice genuinely evidence that the 'essential' work they are undertaking during this pandemic continues to map back to the apprenticeship standard? For management apprentices – since much of their learning is transferable to a wide range of roles – we would definitely argue that this should be possible and indeed encouraged.
Redundancy
To their credit, the Ggovernment has implemented important measures to protect individuals from losing their job, at least in the short term. However, some apprentices will sadly be made redundant as a result of Covid-19. Apprentices have up to 12 weeks (based on current rules) to find new employment that is still relevant to their job role. In these unusual circumstances there seems a good case for government to relax these rules to allow individuals to pick up their apprenticeship after a break in learning that is out of their control. Government could also expand the period of time that learners with longer than 6 months to go on their courses can continue to access support from their education or training provider from 3 months to 6 months.
Innovation
There may be some silver linings to the disruption for apprentices: it is bringing out the best in lots of training providers.
At Corndel, where much of the training was already delivered online, they have further adapted their apprenticeships to ensure all learners now benefit from additional training to help them navigate the change and uncertainty of the current situation. Delivered by their coaches, it covers three key areas: workplace wellbeing, homeworking and remote management, and resilience and development. Corndel has also introduced an outplacement programme for any learners who are made redundant, with support that includes 3 months of help with searching for a job, CV writing, interview techniques and online applications.
Travis Perkins is both the employer and the training provider of around 250 level 3 and 100 level 5 management apprentices. The need to work from home and deliver training remotely has forced them to make adjustments to delivery that they'd been trying to drive through for some time. While not ideal for every apprentice, the majority have fed back that the remote delivery is much better as it allows them to prioritise their time and avoids travel time (for when travel becomes possible again).
"We've managed to learn in the space of no time at all how to run stuff remotely – online workshops, reviews online with managers and it's actually going alright. It has been the catalyst for change that the business needed to innovate and get better," says Andy Rayner, head of apprenticeships at Travis Perkins.
With thanks to Simon Flenley at UWE Bristol for his help in writing this article.
CMI's Career Development Centre has resources that can help you to keep progressing during this time –
why not check out our video on managing change or our career assessment?
You can also read up on how to reduce stress levels and how to boost your mental resilience.
Image: Unsplash