Article:
Where are our disabled senior leaders?
Wednesday 14 April 2021
Disabled people are significantly less likely to be employed as managers. We can address it, but only if we get uncomfortable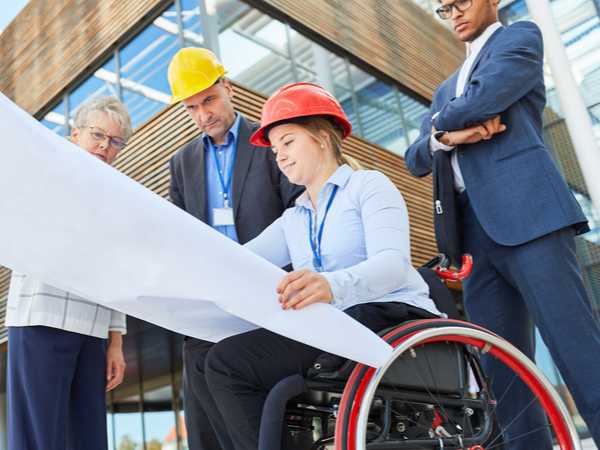 Liz Johnson found a new calling after retiring from competitive swimming in 2016. The former Paralympian set up The Ability People in 2018, a consultancy that aims to open up opportunities for people with disabilities by educating employers and helping them to improve their working cultures.
According to recent figures from the Office for National Statistics (ONS) in the UK, just over half of disabled people (52.1%) aged 16 to 64 years in the UK were employed in 2020. Around 8 in 10 (81.3%) of non-disabled people were employed during the same period. People with autism (21.7%), severe or specific learning difficulties (26.5%), mental illness or other nervous disorders (33.3%), epilepsy (34.2%) and progressive illnesses (35.8%) had particularly low employment rates.
This employment gap becomes starker at the top of organisations. The disabled people who were in work were significantly less likely to be employed as managers, directors or senior officials, or in professional occupations (27.2% for these two occupation groups combined) than non-disabled people (34.5% for both occupations combined).
"These gaps exist everywhere, at every level," says Liz. "For people with disabilities, there's always a bigger gap than there is for anyone else." People are often uncomfortable when talking about disability, she says, so they avoid the conversation. "Where it differs slightly to other minority demographics is that people don't even know how to contextualise it. They don't want to cause offence. So they don't say anything, and nothing gets addressed."
Managers must make themselves uncomfortable
Liz believes fixing this problem could be relatively simple, if only people didn't keep trying to complicate it. It requires an open mind and a people-focused approach, but it also requires managers to make themselves uncomfortable.
Most people have significant knowledge gaps, says Liz, but equally, they don't want to talk about it. "As a result, we can't help them re-educate." She believes we need "an educational experience that exposes more people to differences to normalise those differences." In her own case, Liz has cerebral palsy, which means that "my brain has a neurological impairment, and doesn't control all of my body as a typical person's would." As a child, she had the cognitive function to attend mainstream education but, due to lack of knowledge at the time, didn't get to go to school with her able-bodied peers.
This matters because without that education, decisions around recruitment, progression, inclusion and accessibility are based on assumptions that have no grounding in people's lived experiences. Just because someone has a disability that limits the dexterity in their hands, for example, doesn't mean that they cannot perform tasks as well as an able-bodied person – they just approach it differently. But that person with the disability is likely to miss out on work as a result, says Johnson.
Accessibility goes beyond the workplace
Able-bodied managers need to remember: accessibility is more than the immediate workplace. It's the travel into work, the wider environment, all of which might create barriers for people with disabilities to overcome. "There's a lot of wasted energy and effort from that individual on navigating that part of the world isn't set up for them," says Liz. "They may be achieving and producing in the workplace, but they may be operating at 80%, because of the unnecessary barriers and processes in place."
Too much of the time, the conversation revolves around why a person might need certain equipment or conditions in order to do their job. This in itself is a barrier, putting the onus on the individual to prove that they need what they need in order to deliver their best work. Instead of asking why when they get a request, managers should start asking what their people need in order to their job to the best of their ability.
"We need to change our language, change our questions and change the experience so that it's applicable to all," says Liz.
"Do I have to be a role model?"
When people with disabilities do get into leadership and management positions, Liz says we shouldn't look to them to be the voice of accessibility or representation. Forcing this role on people may explain why many managers with 'invisible' disabilities (which is about 70% of all disabilities) are unlikely to speak up about their own experiences.
"People think disability is something different, something that needs more," says Johnson. "Actually, it's about understanding what fairness looks like. A disabled person doesn't need you to fix an issue for them, but they do need you to make sure that there are options available to them that enable them to be successful."
Here's a first step...
A good first step in changing your own mindset when it comes to disability is to look at your social circle and see what it represents. Look for the differences within and how much you understand those differences. Understanding that you may have gaps in your knowledge and setting out to address them – no matter how uncomfortable it makes you – is a great place to start.
Liz suggests that you look at your organisation or team. Ask yourself what you actually know about the people you work with. When you come to address the issue, make it clear to everyone in the organisation that disability is on the agenda. Make it an event, a chance to have a conversation about these issues; have a special presentation or put the topic on the agenda at your regular company meeting. "Get someone in who represents what you're trying to do, because that speaks volumes."
Be driven by people, not by process, says Johnson. Have conversations with individuals and really listen to what they have to say. Most importantly, respond with action. "I don't need you to make me feel better about my disability – it's part of who I am. But I do need you to understand that your issues with understanding disability shouldn't be my burden."
You may also be interested in Patrick Dunne CMgr CCMI's article: We have a disability blind spot.
One way to tackle inequality in your workplace is to set meaningful targets and start measuring your progress. Much like gender pay gap reporting is a practical way of bringing gender inequality to light, the disability employment gap can be closed by practical steps. Take a look at our equal opportunities policy checklist on ManagementDirect as a start.
You might also like these posts on this topic:
Don't miss out - get notified of new content
Sign-up to become a Friend of CMI to recieve our free newsletter for a regular round-up of our latest insight and guidance.
CMI members always see more. For the widest selection of content, including CPD tools and multimedia resources, check out how to get involved with CMI membership.