Women in mid-life are managing work, menopause and caring responsibilities. Employers need to step up to meet their needs including their needs for exercise.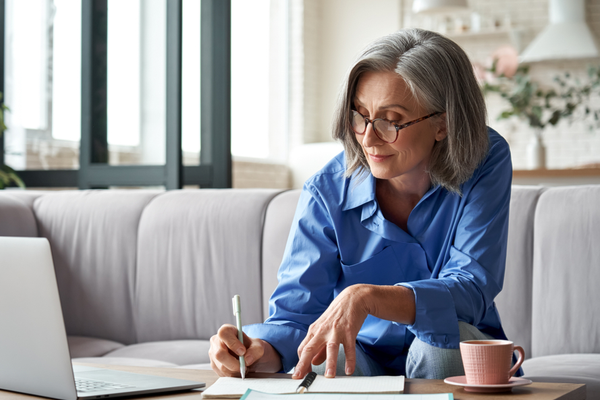 In 1998, I became pregnant soon after starting working in a new organisation. I was completely clueless about maternity policy and it turned out that I was only allowed to take three months' leave. Luckily my pregnancy went well and I worked right up to due-date. By the time I had to go back to work, my daughter was three months old and the nursery could take her. It was all far from ideal but I could stay in the job. Many were less fortunate, and work became impossible for them without family support.
Fortunately, maternity and flexible working policies have come a long way since then and the business world has recognised the long-term value of retaining bright women in their workforce.
But now employers need to rise to another challenge: the retention and support of women in mid-life.
The unique challenges facing mid-life women
In a hospital waiting room recently I got talking to two other daughters of elderly parents. We all had jobs – and brothers – yet we all carried the burden of responsibility for our parents' health.  My mother came out of the x-ray room first and I said that we were talking about how we never had time to take exercise, yet we know this may stave off osteoporosis. Her response was: "well, surely that's the woman's responsibility; a woman can just ask her husband if she can go out to an exercise class." This from an LSE-educated feminist who went back to work after having children and railed against being trapped in the kitchen, while most of her middle-class peer group were asked to leave work when they got married and often sank into a mire of depression and Valium.
The point in this anecdote is that society expects women to assume caring responsibilities, not just for children but for ageing parents. The sense of burden is often internalised, as society also expects us to cope, and by mid-life the pressure really builds. At the same time we also hit our menopause transition with its litany of symptoms, a life stage that can be hugely challenging but which women are also expected to cope with.
Time for employers to step up
While my mother's comment illustrates that culture is slow to change, business leaders can help. Employers can lead by seeking to better understand and support the 3.5 million women aged between 50 and 65 in the UK workforce. With some notable exceptions, such as Nottinghamshire Police which was the first organisation to introduce a menopause policy (lighter-weight uniforms and flexible working), few employers are yet considering the life stage needs of mid-life women.
The economy is losing the contribution of experienced women as a result. Carers UK say that women aged 45-54 are more than twice as likely than men to have given up work to care, with 50% of women caring for elderly relatives by the time they are 59 years old (75 years old for men). Nuffield Health found that one in ten women considered quitting their job due to menopause symptoms. And a survey of nearly 900 women in non-manual jobs in the UK in 2016 showed that those who stay at work report having to work twice as hard as they struggle with sleep deprivation, poor concentration and memory linked to growing self-doubt and anxiety.
A government-funded review of 104 academic studies into the menopause and economic participation identified that apart from improving organisational culture and providing compulsory equality and diversity training employers could offer specialist advice; tailored absence policies; flexible working patterns for mid-life women; and fairly low-cost environmental changes to support women during hot flashes.
Encouraging exercise is key
So what else can employers do to help their talented mid-life women? The 2016 study of 900 working women found that 87% saw exercise as a helpful coping strategy when it came to menopause symptoms.
Women in Sport recently conducted some research into the lives of mid-life women as they related to sport and exercise. We found that by mid-life, lack of time was the most frequently cited barrier when it came to investing in being active and staying healthy. For mid-life women, everyone else's needs came first. On top of this, women were ill prepared and surprised by how debilitating the symptoms of the perimenopause were and how long they lasted. And then there are their work responsibilities. It's a perfect storm of pressure.
The charity Women in Sport is asking employers to consider how they can help mid-life female employees find time for exercise. Employers should consider dedicated policies for mid-life women that build in menopause leave, care leave and a recognition that women are a special case too when it comes to exercise. Exercise could be facilitated by more flexible working hours, or access at work to appealing exercise options and post-exercise changing facilities. Of course, this wouldn't exclude men from care leave or exercise options, but what employers need to understand is that women have unique needs at this life stage*.
We are calling for more and better workplace policies on caring, menopause and exercise that take into account the need to nurture the physical and mental health of the employee. These may encourage female staff to innovate to find ways to be active and enjoy sport as a community, and men to get involved and step up as allies to encourage their colleagues to be active and support them practically.
The leading edge of the business sector will surely recognise this urgent need and also see that it can play a role in equalising society through such innovations.