The art of the 10 minute meeting and how to do two things at once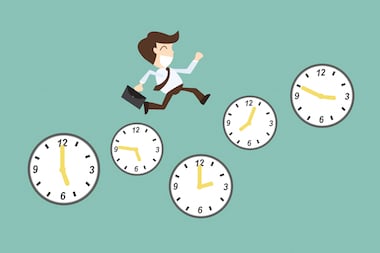 I once bumped into my old college friend David Wolstencroft at the baggage carousel in Los Angeles airport. It turned out we had both just taken the same plane from Heathrow. While waiting for our suitcases we chatted about the flight.
Me: "Well that was fun. I had some food, drank some wine, watched a couple of films and fell asleep."
Him: "I proofread a screenplay and wrote the first two chapters of my next book."
David is an award‐winning screenwriter, filmmaker and novelist. He created the television show Spooks, has written several television drama series including The Escape Artist and wrote the feature film Shooting Dogs, which starred John Hurt and Hugh Dancy. He lives in a fabulous house in the Hollywood Hills.
Now I know why. It turns out that David has been using his time better for years, even while we were at university.
Want to learn more about successful employee engagement?
Register for Free Access
Not yet a Member, Subscriber or Friend? Register as a CMI Friend for free, and get access to this and many other exclusive resources, as well as weekly updates straight to your inbox.
You have successfully registered
As a CMI Friend, you now have access to whole range of CMI Friendship benefits.
Please login to the left to confirm your registration and access the article.