Since the Coronavirus outbreak, St John Ambulance has scaled up the support it gives the NHS to a level not seen since world war II. Here's how the organisation rose to the urgent challenge to save lives and what leadership skills have been required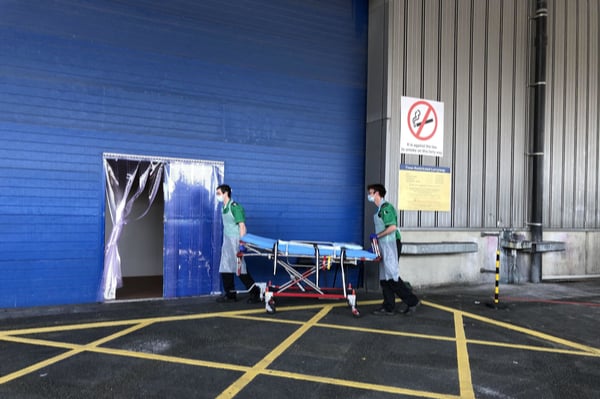 Since the pandemic took hold on this side of the world, St John Ambulance has geared up its life-saving activity on a remarkable scale, given the timeframe.
In just a few weeks, we've expanded our volunteer-crewed auxiliary ambulance service to put 100 ambulances a day at the disposal of NHS Ambulance Trusts; we've given hundreds of volunteers specialist Covid-19 training, who are now taking some of the strain in hospital emergency departments up and down the country. We are providing patient care and support to staff in the NHS Nightingale Hospitals in London and Birmingham, transporting doctors in the Midlands, supporting the National Blood Service and helping the homeless in Manchester. We've also trained up hundreds of external volunteers with existing first aid skills, notably from travel group TUI and airline BA.
HOW DID WE DO IT?
In order to train and deploy so many volunteers for such a specific purpose in such a short timeframe, we had to restructure how we managed the organisation. We therefore moved swiftly from a charity board structure, with collective decision-making, to one of command and control. While maintaining checks and balances, this allowed us to take action more quickly.
A strategic commander was placed in charge of all St John Ambulance resources and a tactical commander oversees all deployment of activity. Regional commanders in St John's North, South East and West regions ensure delivery is resourced locally, supported by a network of district managers. The new four-tier control system provides an effective, streamlined process.
The nerve centre of our command and control system is a newly created Joint Operations Control Cell, operating 24/7. Daily and weekly dashboards are produced to support decision-making at strategic and tactical level. We have four Regional Operational Control Cells which deliver activity from 32 hub locations, which bring together the 800 locations we usually use.
WHAT ARE THE SKILLS NEEDED?
In my role as deputy strategic commander, I am responsible for the day-to-day management of the organisation for the Strategic Command Group. Prior to Covid-19, my role was director of event, planning and delivery for the charity, overseeing the provision of first aid cover at 22,000 events a year. And prior to that, I was in the British Army for 14 years. These are the skills I have found useful in the last few weeks:
Communication. Both up and down the organisation, this is paramount. From key addresses by our CEO, operational updates from me, to regular, broader updates, constant, clear communication has been crucial to ensure our thousands of St John people understand what is going on and why.
Seeing the big picture. A huge amount of detailed information is given out throughout our systems every day. It is important in my role to see patterns in the detail, understand what they mean, and make decisions on this basis.
Understanding. People at the delivery end of the organisation are under a huge amount of stress and it's critical to understand this. The tactical and strategic commander are both paramedics, which is helpful. Talking to as many people as possible to understand their concerns is vital to good decision-making.
Effective decision-making. Fundamental to everything in such a fast-moving environment is the ability to know at what level decisions must be made, so they can be most effective. The idea of the four-tier chain of command is to ensure decisions are made in a timely manner, although reasons for decisions are recorded. This skill was learned very quickly by all our commanders.
St John Ambulance has done an incredible job at adapting to the changing circumstances and, I have no doubt, has made a huge difference to the nation through its support to the NHS.
PLEASE SUPPORT US NOW
And now, if I may, I'd like to make an appeal. Having been forced to stop so much of the activity that usually brings in income for the charity, such as first aid training and providing cover at public events, we are desperately in need of financial support. We currently need to raise at least £6m to ensure our survival during and after the Covid-19 crisis. Please support us by visiting www.sja.org.uk/savelives or text SAVE7 to 70577 to donate £10.
For more examples of great leaders stepping up, check out our every day, leadership series.
You can find more excellent resources to help you through the current crisis on our Leading Through Uncertainty hub.