CMgr of the Year nominee Tom Olliver CMgr FCMI faced a rare challenge for a rail engineer: to build a new network from scratch, to serve one of the biggest sporting events in the world. It even spawned a social media sensation…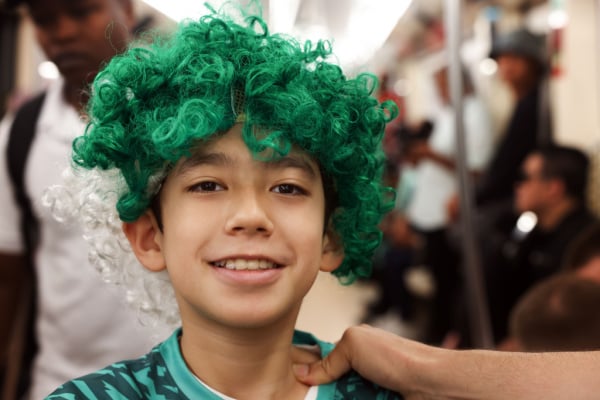 Starting from scratch is very rare in the rail development world. But when Tom Olliver CMgr FCMI – one of CMI's 2023 Chartered Manager of the Year shortlisters – found himself working on the construction of Doha's first metro system ahead of the 2022 Qatar World Cup, the entire network had to be built from the ground up. 
"If you hold a big event in London, the London Underground has been operating for 160 years," he says. "It's just a question of what extra operations and overlay you need to implement. You already have people who know how the network works. We were starting from absolute zero."
Tom, who's now in Riyadh, Saudi Arabia, building a light metro rail system for the Qiddya development, needed to deliver a rail service that would function effectively under the phenomenal pressures of one of the biggest sporting events in the world. It had to facilitate transport to and from matches, linking with a high-capacity bus service to ferry passengers to the stadiums. People couldn't be left waiting long to get onto their transport, and had to remain safe while doing so.
"The first part of the rail network opened in 2019, and the city went from no rail operations at all, with no established team with knowledge of how to operate it, to looking to stress-test the line with events and people that aren't used to Qatar, the policing that would be needed – every aspect of it all at once," says Tom.
We were all learning together. The crucial thing was to make sure that we built relationships and made sure that everyone trusted each other
Tom Olliver CMgr FCMI
Want to learn more about Tom's rail network journey?
Register for Free Access
Not yet a Member, Subscriber or Friend? Register as a CMI Friend for free, and get access to this and many other exclusive resources, as well as weekly updates straight to your inbox.
You have successfully registered
As a CMI Friend, you now have access to whole range of CMI Friendship benefits.
Please login to the left to confirm your registration and access the article.