Interview:
Easyjet Ceo Dame Carolyn Mccall on Transformative Leadership
Wednesday 26 April 2017
Political turbulence. Non-stop travel. The devalued pound. Life as easyjet ceo isn't always plain sailing. But dame carolyn mccall is in it for the long haul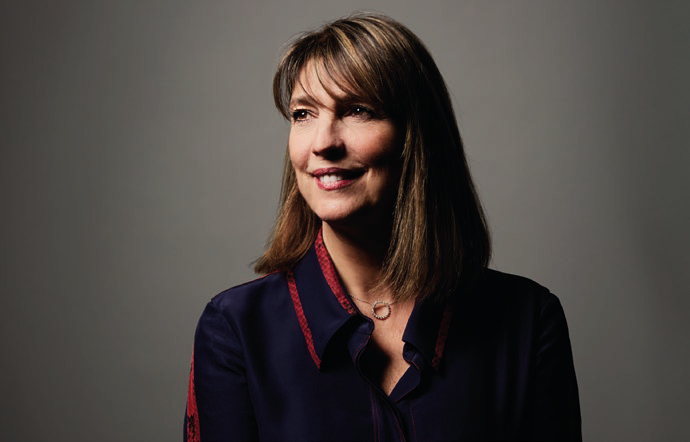 Dame Carolyn McCall, CEO of easyJet, the low-cost airline, has no office to call her own in the large, very orange building known as Hangar 89, where we meet.
This has been easyJet's headquarters at London Luton Airport in Bedfordshire since 1995. But her lack of personal CEO space is not because this operational control centre, housing all support teams, is all openplan.
"I don't even have a pod," she says, laughing. "I don't have an office at all. When I had one at Guardian Media Group [GMG], I never used it anyway... it was only used as a meeting room."
It's a telling remark from the woman who worked her way up from being a research planner at The Guardian to become CEO of Guardian Newspapers, before moving to GMG. Her arrival at easyJet in July 2010 as an outsider with no aviation experience prompted Michael O'Leary, boss of rival Ryanair, to call her a "media luvvie", and others to await failure.
Instead, her six and a half years as CEO have included five years of record profits for the airline.
She took on the role with the task of boosting employee morale and focusing on customers, having earned a solid reputation for business acumen and personal skills. In 2008, she was awarded an OBE for services to women in business in the Queen's birthday honours. This year, the New Year's honours conferred a further distinction – a DBE for services to the aviation industry.
Dame Carolyn's approach is hands-on and involves a lot of travel. Normally at Luton a day or two a week, with a day at offices in London, the rest of her week involves being on the move at airports including Gatwick and easyJet destinations.
On a Monday, she usually attends the daily operations meeting at Luton at 9.30am, "by which time", she says, "ops have gathered all the information we need on punctuality, weather, crew and customer issues".
As we walk through the buzzing operations centre, there is clear diversity in the workforce. Large screens depict the current state of play.
"I'm delighted to see that one doesn't have any red on it today," Dame Carolyn comments to the networks manager, who at that moment looks very relaxed. "It's how I keep in touch – on planes, across airports and in crew rooms. It is all about being hands-on and moving around, talking to people. We have taken customer service to a new level and – I say this with no hubris – we have redefined what customer service is for the low-fares market."
"We are better than BA for service at short haul," she says. It's a powerful message, simply put.
The way forward in communicating better with customers involves giving them more information that is timely, she adds. A single encounter can make all that walking around worthwhile.
"It's that couple who come up and say: 'Thank you for changing easyJet – we love it now,'" notes Dame Carolyn.
The easyJet CEO's travels include meetings at management level, where the team numbers between 200 and 250 people across Europe. Management conferences are held twice a year.
Vision and strategy are on the agenda, as well as workshops for debating issues and problems. "They could involve anything from customer data to digital innovation. I have lots of one-to-one meetings with the top 50 senior leadership executive team and I see them monthly as a group," says Dame Carolyn.
High-flying Women
When it comes to questions about leadership and gender, her response is similar to that of other women in the top ranks of business: "I see myself as a CEO, not a female CEO, and I always have done."
"I have always supported and mentored women and will always give the time to do so," she says. She acts as a mentor to women both internally within easyJet and externally as well. "But, when I am recruiting, I am always looking for talent and the best person for the job. There are opportunities to promote internally, and that is different – when you know that someone has talent and can take it to the next level. That has a different ethos," she adds.
"We have a very balanced management team," she points out. One in three people in easyJet's middle-management ranks is female, and 55% of the executive team are women.
Get involved: Join CMI Women and help drive gender diversity in your organisation
Internal promotions and role models at the top should encourage more women, says Dame Carolyn. "It hasn't been a deliberate strategy to get 50/50 [gender equality] but, without that female middle-management pipeline, it's not easy when people start to leave. It's a big decision logistically and financially – women don't always have the appetite to come back," she adds.
It's a problem that affects all organisations, not just easyJet. That's why an emphasis on internal development and support lies behind the CMI Women initiative, which offers a blueprint for organisations to create a pipeline of women in management.
Dame Carolyn suggests that the reason why organisations find they lose women is often cultural.
"It has a lot to do with how connected they feel and if there is a real flexible working opportunity. Women do have to ask and companies have to listen – if they remain rigid about how they see this world, they will lose women," she says. "Companies also have a role, as do leaders in organisations, to ensure you have a culture where you can speak up about it. Men in management have a very important role to play. Women must be willing to say: 'I am good at what I do and this is how you'd have to act to keep me,'" says Dame Carolyn.
We talk about generational changes, attitudes to work and the concept of a 'worklife balance'. It isn't just women who want change, and it isn't always about parenthood, she suggests. "Men in their 30s and 40s have a very different attitude to work than their fathers. It's much more about not letting one thing dominate [your life]."
Read more: 5 ways men can help tackle the missing middle
Cabin crew form a large portion of easyJet's workforce. As such, the customer-facing side of the business is very young. So, when she became CEO, Dame Carolyn established women's networks, with speaker events and story-sharing.
At the outset, she also started a dial-in chat for all staff once a week, where they could email her directly with questions and responses. "I wanted something very simple," she says. Today, a podcast offers both simplicity and reach, and it's supplemented by a 'stand up' every few months.
"I just stand up and talk briefly," she explains.
Turbulence Ahead
In her time as CEO, much has changed. "We have scale now and with scale comes complexity. It's a mantra to say: 'How do we stay innovative and pioneering and different?'… One of the key bits of my role over the past year or so has been dealing with terrorist threats and the EU referendum vote, leading to the devaluation of the pound," she says.
A strong business voice in favour of remaining in the EU, Dame Carolyn nevertheless is moving to acquire an air-operating certificate in Europe, which would allow the airline to continue flying within Europe without restriction, regardless of the outcome of UK/EU talks.
"We now know – via legal opinion – that we will not have to move our HQ and we are not going to be buffeted by differences in political ideologies. We can take the risk around European flying rights off the table and control our own destiny," she says.
As CEO, Dame Carolyn has ensured that easyJet can delay or accelerate fleet deliveries according to market conditions. The airline leases some of its fleet and terminates or extends the leases according to demand, as part of its focus on ensuring new capacity is profitable.
Describing the trading environment at the time of the interview as "all about pricing", Dame Carolyn says: "The most important thing is that everyone knows that structurally it's a winner."
But she concedes: "It is much harder being a leader when it's tougher than when you were just rising. Leading in a variable environment means absorbing a lot of the uncertainty. It's about being honest with what you say – and what you don't say."
Not only is clarity of direction for the business very important, but "communicating it and making sure it lands with everyone" is key.
"You have to keep your energy and be resilient,and remember the long-term vision. In a quarterly earnings environment, there is a huge pressure – one that does not make for sustainable business. Some of our decisions are made five to 10 years down the line," she says.
Dina Medland is a writer and former Financial Times journalist. She writes about leadership and governance for Forbes online