Interview:
Exclusive Interview: Anna Jones on Leaving Hearst, Female Entrepreneurship and What Makes a Good Leader
Tuesday 04 September 2018
Allbright founder Anna Jones is out to help women in business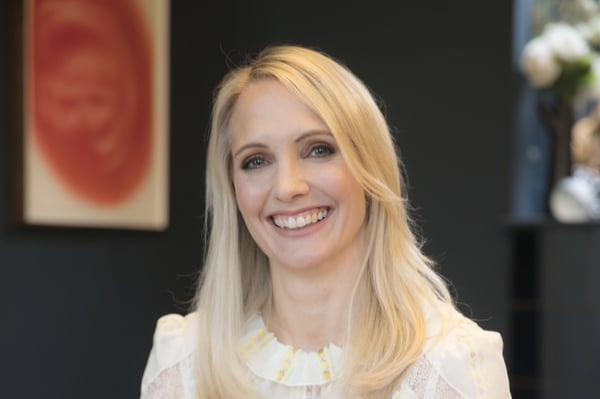 A prominent face in the media industry, Anna Jones was chief executive of publisher Hearst for three years, until she left in March 2017 to co-found AllBright. The organisation helps female entrepreneurs and employees to lead businesses through networking, funding and masterclasses with well-known UK businesswomen. Here, Jones explains how she's developed as a manager during her career, and how she can help other leaders to thrive.
To What Extent Were You Aware of Unconscious Gender Bias in Your Own Career?
"I have always felt well supported but what I have observed in boardrooms is women understating their experience and achievements. Men will traditionally overstate their experience. With AllBright we are trying to give women the space to develop that confidence and to share their experience within a supportive community."
Tell Us About Allbright and Why It Was the Right Move for You?
"My previous roles involved working for female-focused businesses and products so I think I have an understanding of what interests women, and the issues that they are facing.
"AllBright felt like an opportunity to make a difference. Within a large company, decisions are often made slowly and there are more stakeholders. Within a start-up you're able to make changes and put programmes in place more quickly that could get results."
What Does the Business Look Like and What Can We Expect From It?
"There are three strands to the AllBright business – our members' clubs, our Academy and a programme of live events. We're opening a second London club in Mayfair in 2019 as well as our first American club in LA.
"The Academy is a new online educational platform designed to help women in the UK run successful businesses and smash corporate glass ceilings. It goes live in September 2018 and thousands of women have already signed up for the free 10-week programme."
Designer Cath Kidston, Wahaca Founder Thomasina Miers and TV presenter Trinny Woodall are among the Academy faculty who are delivering the programme's content, together with Cosmopolitan Editor Farrah Storr, co-founder of Coffee Republic Sahar Hashemi, equality campaigner Luciana Berger MP, Olympic Gold medallist Christa Cullen and the award-winning talkRADIO team from Badass Women's Hour.
"The Academy programme offers modules for existing and budding entrepreneurs as well as specific content for women working in all professions, at any stage of their career. It will be run by a network of regional ambassadors and there will also be in-person meet-ups during and beyond the 10-week course, giving participants the chance to come together and network as 'AllBright Alumni'."
What Does Success Look Like for Allbright?
With a growing community of inspiring and connected women across the globe, we feel that there's no stopping what we can do. I think global business is waking up to the impact of having motivated and empowered women building businesses for themselves and others – and as we're half the population, that can only be a great thing.
We've just secured investment to support the international expansion of AllBright, starting with our first American club due to open in LA in 2019. And we want to extend the reach of our Academy offer to support women in work and business across the world.
We Hear a Lot About the Skills Needed to Make It in a Senior Leadership Role. What Skills and Experiences Do You Think Managers Need?
An understanding of the numbers is definitely important. Before becoming CEO I had worked as head of digital and strategy [for Hachette Filipacchi before the Hearst merger] so I had an understanding of operations and positioning, as well as communications and marketing. You need a good gut instinct too – and that's important for female entrepreneurs and executives.
What Do You Think It is That Makes You a Good Manager and Leader?
I am lucky to be surrounded by a talented team at AllBright and I think it's important to support others and hire good people around you. I try to lead by example. I work hard, will roll my sleeves up and I'm very open and direct about business challenges and excited about opportunities. I am naturally very optimistic and look for a solution to all problems – 99% of the time there is one – you just need to be creative.
What Weighting Do You Give to Personality Factors or Soft Skills, Compared to Technical Ability When Hiring Managers?
A good manager needs both. My ethos for delivering the right culture in a company is to balance excellence in execution with delivering an open and creative atmosphere where good work is celebrated. We move at such pace at AllBright but we still stop once a month to review all the things we're proud of and acknowledge each other.
CMI Has Been Looking at 'purpose' as a Motivator for Business. Has Social Purpose Become More Important to You Over Time?
I have always been a champion of women; I am the eldest of four sisters so, for me, purpose has always been around championing women. It's not a huge surprise therefore that my first business as an entrepreneur is all about that.
Is Working Life Happier or Unhappier Now?
I am happier than I have ever been. I feel like my whole life has become a 'pinch me' moment – I'm running my own company alongside the most inspirational co-founder (Debbie Wosskow OBE), doing something I feel passionately about every day, with incredible women and enlightened men. What could be better than that?
Further information about AllBright is available here. Interested in gender equality? The CMI has a network for male and female managers to support women in the workplace: Find out more about CMI Women.