Interview:
"Lack of vision, increasing debt, inconsistent approaches"
Written by Stuart Rock
Wednesday 21 September 2022
Becoming a Chartered Manager taught Ricky Massey CMgr FCMI two things about his leadership: First, building trust must be nurtured; second, delegation is not abdication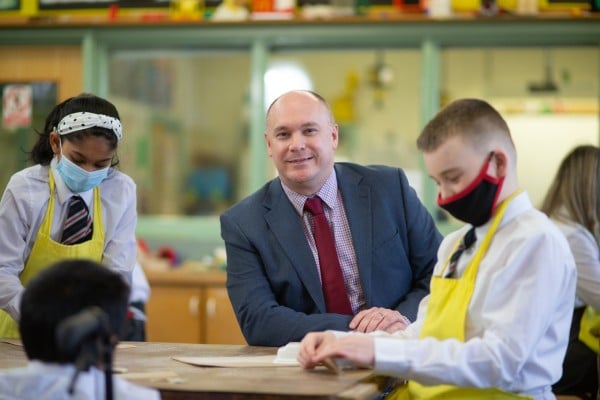 When Ricky Massey CMgr FCMI accepted his first headship in 2018, it should have been a joyous and personally momentous occasion. He had been a teacher for the previous 14 years, during which time he had been accredited as a Chartered Manager, completed a masters in educational leadership and had become the first post-primary leader in Northern Ireland to be made a fellow of the Chartered College of Teaching.
But, as he recalls, even though Glengormley High School "was bursting with hard-working and highly skilled professionals", it had lost its way. Enrolment levels were declining and academic standards were low. The school, he says, was "crippled with a lack of vision, increasing debt and inconsistent approaches". There was grave discontent both within and outside the school walls.
Between April to September that year, Ricky and his team set about a huge programme of organisational change, introducing new procedures and processes across every facet of the school. Throughout the past four years, Ricky has poured himself into the school in every way – as he puts it, "my time, my money, my energy, my thoughts and in truth, my life!" 
Never stand still
The results are there to be seen. Enrolments are up and for the first time in more than 15 years, the school is oversubscribed. Results have improved. Not only were planned redundancies shelved, but the school has also created additional teaching posts. It has won awards for its provision of special educational needs. In March 2022 it became Integrated College Glengormley – the first post-primary school to move to integrated status in more than 12 years – bringing children and staff from Catholic and Protestant traditions, as well as those of other faiths, or none, together.
Register for Free Access
Not yet a Member, Subscriber or Friend? Register as a CMI Friend for free, and get access to this and many other exclusive resources, as well as weekly updates straight to your inbox.
You have successfully registered
As a CMI Friend, you now have access to whole range of CMI Friendship benefits.
Please login to the left to confirm your registration and access the article.