Listicle:
Career progression: How to get ahead in tough times
Written by Emily Hill
Wednesday 17 February 2021
Here are five simple ways you can showcase the work you've been doing over the past year and progress your career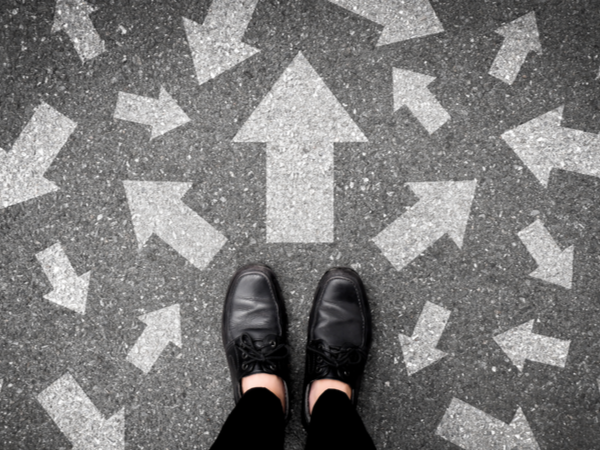 The future is brighter than it has been for a year, but the outlook remains uncertain for the majority of managers. In a previous article, pay rises and promotions in the time of Covid, we discussed CMI data on how real-life managers were feeling about their career progression over 2021. Our surveys revealed that 73% of CMI members do not expect a promotion in 2021; just under half do not expect a pay rise; and those who do, expect their salaries to be pegged to inflation. We spoke to two managers who had changed careers over the past year, and noted how important it is to work out how to maintain career progression. In this article, let's look at how to facilitate conversations, discuss performance, and put yourself forward in a complex environment.
So here are some top tips for getting ahead in tough times.
1. Get to grips with the new situation…
The pandemic has transformed the business world in ways we could not have imagined a year ago, which means many companies have had to reimagine themselves to survive. Making yourself an essential part of the future working world means starting from scratch in regards to researching your own company and where it's at now. "Your knowledge of the business demonstrates that it's more than just a 9-5 way to pay the bills and that's what makes you stand out," says Craig Kirkcaldy, co-founder at By Gamers For Gamers. "Often those in senior leadership roles will be fully involved with the development and growth of the business, so any potential candidate for a promotion would be expected to demonstrate that they fully understand the situation, how COVID-19 has impacted the businesses and the ways to bounce back."
2. Even if you don't expect a promotion, make sure you discuss it…
"If you feel that your performance is worthy of recognition, then you are well within your rights to have that conversation with your superiors," argues Sarah-Jane McQueen, general manager at CoursesOnline. "While it might not lead to an immediate change, it can lay the foundation for a move upwards once things are in a better place… As someone who has led a team through a very difficult time, employers know your worth and realise the need to reward proven loyalty and talent."
You may find that over the past year, with your colleagues on furlough and with your organisation adapting to the new working world, your responsibilities have changed. Why not schedule in a 30-minute review with your line manager to discuss your current duties? This not only presents an opportunity to clarify what's in your remit, but also to discuss aspects of the role you enjoy, areas you excel, and projects that have gone well under your supervision. This doesn't necessarily have to also be the conversation in which you talk about a promotion, but by having this precursor talk you've put your hard work visibiy in front of your line manager.
3. Look into what personal development options are available to you…
Career progression may feel as though it's stalled in the short term, but this means you have time to reflect on where you're heading, if you're sure that's where you want to go – if so, plan your route meticulously. "Going out of your way to undertake some form of training not only opens your mind to new ways of thinking but highlights to the decision makers within your organisation your drive and unwillingness to rest on past accomplishments," McQueen adds.
Don't forget that CMI's route to becoming Chartered has been built around learning and development; every level of the journey teaches you new skills, methods, and theories that you can put into practice in your role.
4. Be flexible and agile…
If there's one thing we can be sure of in a post-pandemic context it's that agility and flexibility are vital to survival. "Any future senior leaders will need to demonstrate they can be flexible and agile within their roles and respond to the needs of the business rather than the list of duties within their old job remit," Kirkcaldy adds. "If you recognise a way for your role to be adapted which will positively impact the business, share it with your boss." This proactive thinking is sure to further earn you brownie points, and means you'll be at the forefront of people's minds when a promotion is on the cards.
If you're looking for quick, bite-sized ways to boost your flexibility and reactive working practices, sign into ManagementDirect – an exclusive CMI member benefit. With thousands of videos, book chapters and checklists covering everything from 'flexible working' to 'productivity', you're sure to find something to help you today.
5. Managing people means managing stress and discomfort…
If you're in a management position, your own promotion may feel like the least of your problems currently; you may be managing team members who won't be getting promotions, or those struggling to cope with their own stress and discomforts, or juggling a long list of other concerns. Ironically, this provides a unique opportunity to stand out for – as Sarah-Jane McQueen concludes: "captaining a steady ship – handling your own stress – will speak volumes to your superiors as well as benefiting your team… Being able to instill calm during a crisis is one of the most coveted skills and will breed loyalty and trust."
CMI also offers lots of full-access resources in the Career Development Centre, including resilience, assertiveness and personality tests – check it out today!
You can also find out more on managing and working through the Covid-19 crisis on our leading through uncertainty hub.
You might also like these posts on this topic:
Don't miss out - get notified of new content
Sign-up to become a Friend of CMI to recieve our free newsletter for a regular round-up of our latest insight and guidance.
CMI members always see more. For the widest selection of content, including CPD tools and multimedia resources, check out how to get involved with CMI membership.