Listicle:
Five Ways to Stay Productive When Working Over the Festive Period
Tuesday 18 December 2018
How to beat afternoon energy dips at this time of year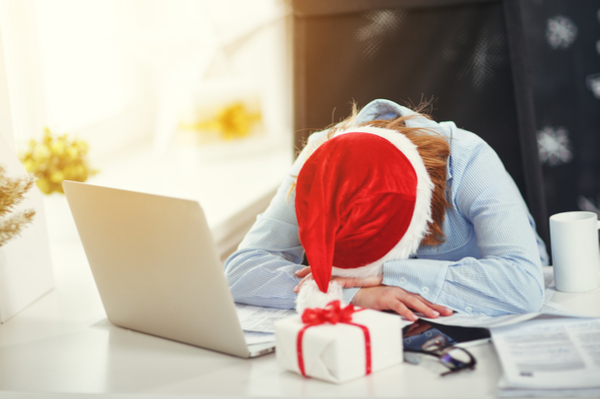 It's 2:30pm, mid-week in late December. Overcome with the feeling of lethargy, you're struggling to retain interest in your work, not least because your colleagues have taken annual leave over the festive period.
The post-lunch lull is the worst. Your 'circadian rhythm' – the sleep/wake cycle – is largely to blame. The brain's natural sleep chemical, melatonin, is released between 2pm and 5pm, and it put us in the mood to snooze.
But there are ways to maintain productivity and hit your end of year deadlines. Here are six ways to stay focused and revitalised at work when productivity begins to slip.
1. Socialise With Colleagues and Clients
Feeling unmotivated? Schedule catch-ups with colleagues and clients to re-energise.
Published in Personnel Psychology, a management study found individuals with strong relationship with colleagues perform better at work.
PR agency PHA Media, based in London, encourages staff to form close-knit relationships by offering them a range of regular activities such as fitness classes, yoga, paintballing and afternoon tea.
2. Show Gratitude
The festive period is the ideal time to express gratitude, and keeping a so-called 'gratitude journal' – written, photographic or mental – is a confidence-boosting way of reviewing your experiences and inspiring future efforts.
A 2012 study by social scientists Jan-Emmanuel De Neve and Andrew J. Oswald found that young people who referred to themselves as "very happy" ended up with future incomes that were ten per cent higher than other participants in the study.
To help employees keep track of their achievements, KPMG's UK offices implemented 'Encore!,' an employee recognition programme which rewards colleagues for showing outstanding behaviours or results. The Encore! programme includes manager-to-employee, peer-to-peer and long service awards.
3. Have a Meeting, Try a Different Location
Research by UK app firm YouCanBookMe found 2:30 p.m. on Tuesday is the single best time to schedule a productive meeting, based on more than two million respondents.
Why not re-invigorate up your meetings by gathering your team in a different office, on the sofas or even an outdoor site? A change of scenery can often spur excitement, idea generation and collaboration.
Insurance firm Simply Business encourages to employees to use flexibility to work smartly. Its Northampton-based office features different workshop spaces, offices and collaboration areas for face-to-face interaction.
4. Have a Power Nap
Nick Littlehales, an elite sport sleep coach who has worked for Manchester United and Team Sky, says everyone can benefit from sleeping multiple times a day, rather than just at night. "Just after lunch is a corporate graveyard slot in business," explains Littlehales. "If you go just semi-conscious for a while, you can raise alertness by around 54%."
Having built its own 'nap room', software company BrightHR encourages tired staff to take a short sleep during working hours to enhance productivity, using the latest sleep technology to induce sleep quickly.
5. Reorganise Your Workspace
While it doesn't require great amounts of energy, decluttering brings the order necessary to be organised and work productively, according to a survey of employees by workplace tech firm Brother. About one in three workers also said it's helped them advance their careers, the report revealed.
UK telecoms from Moneypenny experienced a rise in staff morale when it renovated its offices with plants, natural ventilation, a treehouse meeting room and other improvements to give staff a clear, spacious and orderly office.
Inspired? Read our 12 productivity hacks all managers need. You'll find more information on the state of UK productivity in the CMI Management Manifesto.