Read the full report
Five years on from the introduction of the Apprenticeship Levy, what is needed is fine tuning and careful reform. Our recommendations encourage policymakers to think creatively about how we improve take up, particularly amongst smaller businesses and those learners who could benefit.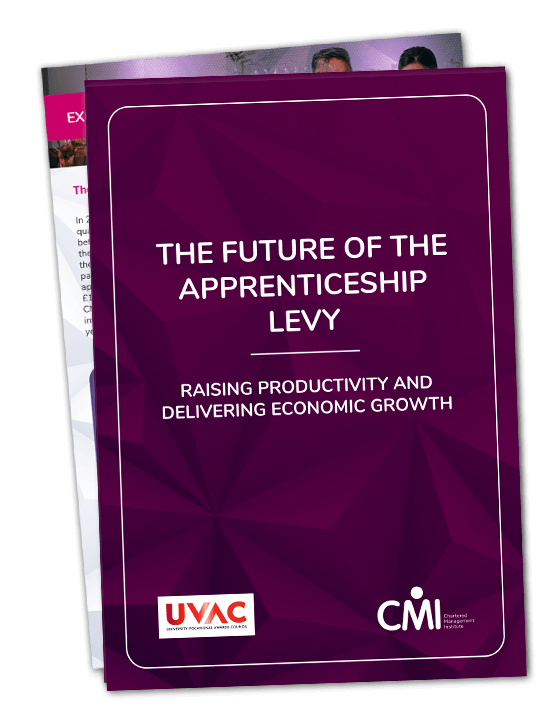 Get involved
Register your interest and find out how you can add your voice to the campaign.
Our key recommendations
A positive reform agenda would increase data and funding transparency,  reduce bureaucracy and streamline processes, and reduce the risk for providers and employers in taking on those from under-represented groups by providing both employers and apprentices with additional support. CMI recommends:
Clarity and Transparency
Government should define an 'English Model of Apprenticeships' and enshrine it in law. It should be standards-based, accessible to all ages at all levels, employer-led, and Levy-supported, with clear definitions around the purpose and evaluation criteria (and reporting)  for apprenticeships policy: productivity, improved public services and social mobility.
Widen the scope of the system
Government should consult on widening the Levy at a lower rate for more employers from 2025, to be introduced alongside wrap-around advice and guidance and/or wage subsidies. Government should also introduce auto enrolment on the Apprenticeship Service for all registered companies with employees listed on Companies House with regular communications on apprenticeships sent via HMRC.
Introduce an Apprenticeships Opportunity Fund
A ring-fenced budget - funded by Levy transfer, expired Levy funds, an additional charge on large employers or a grant from government - to improve much needed support for under-served groups/ businesses to access and progress through apprenticeships.
The Impact of Apprenticeships
Evidence suggests that apprenticeships are delivering productivity gains, helping businesses and public services to innovate, and transforming organisational cultures around learning and development.
Apprenticeships as an investment in future productivity
New CMI modelling finds England's flagship apprenticeship programme is on track to boost growth and productivity with every year's cohort of apprentices contributing almost £700m each year to the economy within a decade. We also found that apprentices qualified in 2019 are projected to add £7bn to the economy by the end of 2029, based on an initial training investment of £2bn - a 300% return on investment.
That investment in figures
Over the next decade, CMI projects apprentices will add output of more than three times the initial investment on current trends. Apprenticeships are an excellent investment in future productivity.
All the apprentices trained in the next decade will add almost £10billion to the economy by the end of 2030
Employers receive a return on investment to management apprenticeships in the form of a 15%+ increase in productivity
Degree apprentices contribute additional productivity of more than 20% during their apprenticeship.
Apprenticeships as a driver of opportunity
Apprenticeships have emerged as an aspirational programme instead of the 'good choice for other people's children' as they were often seen  in the past. In some occupations apprenticeships are acting as the key tool to diversify recruitment and provide new avenues for upwards social mobility. The Police Constable Degree Apprenticeship is, for example, helping substantially increase the recruitment of women and BAME applicants vital to the effectiveness of policing in the future.
71% of management apprentices come from families where neither parent went to university
97% of management apprentices say their apprenticeship has increased their commitment to improving the training and development of their direct reports
Misplaced Criticism
There have been calls for Apprenticeships  to be limited to certain skills levels, or for the Apprenticeship Levy to be diluted  into a general skills levy. These changes would dilute the impact of apprenticeships and unpick the gains that are being made.
The Apprenticeship Levy is not the main barrier to the take-up of apprenticeships. Instead we should focus on solving:
Capacity constraints - funding but also administrative time, for both large and small businesses, although this is more acute in SMEs.
Lack of information, advice and guidance  - for businesses and individuals - and a complex application process
The risk involved - for employers and education providers - in taking on those less ready for work or learning and/ or needing additional support, given their increased needs and chance of drop out.
Restricting employer choice on apprentice level or occupation would not directly address these challenges. It could in fact damage some of the progress that has been made to embed high quality training, to provide progression opportunities, and to improve much needed skilled capacity in the public and private sectors.
Resources & Case Studies
CMI has spoken to a number of apprentices and employers to gain insights into their experience of undertaking a management apprenticeship with CMI.
[The apprenticeship] has had a profound effect on the business. I can't think of a part of the business it hasn't affected…We tried to work out the impact and we got to at least £200,000.
David Conn, Director, Broadley Speaking
I have the letters after my name, I'm so proud to put that after my signature. It means I'm recognised and you can be validated.
Jacintha Dix, Practice Plus Group
We need more diversity of thinking...around 80% of the workforce is male with an average age that's increasing all the time.... [apprenticeships] have been effective in bringing that more diverse population in.
Andy Rayner, Travis Perkins plc
It enables you to be much more prepared to face whatever challenges come your way during your day-to-day management running your team.
Christian Nnabugwu, Harris Foundation
This was a very enriching and positive experience for myself and the business. I definitely encourage people to look at it. I go around telling people who are at school now 'Don't go to college, don't go to university and do a degree, go get experience in a company and do a graduate apprenticeship. You'll get a much better result out of it.
Chris Walker, CEO & Director, Diamond Hard Surfaces