'Always on managers' are now working 29 days extra a year and are suffering rising levels of stress according to the 2016 Quality of Working Life study.
CMI and Work Psychology Group surveyed 1,574 UK managers. Read on to:
Find out what's driving the long-hours culture and the impact it has on workers and employers
Learn from case studies of progressive businesses finding innovative ways to improve the quality of their employees' working lives
Take away recommendations on the effective management skills that improve welfare at work
The 'always on' culture must be switched off, with line managers encouraged to support an 'always willing' mindset that reflects the give-and-take necessary for work/life balance.
Get the lowdown on the latest working trends affecting managers' stress levels, and the impact it's having on their wellbeing – and that of their employers.
Read the full report
Complete insight into what's affecting managers' quality of working life and the impact it's making.
Case studies of major employers finding new ways to improve staff welfare through better management.
Recommendations for developing managers to improve workplace wellbeing and productivity.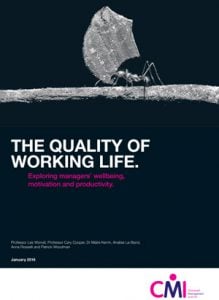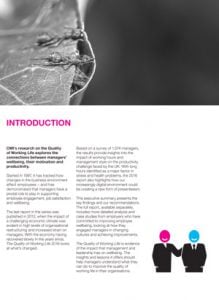 Executive summary and recommendations
Want to cut to the chase? We've sliced need-to-know information from the report into bite-size chunks…
Case Studies
Learn from the likes of Arup, Imperial College London and Loopdynamic on how they are improving the quality of working life of their employees.