A visit to Kowloon
Members of CMI Hong Kong consolidate partnership with Kowloon Chamber of Commerce
CMI Hong Kong has always been a strong advocate of forming partnerships with professional bodies, industrial associations and chambers of commerce in Hong Kong. The first corporate alliance that we have formed is with the Kowloon Chamber of Commerce (KCC).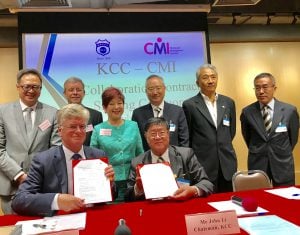 The KCC is one of the largest and oldest business associations in Hong Kong.  Four of their top executive members are also long-time Fellows of CMI, including Mr John Li, chairman of the chamber; Mr Ernest Yuen, vice chairman; Mr Conrad Lee, chairman of the board of supervisors, and Mr Alexander Chang, executive member.
To commemorate this alliance, the KCC has incorporated the photo of the signing of the alliance into their 80th Anniversary Souvenir Sheet.
On Thursday 22 July, 2021, our honorary chair, Dr Paulina Chan, and honorary secretary, Mr. Derek Choi, were invited by Mr Conrad Lee to visit the chamber and present to their members the many benefits of CMI membership, and present the roadmap to becoming a member of the CMI and becoming a chartered manager.
The seminar was very well attended by over 20 senior and junior members of the chamber, all of whom were intrigued by the vast network of managers, the support provided to members by the CMI as well as the learning opportunities (which current members can access now by logging in). Prior to the seminar we had already received a cohort of applications for membership, and on the day we also received 30 new applications!
We look forward to welcoming these new members into our community.