Five things you should know about the new UK strike rules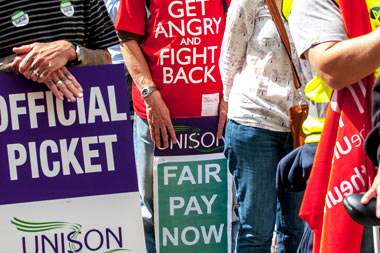 As industrial action continues to spawn thorny HR issues, here are the most essential points about the government's planned countermeasures
Jermaine Haughton
Has the British public, regardless of political views, run out of patience with strikers?
That certainly seems to be the case, with a ComRes poll for today's Daily Mail revealing that 55% of Labour voters back new rules to curb the right to strike – particularly in the public sector. Only 39% of the Labour sample in the right-wing paper's survey said they were opposed to the measures, while across the voting spectrum, 62% of those polled wanted changes to the way industrial action is planned and implemented.
Strikes have taken a lead in the news agenda of recent weeks, with coordinated walkouts by several unions threatened in the run-up to the Whitsun bank holiday at the end of May. While they were called off at the 11th hour, the strikes were predicted to take out 90% of the UK's rail services over that weekend, posing severe logistical difficulties for businesses and passengers at a time of high travel activity.
Signs are, though, that strike action of that scale is unlikely to be feasible under the new rules, announced at the end of last month in the Queen's Speech. In what is set to be the biggest reform of trade unions since Margaret Thatcher's Tory leadership in the 1980s, the Trade Unions Bill plans to revolutionise the industrial action landscape and overhaul the relationship between businesses, politicians, unions and the public.
Here are five things you should know about those rules…
1. It will be harder for unions to call strike action
The government's killer proposal to change strike rules is the introduction of a 50% voting threshold for union ballot turnouts. In other words, for any future strike action to be valid, union leaders must achieve support from a majority of members, rather than walk out on a whisker of support. For business secretary Sajid Javid, the measure is a direct response to several recent strike action ballots – mainly in the transport sector – which received "perhaps only 10% to 15%" of membership backing. (Source)
2. Bosses will be able to take on agency staff to fill gaps
Overturning a provision that bans bosses from employing agency staff to fulfil the roles of full-time staff during strikes is another key provision. As well as giving employers a back-up strategy to deal with the temporary loss of workers' services during such periods, bosses will also have a stronger bargaining position with unions as they wouldn't be held to ransom. (Source)
3. Protection for key public services will be enhanced
Strikes in the health, transport, fire service and education sector can bring towns and cities to standstills, costing businesses millions of pounds and having significant impacts on members of the public. As such, Javid's proposal to require a 50%+ turnout and a 40% minimum backing for strike action among public service workers aims to slash the frequency of actions. (Source)
4. There will be time restrictions on strike ballots
Future strike ballots will be subject to expiration dates, according to the new plans. Last summer, the National Union of Teachers threatened to organise a walkout during the high point of their students' exams, relying upon a ballot that dated back two years. However, the Conservatives want to impose a time limit to prevent strikes from arising on the back of old votes. (Source)
5. The new rules are likely to damage Labour Party finances
The changes could also have a wider impact on the funding, structure and policies of the Labour Party, with the Trade Unions Bill threatening to stop unions being able to sign up members to contribute to "political funds" without actively seeking their consent. Instead, members would be asked to opt in. Experts suggest the move could trigger a £25m reduction in funding for Labour over the next five years. Considering one of the party's biggest obstacles during the recent General Election was gaining support from the business community, the potential trim of its trade union roots could open up new and established relationships with employers. (Source)
While Unite union chief Len McCluskey has raised the possibility of "civil disobedience" if the new rules are passed through Parliament, business lobby the CBI has supported the reforms, stating that strikes "should always be the result of a clear, positive decision by those balloted"
For further thoughts on managing difficult HR issues, sign up to this forthcoming CMI seminar.
Image of picket line courtesy of Clive Chilvers / Shutterstock.
Powered by
Professional Manager