At times of crisis, it's female leaders who are more likely to step up – and then risk harsh judgement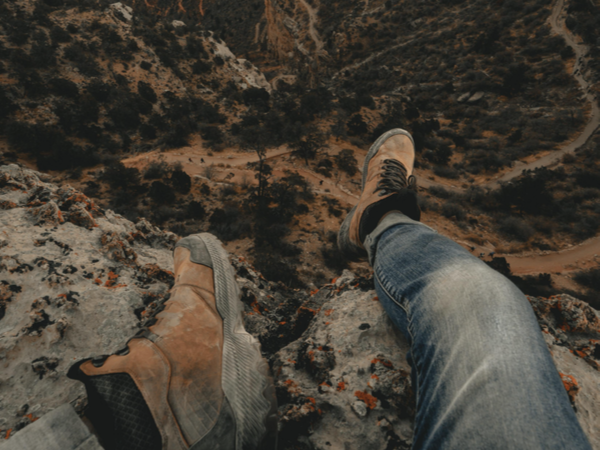 Monday 8 March marks International Women's Day 2021, so what better time to examine the idea of 'The Glass Cliff' - the theory that women in leadership roles are more likely than men to achieve leadership roles during periods of crisis or downturn, when the chance of failure is highest?
The first female vice president Kamala Harris took on the role at a time of unprecedented turmoil in the US. One of the few politicians judged to have managed the Coronavirus pandemic well is New Zealand's prime minister Jacinda Ardern. Theresa May became the UK's prime minister after the divisive Brexit vote. The stakes around these women's positions are unusually high, and their successes or failures may be judged more harshly as a result.
Closer to home, we've come across countless examples of women in the CMI community stepping up to new responsibilities and pressures during the pandemic. Amelia Fallows, for example, who took on more responsibilities during the pandemic at her organisation, Network Rail.
"I took on the role of the Covid-19 champion for my area of the business," she told us, "in which I arranged for all Covid-19-related supplies to get to each depot so that normal maintenance activities could continue. I also set up the depot and risk assessed all other depots, guiding those to make sure they were Covid-19-secure to facilitate those who still needed to attend. This enabled normal operations to continue. I acted as the key contact for all items Covid-19 where managers could seek guidance on policies and issues and so that we could anticipate any upcoming risks to normal operations and act accordingly."
From recession to 'shecession'?
The pandemic threatens to undermine the progress made in gender equality. UN Women has noted that the Covid-19 pandemic has underscored "society's reliance on women both on the front line and at home, while simultaneously exposing structural inequalities across every sphere, from health to the economy, security to social protection. Hard-fought gains for women's rights are also under threat."
Currently we are in the grip of a 'shecession': men were more likely to die of Covid-19, but women were more likely to lose work opportunities. Research by McKinsey indicates that women make up 39% of global employment but account for 54% of overall job losses and due to "a gender-regressive scenario in which no action is taken to counter these effects, we estimate that global GDP growth could be $1tn lower in 2030 than it would be if women's unemployment simply tracked that of men in each sector."
The power of mentors
When you want to progress your career, it helps to have other women by your side who understand your challenges. "I've always been driven to achieve a lot in my working life because of three special women – especially my mentor when I worked in recruitment at News UK," reveals Sarah-Jane McQueen, general manager at CoursesOnline. "Being fortunate enough to have a strong female mentor gave me the confidence to be bold in my approach to work and in my mentality – if I could justify asking for a promotion to myself then I could justify requesting it of someone else with the power to make it happen."
While the pandemic has meant even more childcare responsibilities for many women, McQueen says there is an upside as she is "keen to inspire my daughters to not set any limits as to what they can accomplish, and that women can succeed just as well as men in any walk of life."
Andi Simon, a New York-based corporate anthropologist and author of Rethink: Smashing the Myths of Women in Business points to the appointment of Linda Rendle to CEO at S&P 500 company Clorox as highlighting what women can achieve even in the toughest global circumstances. She argues that the 'glass cliff' research is compelling and women lead better than men.
During her own career, she observed how a typically male "command and control" leadership style in the business world frequently compares unfavourably with female leadership. "Women often think about 'we', not 'I', and we know that," Dr Simon explains. "When you think 'we' there's oxytocin in the brain that comes down and people smile. When you talk about 'I', the aggressive amygdala [a part of the brain thought to play a key role in emotion and behaviour] gets active, the cortisol emerges and people are not trusting."
As we recover from the pandemic and restore our economies and culture, perhaps female leadership has a crucial role to play. At CMI we firmly believe in the business benefits of having diverse, inclusive organisations. That means diversity in terms of age, gender, ethnicity and ability – and now, at a time of unprecedented struggle and as we overlook the cliff edge of Covid-19 and the pandemic, it's time we put these beliefs into action.
CMI invites you to celebrate International Women's Day with us this year as we 'choose to challenge' the way things currently work to create a better future. Sign up to our live webinar on Monday 8 March here.
Here are some CMI resource to help you advance your career:
You might also like these posts on this topic:
Don't miss out - get notified of new content
Sign-up to become a Friend of CMI to recieve our free newsletter for a regular round-up of our latest insight and guidance.
CMI members always see more. For the widest selection of content, including CPD tools and multimedia resources, check out how to get involved with CMI membership.