In honour of International women's day, we're highlighting a group of women who've challenged stereotypes and called out gender bias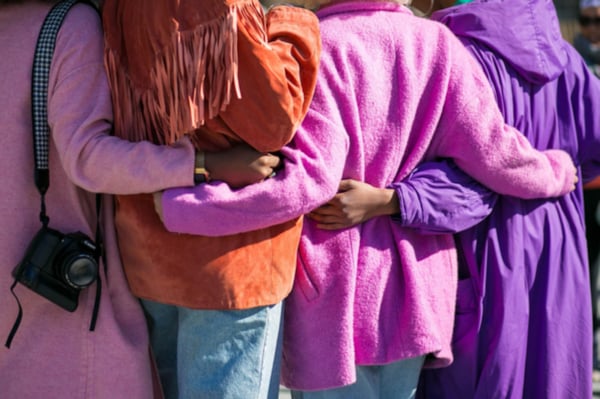 This year, in honour of International Women's Day (IWD), we put out a call to women all over the UK for stories about how they "dared to innovate, lead, and uplift others towards a more equal and inclusive workplace". From the CMI membership community and beyond, we'd like you to meet four extraordinary women who are doing just that...
Donna Kelly, Senior Vice President, CGI
"Growing up, I had a passion for science, but the opportunities available to me as a girl in east London were limited to office or care work, so I decided to become a nurse. However, after having my son, I realised that shift work isn't compatible with being a mother, there was no flexibility, and it was near-impossible to organise child care when I had a night shift.
"I left the fast-paced world of A&E and became a nurse at a factory. It was a good job, but not very challenging, so I often found myself popping into the IT suite next door, and before I knew it, I was assisting on mainframes which resulted in a job offer. The IT team struggled to articulate technical terminology into layman's terms, which I didn't struggle with due to my medical background. As a nurse, you have to communicate clearly and effectively with people from an array of backgrounds and knowledge levels. What's more, you also have to be highly organised with strong problem-solving abilities, both critical traits for IT.
"The role in IT was perfect for me, and I loved my team. However, I still faced challenges as the only woman in the department, including the assumption I was there only to take notes. I was also often excluded from social events.
"My advice to women is don't undersell yourself. Stop focusing on what you can't do, because you can do a hell of a lot. Your strengths are what makes you valuable, and a good employer will work with you to become stronger in any area you feel less confident."
Angela Noon, CFO and Executive Director, Siemens
"I recall my first role in middle management where I was the only female in the leadership team. In the beginning, I noticed that it was always me who was asked to prepare the minutes for each of the meetings. I was certainly younger and less experienced, but equally on the same level or indeed more senior in regard to grading or position to some of the other leaders. I've never been concerned with status so tolerated it for a few weeks until it became very clear to me that it was simply unconscious behaviour from my older male colleagues. It needed to be called out. One day I turned up to the meeting and said, 'You know what, I'm always doing the minutes – why don't we take turns?'
"Everybody in the room went totally silent. There were around 20 people who immediately looked at the CEO.
"...They never asked me again."
Cathy Mulligan, CTO, Public Sector, Fujitsu UK&I
"At every point in my career in computing, I have fought against stereotypes. For example, during an internship at a large investment bank in Sydney, Australia, I was the second woman hired into the networks division. Here I had to ask for a special dispensation to wear trousers to work! At the time, the dress code required women to wear skirts 1.5cm above the knee – not ideal for crawling around on your hands and knees in the ceiling and floor gaps to run cables.
"After my internship, I went on to join a company as one of three women in a building of 1,500 people. At the age of 21 I had to develop a deft sense of humour if I was to manage the constant barrage of sexist comments, including once being told to 'sit in the corner and draw horses like little girls are supposed to do' and 'I'm not sure a woman is capable of understanding this'. I also had to learn evasion techniques for being treated like a secretary and not an engineer.
"Despite some of these challenges, I wouldn't change a thing. Pursuing a career in technology has allowed me to do some incredible things and meet some truly incredible people – from going to the North Pole as a technical support for climate change researchers to travelling to more than 70 countries, including working in the foothill of the Himalayas."
Ewa Ambrosius, Associate Engineer, Perega
"A lot of work has been done in recent years to increase diversity in construction. When I finished my degree, that wasn't yet the case. My first job out of university was on site. Out of 120 people, I was the only woman. While I had to deal with workers who weren't used to seeing women on site along with the occasional joke, I think it helped me build more resilience at a crucial time in my career."
CMI's recent report, Sponsoring Women's Success, highlights the tangible benefits of assisting women through the professional pipeline.
If you want to be involved in CMI's pioneering support network, you can get involved with CMI Women and join the CMI community on Facebook.