Article:
Five ways leading businesses created an effective workplace sponsorship scheme
Thursday 11 April 2019
How to support women in the workplace using sponsorship.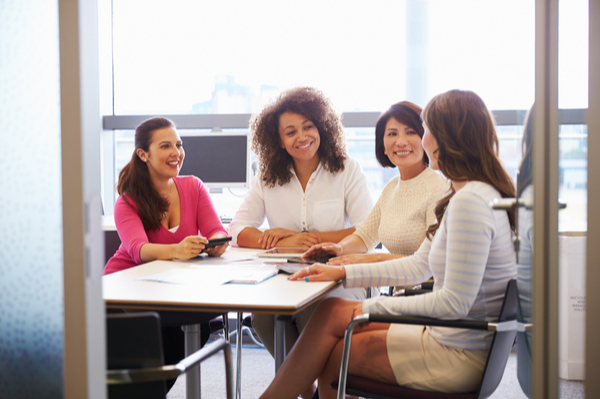 Of all the interventions an organisation can make to improve its gender balance, mentoring and executive sponsorship for women can be among the most powerful. While mentoring prepares people to move up through confidence-building, sponsorship can accelerate careers through personal development and career structuring.
Executive sponsors actively support an individual in the workplace by advocating for their career advancement. They introduce women to other executives with organisational clout, help to identify more challenging strategic assignments and assign women to critical posts.
Currently, CMI research shows 77% of managers have not sponsored an employee or been sponsored. CMI Companion Vanessa Vallely CCMI has said: "I've missed opportunities by not being brave enough to articulate my career aspirations to potential sponsors."
Read more: Vanessa Vallely CCMI on sponsorship
In order to improve gender inclusivity in the workplace, the CMI Blueprint for Balance recommends that executive leadership teams are tasked to sponsor at least one high-potential woman and track their progress. Leaders should also provide guidance to senior and middle managers on how to advocate for others, and support female team members who are being sponsored.
Here are five ways leading businesses support women in the workplace by using sponsorship.
FIVE TIPS TO CREATE AN EFFECTIVE WORKPLACE SPONSORSHIP SCHEME
1. DEFINE WHY YOU NEED A SPONSORSHIP SCHEME
Public identification of the obstacles facing women in the workplace can help all managers relate and bring gender balance policies to life.
When Emma Codd took over as managing partner for talent at Deloitte UK, one of the first things she did was to spend time understanding what was holding women back. "We had a women's network and a target of 25% female partners, but we were seeing a steady decline in women joining us at entry-level and were making slow progress towards our target," she explains.
Her analysis led to a detailed Women in Leadership action plan that includes an advocacy-based sponsorship programme. It builds individuals' confidence by connecting them with a high-ranking executive whose cheerleading aims to boost their career guidance, visibility and credibility in the company.
2. BE OBJECTIVE AND TREAT SPONSORSHIP LIKE ANY OTHER WORK PROJECT
Global investment management firm BlackRock pairs female employees with senior bosses from a different department to attract and retain female talent and share market insight within the organisation. The scheme is underpinned by training to help the individual and their sponsor to make the most of the opportunity.
"We trained [both individuals] in what their respective roles were, how to structure sponsoring sessions, set expectations and created the groundwork to help them get the most out of the relationship," says Kara Helander, global head of philanthropy and diversity.
This tactic ensures both the participants and sponsors feel accountable for making the sponsorship successful.
3. ENCOURAGE MEN TO BE AGENTS OF CHANGE
For sponsorship for women to work, men need to be fully supportive of the process – and this includes being willing to take on the role of sponsor.
The RAF's 'Gender Advocate', Air Vice-Marshal Warren James used his senior position to set an example to fellow male colleagues of how to proactively advocate for women and reject inappropriate behaviours that could affect their safety, happiness and progression.
The Royal Air Force's intentional focus on advancing women has seen RAF board membership evolve to 40% female representation in recent years.
"Setting a top-down example can make a difference," he said. "We have some very good role models and champions at different levels and ranks. I don't need to sell to them why we need women in service. Now is the time to walk the talk."
Read more: The role of men as agents of change
4. SHARE THE RESPONSIBILITY OF SPONSORSHIP
Sponsorship can help women to build 'social capital' or influence in contexts where there are typically fewer of them. In these cases it can be beneficial to have as much support as possible. One interviewee for the CMI Blueprint for Balance report acknowledges that having more than one sponsor has boosted her career in engineering. She says: "I had three men in different parts of the business advocating for me and a line manager who asked them to support my case for promotion while ensuring I had access to more challenging projects."
5. AVOID TOKENISM
Some women avoid participating in initiatives such as sponsorship to avoid being seen as favoured. Real opportunities that allow women to show their abilities help to remove this stigma.
Anik Michaud, group director of corporate relations at mining corporation Anglo American, says that the sponsorship and support of chief executive Mark Cutifani has seen her become a strategic decision-maker at the company. "I wouldn't be remotely where I am without Mark's support," says Michaud, who was appointed to the group management committee (GMC) in 2015. "He is my sponsor and mentor."
In turn, she makes an effort to speak out: "My challenge was to add value by bringing a different angle and voice to how we make policy and strategic decisions… I have never been a shrinking violet and I ask a lot of questions… If there is one thing I cannot stand, it is tokenism. The damage that does to the people who have the credibility to be where they are is incredible."
More recommendations on how to boost gender equality are available in the CMI Blueprint for Balance
Image: Shutterstock