Article:
How to create a truly inclusive organisation
Tuesday 13 October 2020
Inclusion has never been more important for organisations: here's how to embrace it for the long term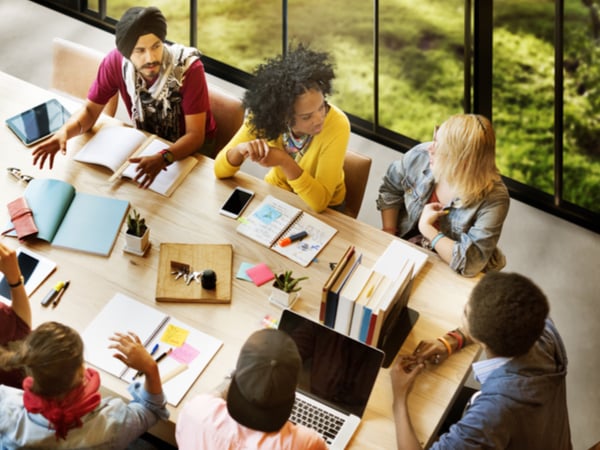 Inclusion has become a critical issue in 2020. The COVID-19 pandemic has highlighted stark differences in recovery rates dependent on economic and ethnic background. The Black Lives Matter movement has put systemic bias under the spotlight.
"We've seen extreme examples of both caring and careless leadership on the international stage, demonstrating actually how inclusion can make the difference between life and death." says Alison Maitland, the co-author of INdivisible alongside Rebekah Steele. "Now, most organisations know that they must do better with diversity and inclusion, but they often struggle with the how."
This was the subject of Maitland and Steele's recent CMI webinar Blueprint for Balance: an Ambitious New Approach to Inclusion, outlining the steps that managers and organisations need to take to create a truly inclusive working environment.
"In our book, we describe inclusion as harnessing the collective superpower of diversity. And we have an ambitious but realistic vision for inclusion, where inclusion is linked to business priorities and comprehensively indivisibly integrated into how the business operates," says Steele. "Because when inclusion flourishes it permeates the whole work environment, and that enables everyone to succeed without leaving anyone out."
Why it matters
Inclusion matters as a risk reduction policy as much as anything else, explain Maitland and Steele. They outline three 'p's – performance, preparedness and purpose. A strong approach to inclusion can help with all of these, from increasing productivity to managing global challenges to meeting the rising expectations of regulators, investors and the workforce.
"We need that incredible diversity of people and ideas to come together to find breakthrough challenges," says Maitland. "And in order to do that, we really need inclusion, inclusive processes to enable people really to contribute their ideas."
A whole-system approach to inclusion
Many organisations focus primarily on individuals and their feelings around belonging or being valued when it comes to inclusion, which is an extremely limited view, explains Steele. "It's also really focused on the workers inside the walls of an organisation and in addition it's not really connected to what's important from a business perspective."
Instead, a comprehensive, whole-system approach to inclusion should be taken to make it work. "It's really about understanding, taking account of and addressing all of the different component parts of organisational inclusion, rather than trying to fix your individual parts in isolation," says Maitland. They outline 10 enablers, under three headings, that businesses should use to really make a difference in their organisations:
Creating connection:
Creating opportunity:
Transparency
Fairness
Choice
Creating common cause:
Shared power
Participation
Support
Shared purpose
All of these 10 enablers need to be in place in order to move inclusion forward in your organisation, they explain.
How to put them into practice
Maitland and Steele outline 50 different ways in which people can build inclusion right away, from the senior leadership to individuals within the organisation. Three of these actions, which specifically use the 10 enablers, were outlined in the webinar:
Senior leaders could set up mutual mentoring with someone with a different perspective and background, with a focus on becoming more inclusive leaders. Use the 10 enablers as a framework for these conversations.
Middle managers should formally commit to improving connection, opportunity and common cause to increase team performance on a critical business project.
Individuals could partner with colleagues to explore which of the enablers are strongest within the team, where improvements could be made and how to address them.
How to measure inclusion effectively
As most companies focus on employee sentiment when it comes to inclusion, measuring inclusion tends to stick to that limited definition too. This is missing out on a huge amount of useful data, Steele explains: "It's not just individuals, it's teams – and of course, it's middle managers and senior leaders. We also have to pay attention to the fact that this is about marginalised populations and groups, as well as the mainstream; it's everyone."
Feelings are important when it comes to inclusion, but so are actions and behaviours. "What's most commonly left out [are] organisational structures and systems and processes that either signal and enhance or hinder inclusion."
External factors and stakeholders should also be taken into account. It's not a 'once and done' thing either – organisations and all the people in it should continuously work to improve inclusion.
"Inclusion shows up in every single interaction you have with another person and you might be inclusive in your first meeting of the day but not in the second," says Steele.
Critical inclusion lessons that everyone should remember:
Without inclusion, diversity is unfulfilled potential
DEI results require a whole indivisible system
Your inclusion strategy must support business goals
Everyone should benefit and everyone should be accountable
Inclusion works inside-out and outside-in
Better metrics demonstrate real impact
You can take practical action immediately
You can watch the webinar in full, and find out more about why inclusive leadership matters now more than ever.
You can also sign up to attend our upcoming CMI Race virtual event: Moving the Dial or our webinar on why inclusive leadership is your most powerful asset.
You might also like these posts on this topic:
Don't miss out - get notified of new content
Sign-up to become a Friend of CMI to recieve our free newsletter for a regular round-up of our latest insight and guidance.
CMI members always see more. For the widest selection of content, including CPD tools and multimedia resources, check out how to get involved with CMI membership.