Some think giving employees more decision-making power leads to chaos and conflict – I believe it invigorates both them and the company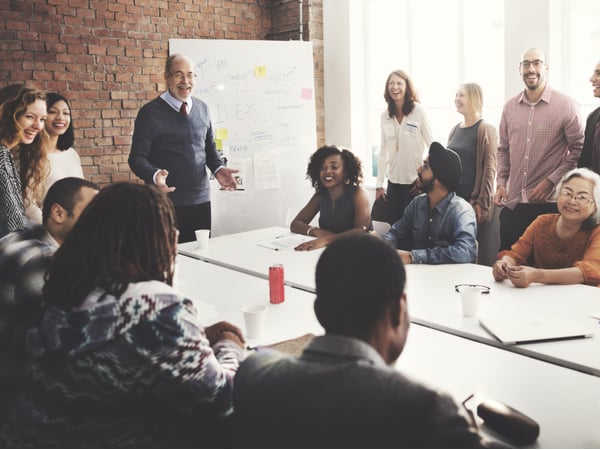 Should managers give their employees more say in decisions? Surely decision-making is the job of leaders? Why on earth hand that power away, especially now, in a time of crisis? For many managers, there is an inconvenient truth about human nature. It is this: when we choose for ourselves, we are far more committed to the outcome. This is something CMI have researched thoroughly as part of their Management Transformed project.
In one experiment, researchers showed that commitment to personal choice was greater by a factor of 5 to 1. To prove this, they gave half of the participants in the experiment a lottery ticket with the numbers already written on it and gave the others a blank piece of paper and asked them to choose their own numbers. The researchers then offered to draw the winning number but paused for a moment to offer to buy back the lottery tickets. They wondered if there would be a difference in how much they would have to pay those who were given a number versus those who chose their own number.
As a lottery is so random, there ought to have been little variation in price. The answer to this question – in experiment after experiment and location after location – was always the same: the researchers had to pay five times more to those who had chosen their own number.
When we choose for ourselves, we are more committed to the outcome. So, a key thought to bear in mind for most managers is that their conversations with staff have to be structured in a way that allows employees to make choices for themselves – as far as is possible. For most leaders, I know, this is extremely difficult. They may enter into conversation with colleagues, listen for a while, and then run out of patience and  impose their decision, rather than lead their team to the right choices. Doing it this way, however, ignores the choice equation. Giving people time to come to the right conclusions and make the right choices is far more inspiring and gains far more commitment than telling them what to do. Think of leadership not as telling people what to do, but rather as getting your team to want what you want them to want.
Enablers of engagement
According to David McLeod CMgr CCMI and Nita Clarke – authors of a report called Engage for Success commissioned by the UK government – there are four key enablers that are found in highly engaged organizations:
visible empowering leadership, providing a strong strategic narrative about the organisation;
engaging managers who focus on their people and give them scope, treat them as individuals, coach and stretch them;
a strong employee voice throughout the organization, where employees are seen as central to solutions;
a strong culture where the values on the wall are reflected in day-to-day behaviours, from top to bottom.
How does engagement impact on performance? The evidence is overwhelming.
Engagement delivers higher productivity and performance, greater levels of innovation, less absenteeism and greater well-being, higher staff retention levels, and better health and safety records. Most importantly, high levels of engagement lead to much greater understanding of customer needs, and therefore higher levels of customer satisfaction and retention.
What leader wouldn't want all that?
In tough times like these – when the global pandemic has caused unprecedented health and well-being pressures, and has devastated countries, companies and economies – getting the very best from employees is our only chance of a successful recovery.
It is the job of the leader to set direction. Good leaders will do this after consulting staff, but they'll be informed by a lot more information besides the views of staff. (They'll be looking at market conditions, competitor activity, economic trends and customer insights, among many other things, to decide on strategic direction.) Of course, some decisions – that may lead to outcomes that could negatively affect a business if someone were to share the information with an outsider, for example – are best left to management and should not be shared with employees. In addition, decisions that require data that only management is privy to should not involve employees.
For all the rest, though, the more employees are involved, the better.
As employees, we know that the leader's job is to make strategic choices. However, when we are in the role of follower, we hate being told exactly how to get there. We like to be given the chance to generate options for the route, and make choices, together, about the best way of getting there. This is what gets our commitment.
If leaders want to achieve this commitment, they must facilitate the right conversations, and deploy great skills in communication to enable them, guide them and keep them happening.
Peter Cheese CMgr CCMI, CEO of the Chartered Institute of Personnel and Development, says that engagement is critically impacted by the manager that you report to – their behaviours, their alignment to the values and purpose that you believe in, and their ability to support and coach you: "Empowerment is about giving others the space to succeed, trusting them to perform within the boundaries that you have set, and aligning them on broader objectives and goals," he says. "Being empowered is itself engaging but it also comes with responsibility and accountability. Empowerment therefore requires trusting delegation and a huge amount of conversation to enable success."
Your people want to be heard
Sir Damon Buffini was a founding partner of the private equity company Permira, and is a Governor of the Wellcome Trust, a global charity dedicated to improving global health and wellbeing. He says his style was to set aggressive goals and then sit down to discuss with people how to achieve them.
"When you do that, people are going to want to talk with you about what their concerns are, and they are going to want to feel that you are engaged," he says. "You set the direction but then you consult on the how, that's how you create buy-in. Getting people engaged in your vision is fundamental to any business. The only way to get people engaged is if they have had some input into the process. The only way they can have input into the process is if you sit down to talk with them about it."
Conversations are crucial because your people want to be heard. They care about the organisation that they work for; they want to contribute to thinking and want to give their opinions to their leaders. It is really important for them to have that opportunity. When leaders do sit down with employees to talk, you get a lot of really good ideas. People on the shop floor are often more in tune than most boardrooms, so you find out what is actually going on.
More autonomy, more leaders
I know a lot of leaders feel that conversations can take too long – but actually, it's quicker and more effective overall. It is much easier to inspire people if you know where they are coming from, if you know and understand what their issues are. It is only through these conversations that you can encourage and support and inspire others to achieve. Aligning people to your vision, values and goals is the most important conversation of all. Have your people seen the organisations purpose and values, do they know what the overall targets are for this year and do they know what the strategic priorities are? Can they directly translate these into their jobs? Can they talk about how what they do delivers the corporate purpose? Can they translate the values of the organisation into their daily behaviours?
This conversation – how to contribute to the corporate purpose, values and goals – is what creates organisational alignment. It is why the leaders I have spoken to say they spend 80% of their time communicating purpose and values. With a clear understanding of this framework, everybody in the organisation has enough information to make decisions without having to keep going back up the line – creating agility, responsiveness and empowered employees.
When leaders create a framework for decision-making and empowerment, they enable their teams to be more autonomous. With that autonomy comes a leap in productivity. Great managers spend time inspiring the confidence in employees to make their own decisions and deliver exceptional results. So, the trick is to ensure that they understand perfectly the purpose, vision, goals and values that you have defined as a 'freedom framework', within which they are fully entitled to make decisions when you are not in the room.
Leaders today know they need to create more leaders, throughout their organisations, if they in turn are going to create more agile, responsive and faster companies.
Debbie Hewitt, Non-Executive Chairman of The Restaurant Group plc, Visa Europe Limited and White Stuff Limited says that: "As a leader I am obsessed with the idea of how you are present when you are not present. What I mean is, how do you lead in a way that enables your people everywhere to make decisions, even if you're not there, because they know exactly what the mission is, what your values are, and what decision really matters to the success of the company. As a company gets bigger it is so important that everyone carries that leadership mantle and feels empowered to deliver it."
Creating a workplace that makes your employees feel embedded in the culture and purpose is vital to success. It's not just us who think that – it's in our brand-new Management Transformed research, and the data doesn't lie.
You might also like these posts on this topic:
Don't miss out - get notified of new content
Sign-up to become a Friend of CMI to recieve our free newsletter for a regular round-up of our latest insight and guidance.
CMI members always see more. For the widest selection of content, including CPD tools and multimedia resources, check out how to get involved with CMI membership.