Article:
Lord Mark Price: my management principles
Tuesday 12 January 2021
Lord Mark Price, CMI's president, shares the experiences that shaped his management, and the leadership qualities you'll need in the year ahead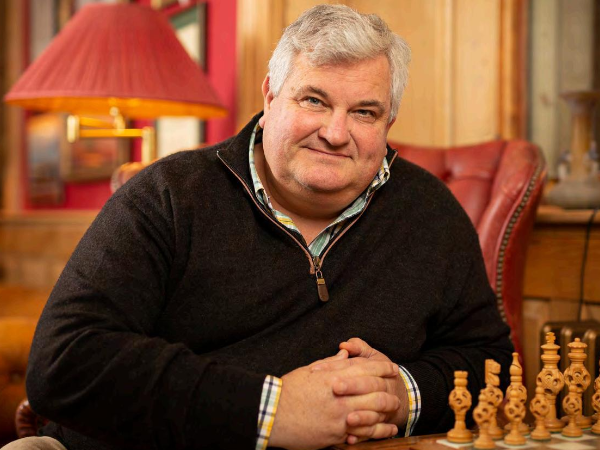 The son of a small business owner, Mark Price initially wanted to be a professional golfer. He started his career at John Lewis & Partners where he spent 34 years, eventually becoming managing director of Waitrose. Today, he's the founder of WorkL, a technology startup that uses data to throw light on the issues around employee engagement, as well as CMI's president.
Mark is driven by the principles of fairness, equality and healthy competition. He is a firm believer in the value of self-reflection, which he practises every day in his personal diary.
In this interview with CMI's chief executive Ann Francke OBE, he talks about his life and management journey, as well as the issues raised by CMI's recent Management Transformed study.
Mark's management principles
Everybody's opinion matters
"My dad was a preacher at the weekends, and he taught me some important lessons about everybody being equal. Nobody's better than anybody else, so you should respect everybody's point of view. That was a great training for when I went into the John Lewis Partnership, which is owned by everybody in the business.
"It's really important to listen to everybody's point of view. It's always legitimate because it's born from their experience. I suppose those things combined have really driven my approach and my belief that a decentralised model of management helps the individual flourish, provided they have the confidence to do it, the support to do it, and the training to do it."
You're never the finished article
"Throughout my business life, every night, I write a short diary entry about what I got wrong and right, and what I've learned. I have never felt that I'm the finished article. An approach that might have worked a week ago is not necessarily the best approach. I constantly reflect on the circumstances around my actions and decisions."
You can't over-communicate
"The lesson I learned from 34 years in the John Lewis Partnership was that sharing information is the single most important thing to do to help people feel engaged. And at the moment, it's almost impossible to over-communicate.
"I'm sure some people will say, 'My goodness, there's a lot of Zoom calls and there's a lot of communication', but what CMI's Management Transformed study shows is a peak of people at the moment feeling better informed and better looked after. They feel more empowered than they ever have.
"That's because managers have had to change their approach. Managers have had to trust people to get on with their jobs remotely. They've had to give people the information they need to do those jobs."
Manage your people's wellbeing
"The job of management is to make sure that the people in their charge are very clear on their task; they have to give people the information and the resources they need to complete that task in the most efficient way. Managers also need to make sure that people are at the top of their game, and if they're suffering in some way – mentally, physically or financially – they help them on an individual basis.
"That's very different from the leadership of an organisation. What the leadership has to do is to set a direction. As a leader, you should send very tangible and visible signals that you're going to hold your management accountable for the wellbeing of the workforce."
Build a culture of engagement
CMI's Management Transformed study found that 49% of senior leaders say their employees have been more engaged during the Covid-19 crisis. But only 27% of employees themselves said they felt more engaged. How can we close the gap between the perceptions of senior leaders and the actual feelings of employees? Here's Mark's view:
"My view of engagement is that it rests on a number of things. People are engaged when:
• They're paid fairly
• They get recognition when they do something well
• They have the information to do their job well
• They have the context to understand their role within the organisation and why their part of the jigsaw is important
• They feel trusted and respected
• They have the resources to do their job;
• They feel that the organisation genuinely cares for their wellbeing ('If it doesn't, why should I care for it?')
• They feel pride for the organisation
• They have a good relationship with their line manager
• They feel the organisation is helping their career.
"The way you change a culture is by demonstrating, every day, your new values. Every manager has to follow that through. It doesn't take six months. It takes years of repetition.
"You have to make sure that your immediate group of ten really embodies what you want to do; and they have to make sure their group of ten do the same, and then their group of ten, and their group of ten... That's why it takes time.
"And people have got to be prepared to call each other out when the culture isn't being demonstrated. It starts with clear vision and communication from the top down. I was prepared to lose really high performers to bring about cultural change. What's interesting is that the people who succeeded them turned out to be equally high performers, but also had the cultural fit. That's how you create the culture, because people see that you're not prepared to tolerate when it doesn't fit. I've always believed that 80% of management and leadership is picking the right people around you. The rest is very simple."
Why does Mark believe that groups of ten are so important in management? Watch this to find out…
You can watch Ann's full interview with Mark on CMI's You Tube channel.
This piece was originally published in CMI's exclusive member magazine – sign in and read it here.
Photo of Lord Mark Price © Will Amlot
You might also like these posts on this topic:
Don't miss out - get notified of new content
Sign-up to become a Friend of CMI to recieve our free newsletter for a regular round-up of our latest insight and guidance.
CMI members always see more. For the widest selection of content, including CPD tools and multimedia resources, check out how to get involved with CMI membership.