The author of this year's CMI Management Book of the Year Simon Fanshawe on The Power of Difference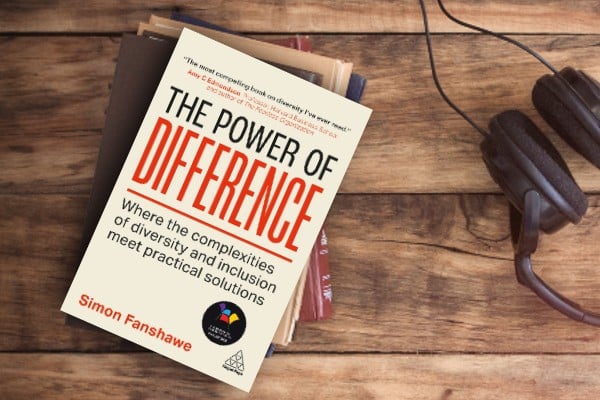 Simon Fanshawe is in a very good mood. He's just been told that his book The Power of Difference is the winner of the 2022 CMI's Management Book of the Year award. "I've discovered that lots of people who are not in business are finding the book quite useful, which is delightful," he says, beaming. The win is vindication that he has been successful in what he set out to achieve – to write a book with as broad an appeal as possible that talks about the complexities of inclusivity in as human, warm and welcoming way as possible.
Fanshawe is best known for being co-founder of Stonewall, the lesbian, gay, bisexual and transgender rights charity in the UK, but is now co-founder of Diversity by Design, where he works with private, public and third-sector organisations to improve the diversity of their talent and the inclusivity of their culture. The book, he explains, was a lockdown project that became a way for him to share everything he has learned about the subject through the stories that have been shared with him over a lifetime of working to improve inclusivity. Fanshawe's writing style is witty, wry and intelligent. It comes as no surprise that he started his career in stand-up comedy.
You have to do it in a way that's about dialogue; it's not about division
"What I wanted to do was to try and tell stories which help people to understand how to make practical changes in a way that was really about how they got on with other people," he says. If we spend most of our lives at work, then "it's kind of important that we enjoy it, but I think it's most important that we feel we can really contribute". The way to achieve this, he argues, is by creating a strong sense of trust in each other and by being able to disagree in good faith. In 2023, this is easier said than done.
Keep reading to discover Simon Fanshawe's messages for managers
Register for Free Access
Not yet a Member, Subscriber or Friend? Register as a CMI Friend for free, and get access to this and many other exclusive resources, as well as weekly updates straight to your inbox.
You have successfully registered
As a CMI Friend, you now have access to whole range of CMI Friendship benefits.
Please login to the left to confirm your registration and access the article.