Article:
Simple Business Lessons to Be Learnt From 4 British Companies
Friday 19 August 2016
Sometimes simple is best, and these top tips will help drive your business on to greater success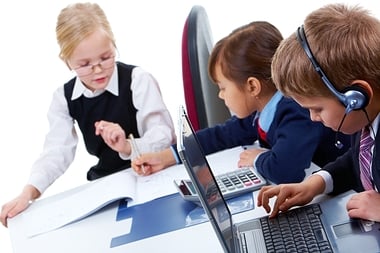 Business classes can only teach you so much about being successful. In the end the very best advice will come from those who have been there and have learned along the way
There are some things you just won't find in a textbook, and it is these tips that will help to transform your business from one that is just existing to one that is thriving.
To help you out, here are some of the best kept secrets from businesses across Britain, and their top four tips to succeeding in the real world.
Try to Cater to Everyone - Look Out for Employees With Transferable Skills
Whether you're an up-and-coming SME or a large corporation, your customers always need to come first.
But considering and catering to as many as possible, whether that's by offering additional and more convenient services to those who need them or ensuring all your premises are accessible, will stand you in good stead.
Ashleigh Richard, Head Dental Nurse with Europe's largest dental treatment provider mydentist has skills that can reach as many people as possible.
Richard is fluent in five languages, and one of them is sign language, which she uses with any hearing-impaired patients.
"I enjoy using it when I get the chance," she said. "It's nice when I can form an intimate relationship with patients and offer them the same care and attention."
Skills like sign language are few and far between, but they could certainly help you provide a better service for patients who may not see such a unique level of service that often.
So if you come across a CV with a lesser known skill listed, don't discount it as you never know what it could bring to your business.
Focus on Training and Development
Retaining and developing the best talent is essential for all businesses to grow and expand, and one sure-fire way to do this is to give your staff plenty of opportunity to learn and improve their skillsets.
It's not only beneficial for them; ensuring that your employees are adding new strings to their bow will take your business further than ever.
Your training plan doesn't have to break the bank; encourage other members of your staff to share their expertise with one another and swap skills with members of other teams.
Robbie Clutton, Director at Pivotal Labs said: "We have frequent 'Lunch and Learn' sessions for both our staff and other members of the industry. Aiming to broaden the skills base of our workforce, we work hard to curate a wide range of topics: from highly technical subject matters - through to more business-focused themes. We want to establish ourselves as a central pillar in the technology community, giving staff a platform to share knowledge and inform peers about topics on which they are truly passionate.
"Exposing employees to as much relevant information as we can, from all sides of the industry, not only helps increase their own talents but allows them to communicate and collaborate more freely with their colleagues."
Keep Employee Engagement at the Heart of Your Enterprise
Employees are the lifeblood of your business, but there is a big difference between a happy employee and an engaged one.
The former may have a smile on their face, but they may also clock out as soon as the clock strikes five. On the other hand, the latter will go above and beyond, making an internal project a little better or going out of their way to help one more customer.
The benefits of employee engagement are huge, ranging from higher rates of staff retention, reduced sick days and absences, higher productivity, higher customer loyalty and stronger teams.
David Ingram, Managing Director of digital marketing agency Bring Digital, believes that all businesses can focus on employee engagement without making it complicated.
"Great employee engagement doesn't have to be difficult or expensive," he said. "Whilst parties and fun days out are great for staff morale, it's not always what people really want from their employers. They want careers, to feel valued and to feel part of something bigger, and all of these can be part of your efforts to improve employee engagement.
"Why not establish progression plans for each employee, with set criteria they have to meet for their next target? Open and honest communication about the inner workings of your business goes a long way, and shouting about achievements can really give things a boost."
Think Outside the Box
When faced with a difficult situation, it's easy to just throw in the towel and walk away. But a little creativity can truly go a long way towards helping out your customers and can leave a memorable impression.
Going above and beyond is what will encourage them to spread the word about you to their friends and family.
Matt Deighton, Managing Director at Sofas by Saxon, said you shouldn't be afraid to go the extra mile and do whatever you can to deliver for your customers.
"Over the years, we've learned a lot about offering fantastic customer service. For example, in the lead-up to Christmas, our delivery teams are under a lot of pressure to ensure our customers receive their orders on time," he said. "Last year we arrived in the Lake District and our vehicle couldn't get close enough to our customer's home. Determined not to be beaten, our delivery team asked whether there was anything they could use to transport the furniture to their door safely. Fortunately there was a sledge and the guys - with a lot of effort - used it to successfully deliver the order.
"This taught us that customer service can take some creative thinking and our workers need the freedom to make decisions based on any hurdles they come up against."