Article:
The epidemic of hidden overtime: what managers need to know
Written by Mark Rowland
Wednesday 13 October 2021
The rise of remote work has blurred boundaries and left some employees set to 'always on' – what's the cure?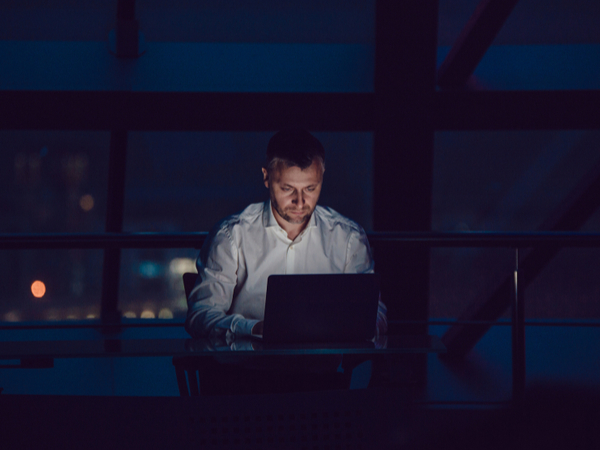 Renowned electrical engineering professor Adrian David Cheok was about to make a big change in his life. He'd been working as a director of the Imagineering Institute in Malaysia, and was about to become a professor at i-University in Tokyo. It was an exciting move, and his first big change since being awarded  the Order of Australia – the highest honour from his native country – in 2019. He was set to start his new role on 1 April 2020.
In the intervening months after Malaysia shut down, Adrian waited for his chance to get to Tokyo while delivering his lectures remotely. Friends and colleagues reassured him it would only be for a short while, but the pandemic kept stretching on.
At the same time, his home life got tougher; as a single dad with a busy job, he was reliant on certain support and comforts in order to juggle the two. He and his daughter would go out for meals regularly, and they had a maid to help with housework. That was now all gone. Adrian had to build cooking family meals and running the house into his routine – even learning to bake bread as it became so hard to buy it. He'd never been good at switching off, and now his work and home life were clashing severely.
"I'd have to think about what day of the week it was, because every day was essentially the same. Working at a university is like a seven day a week job, which makes it more difficult to separate professional and homelife. It all merged."
Unable to disconnect and relentlessly doom-scrolling, Adrian was struggling without much of a routine, as well as anxious about keeping his new job. He realised he was falling into a hole of anxiety, depression and burnout. Something had to give.
Learn how to look after yourself and your employees
Follow the Balancing Work and Life learning path from the CMI member Career Development Centre to learn more about work-life balance and how to communicate about it.
Start your learning journey now
Adrian could see a medical centre from his balcony, the one light on a street where all other businesses were closed. He walked across the road into the medical centre, which was empty except for one other patient ("people were too scared to go to the doctor"). He saw a psychiatrist, who gave him some medication for his anxiety.
This helped him take steps to make some healthier changes to his work and home life. The doom-scrolling had to stop. He is now back in Adelaide, where he grew up, after a stint in the US (Japan still hasn't really opened its borders to foreign workers). He and his daughter have put together a solid routine that involves a break in the middle of the day for exercise, and some time in the evening to relax in front of the TV – something they never used to do.
"It's very different from my previous routine, which was either working like crazy in the laboratory, building electronics, or flying off to conferences. I spent almost every week on an international flight. I thought it was so great, then. But now, the last place that I want to be is stuck with 200 people in a metal tube."
An epidemic of overworking
Adrian's situation might involve more international travel than the average person, but it reflects a wider problem. The new, remote, 'digital first' working environment has created "an epidemic of hidden overtime", according to think tank Autonomy.
"It seems to be significantly more prevalent with people working from home," says Phil Jones, core researcher at Autonomy. "By April 2020, a third of all those in employment who had not been furloughed were working more hours than usual. Another study suggests that the working day had consistently been extended by an average of 49 minutes."
This is reflected in a global survey by Atlassian, which found that even people without caregiving responsibilities are struggling to delineate between work and personal time, working long hours without a break. Over half of respondents said it was harder to maintain a work-life balance and almost a quarter (23%) said they thought more about work during off hours than they used to.
This can lead to a feeling of never being off, which can cause stress and burnout, says Phil. "Those who are working from home are at greater risk because there is already less of a distinction between work and leisure time. Women are at a higher risk than men due to the fact they often take on the 'second shift' of cleaning and caring for family members."
What's the cure?
How managers should respond to this 'always on' culture depends from company to company, says Phil. Some companies might put significant pressure on people to work beyond contracted hours. "The real issue is a culture that places continual pressure on all of us to work ever-harder and be more productive."
Managers should set a work culture where workers are not encouraged or forced to work beyond what they're contracted to do. "If they have regular contact with their workers and a good relationship with them, then discussing overwork as a problem for both the organisation and individual should not be too difficult."
Autonomy has recommended a 'right to disconnect' amendment to the Employment Rights Act to strengthen workers rights. Phil says this is the easiest and most efficient way of implementing the policy. "Rather than draw up a whole new piece of legislation it makes sense to amend what already exists."
Phil recommends that businesses adopt this suggested amendment whether it's enshrined in law or not. "This sets a standard of best practice and lets workers know they are not expected to work beyond their contracted hours."
And the key once you've set clear expectations? Make sure you don't just talk the talk – set a good example for your employees too.
Are you struggling with overwork, stress or burnout? If so, CMI has partnered with Kooth, the UK's leading online mental health platform, to provide our members with a free, safe and anonymous space for online support and counselling. Find out more now.
Image: Shutterstock/Freeman Studio
You might also like these posts on this topic:
Don't miss out - get notified of new content
Sign-up to become a Friend of CMI to recieve our free newsletter for a regular round-up of our latest insight and guidance.
CMI members always see more. For the widest selection of content, including CPD tools and multimedia resources, check out how to get involved with CMI membership.