Article:
Three inspiring stories of apprentices for NAW 2021
Wednesday 10 February 2021
You learn on the job. You build your own network. You showcase your skills. Three real-life stories of how the apprenticeships helps transform careers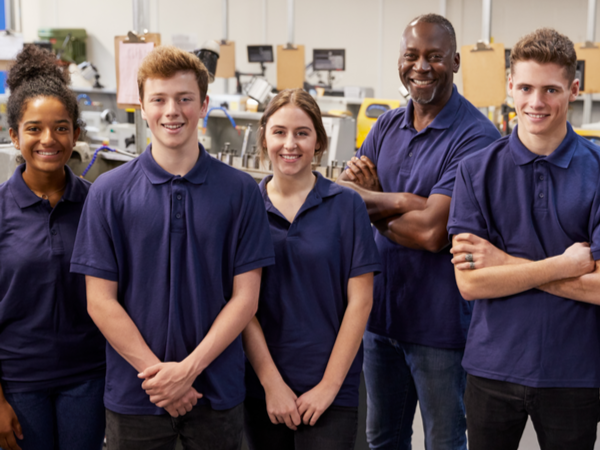 The theme for National Apprenticeship Week 2021 is 'Build the Future,' celebrating the motivational stories of how apprentices have helped businesses adapt and build during a difficult year. We spoke to some of our apprentices to showcase their experiences and help you decide if an apprenticeship is right for you and your goals. Apprenticeships are a fantastic way of earning a salary and studying - it is the best of both worlds and is a fantastic opportunity to see first-hand the goings-on in a professional working environment.
In a webinar hosted as part of NAW 2021, we spoke to John Crossan, talent development partner at NG Bailey, a family owned, independent engineering and services business, about how apprenticeships transform businesses.
"We recruited our first apprentice in 1934, and we've recruited apprentices every single year since," says John. "That's been the lifeblood of our business, and will continue to be so. We have about 200 [apprentices] in the business at any one point in time."
When talking about the benefits of NG Bailey's apprenticeship scheme, he says that the personal development of the apprenticeships are the greatest moments of accomplishment, and they have positive repercussions at many different levels of the business.
"The more personal aspects, around self-awareness, around people's confidence growing, of people more willing to speak up and make decisions de-risks the business. There are tangible benefits to these intangible [skills], which are huge and life-changing."
You can watch this webinar in full here. You can also take a look at CMI's events and webinars throughout National Apprentice Week here and share your own story with us on social using #ApprenticeManager.
Marcus Van Sertima, BT Security
After finding out about the apprenticeship opportunity from his employer, Marcus embarked upon a Level 5 management apprenticeship.
"The apprenticeship has provided me with a breadth of professional knowledge and skills, covering: operational management, project management, leading and managing people, change, stakeholders, finance and much more," he says. "By applying my newly acquired professional knowledge and skills, I have been able to better manage and lead my team, as well as better support my organisation in realising its strategy. As an example, prior to allocating tasks to team members, I now spend more time better understanding team members' individual behavioural strengths and weaknesses. This helps me to allocate the right tasks to the right people and develop my team members more effectively. The result – a better-performing team."
El Longden, BBC
El started her CMDA Apprenticeship with the BBC after leaving school at 18, looking to get a head start into her career without going down the traditional higher education route.
"I have always been quite ambitious by nature. I knew going through school that I wanted to get into working straight away, whatever form that might be. I didn't find school very fulfilling and, for me, university looked like an extension of school," El says. "By the end of my apprenticeship I will have the qualifications that represent what I have learnt, but what I value the most is the experience I will have of working for such an incredible organisation from the age of 18.
""Confidence, resilience and ambition are just three of the things that I have developed as a result of my management apprenticeship. I have learnt so much about myself in just 18 months working at the BBC, imagine what I could develop at the end of it! Being one of the youngest people in my first team I had to learn very quickly the ways of the working world, I have learnt so much from the people I have worked with."
Max May Director and CEO, Rural Arts
Max first started his career with Rural Arts as a volunteer, then started the SLMDA after being approached by the local council's apprenticeship team. This enabled him to work and learn at the same time – and become CEO in just 5 years.
"It was such a brilliant opportunity, and was the first time I had really thought about an apprenticeship as something you could pursue at any stage in your career – rather than when you're just starting out," Max says. "I've just finished the first of 4 modules on the SLMDA. It provides masters-level training that allows me to work and study at the same time, and most importantly, to apply my learning from day one. Flexibility of training is important at any stage, but particularly during COVID where people may understandably be reluctant to leave the labour market to pursue further training."
And if you'd like to find out more about Management Apprenticeships, visit CMI's hub. We believe that leadership and management apprenticeships are among the most effective ways to develop the capabilities and boost the performance of managers and leaders.
You might also like these posts on this topic:
Don't miss out - get notified of new content
Sign-up to become a Friend of CMI to recieve our free newsletter for a regular round-up of our latest insight and guidance.
CMI members always see more. For the widest selection of content, including CPD tools and multimedia resources, check out how to get involved with CMI membership.