It's never been more important to probe what's going on around you and monitor your external environment. We asked some managers how they embed horizon scanning into their practice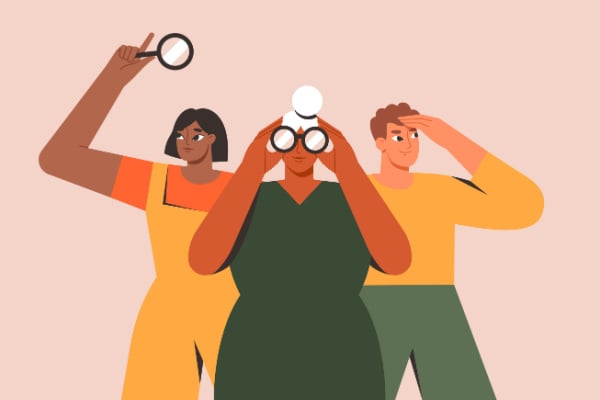 With Covid, Brexit, the cost of living crisis and the rapid development of AI, the external environment in which organisations operate is changing faster than ever before. Leaders must constantly leverage their awareness of what's going on to manage and plan for potential change and disruption. 
Paul Atkins CMgr FCMI is well aware of this in his role as head of supply chain and logistics at ice cream company Little Moons. "You now have to be much more aware of the machinations of the global supply chain and how they are going to affect your business than you've ever had to before."
Determined to lean into any potential Brexit challenges, the team at Little Moons took a deep dive into the wider context. This involved going on very detailed Brexit-related courses.
"I learnt loads and it gave us a good overview of how we were likely to be impacted, how fit for purpose our planning was and whether we needed extra staff to deal with the significant amount of administration and paperwork," says Paul. "We continued to send this core team on various courses as the new legislation kicked in, so we had as much knowledge and expertise as possible."
Watch this: CMI's Brexit Teach-In
"What's the context?"
Whatever business decision you're making, context provides an important frame and starting point, says strategy consultant David Booth.
"You need to have an honest, objective and deep understanding of what the context is," he says. "Leaders can sometimes focus too much on one aspect, such as market share or competitors, rather than thinking about what might influence longer-term trends."
Want to learn how to embed horizon scanning into your practice?
Register for Free Access
Not yet a Member, Subscriber or Friend? Register as a CMI Friend for free, and get access to this and many other exclusive resources, as well as weekly updates straight to your inbox.
You have successfully registered
As a CMI Friend, you now have access to whole range of CMI Friendship benefits.
Please login to the left to confirm your registration and access the article.