In a recent CMI Companions webinar, experienced non-executive directors from various sectors discussed the true value that they can bring to an organisation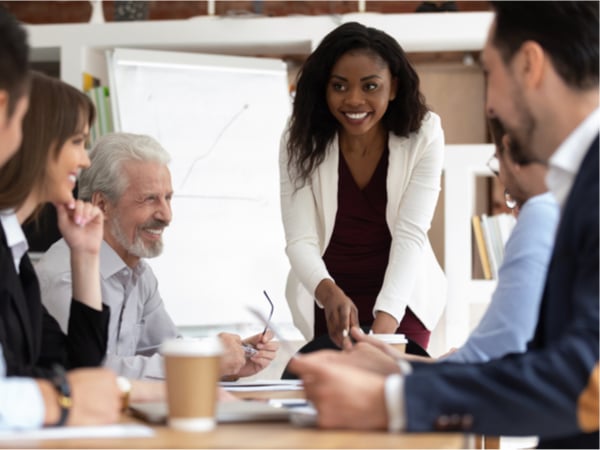 Being a non-executive director is all about "eyes in, fingers out", says Ian Muir CMgr CCMI, non-executive director of the Architects Registration Board.
"It's about the provision of effective challenge and support, and it's important to get that in equal measure," Muir told delegates at a recent CMI Companions webinar.
The role of the non-executive director (NED) is all about setting an ethical compass, he said. It's the tone from the top, good governance, the external perspective. "Increasingly, as boards are getting smaller, the role of the non-executive is bringing in deep, additional expertise that isn't necessarily there within the executive group."
"There's something about asking the questions that aren't being discussed in the business," said Philippa Charles CMgr CCMI, a NED for a not-for-profit bank.
Bill Moore CMgr CCMI, a private-sector NED, added that NEDs should look to "present opportunities for the company to progress". Some organisations need crisis management, others are ambitious for expansion. For many, progress is about social responsibility.
Charles mentioned the Environmental, Social, and Corporate Governance (ESG) agenda, which is changing very rapidly and is quite complex. Businesses are under increasing scrutiny and pressure to show they are committed to ESG issues. NEDs can elicit and push conversations that might not otherwise happen when operational executives are focused on the everyday running of the business.
Which companies can benefit from a NED?
Receiving expert advice and opinions from a place independent from the company's daily operations is valuable to most businesses – particularly smaller ones, added Nick Kuenssberg CMgr CCMI, who works with public sector, third sector and private sector businesses, including startups.
"The one-person company starting up needs a non-exec," Kuenssberg said. "Whether you call it a non-exec or a mentor doesn't actually matter. But I think that any organisation focusing on the operation – and there's nothing like focusing on an operation when you're a one-person startup – actually needs to have that individual at their shoulder."
Learn more about being a non-exec
As a CMI member you can boost your knowledge with this exclusive e-learning course and checklist from the CMI Career Development Centre and Management Direct portals exploring the role and responsibilities of a NED and how to make a success of the job.
Complete the course
Check out the checklist
How do you onboard a NED?
To enable NEDs to provide the most value, they need a good understanding of the business and how it works. "Several boards that I joined originally didn't have a proper induction process," said Moore, who now insists on boards having one in place. "This idea that somebody can just come in and understand the business and provide the necessary insights just doesn't hold water."
There also needs to be a trusting relationship between a NED and the rest of the business. "If you don't have trust between the chief exec and the chairman or the non-exec, then you're on a hiding to nothing and you'll get nowhere," Kuenssberg said. "But with a good rapport, we can contribute a huge amount more than our specific skills."
What are the signs of a successful NED?
A good NED will spot things that directors otherwise might not see, looking at the business from an outside view. If there comes a point where a NED cannot do this, they can lose their effectiveness in their role.
A fixed term for a NED is essential, said NED Michael Winslow CMgr CCMI: "People need to be refreshed and bring new perspectives. The non-exec sees things that other people can't see because they're walking past them every day. And if they're there too long, or they stop seeing stuff, they therefore stop asking the important questions."
As boards are not just individuals, it's also about evaluating the group's overall success, rather than just the individual merit of a NED. This is where diversity is crucial. Different perspectives and life experiences on a board provide a better overview of the business and more viewpoints that leaders may otherwise miss.
Phil Spence CMgr CCMI, chief operating officer of the British Library, who has served on boards for many years, said: "The actual success of the board or the collective non-exec should be greater than the sum of the parts. Having a board that's representative of its users and staff [is important] so that it can represent the real, lived experience of people that it's working with."
Neil Reynolds CMgr CCMI, who sits on many boards, said it's sometimes easy to underestimate NEDs but, used in the right way, they can be invaluable. "They're certainly not ceremonial. Historically, they've been looked at like that. But these are real roles for the future success of a company."
Interested in this discussion? CMI Chartered Companions are role models committed to developing a new generation of inspiring leaders and managers. As a CMI member, you can nominate inspirational senior leaders – including yourself – to be considered for this accolade and associated benefits, including invitations to participate in these roundtable discussions.
Image: Shutterstock/fizkes
You might also like these posts on this topic:
Don't miss out - get notified of new content
Sign-up to become a Friend of CMI to recieve our free newsletter for a regular round-up of our latest insight and guidance.
CMI members always see more. For the widest selection of content, including CPD tools and multimedia resources, check out how to get involved with CMI membership.