Blog:
A day in the life of Dr Ajit Menon: organisational development consultant
Written by Dr Ajit Menon
Tuesday 23 November 2021
Ajit tells us how to select a business partner, the importance of bedtime stories and how he solves complex cultural problems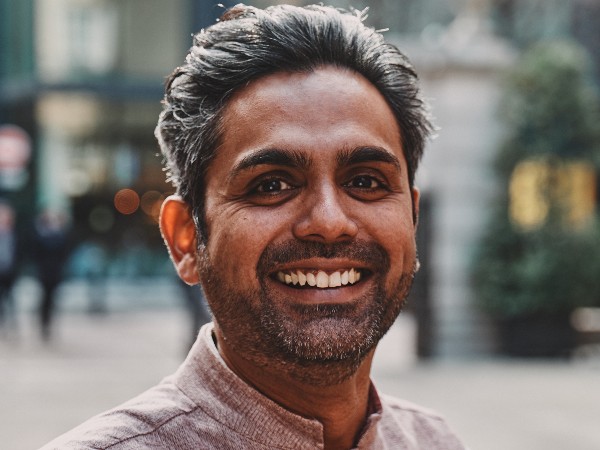 Role
I am a business psychologist, consultant and co-founder of organisational consultancy Blacklight Advisory Ltd. I work with organisations to solve complex problems surrounding culture and behavioural change.
My journey
I trained as an industrial and organisational psychologist in India. My first job after university was working for Tata Motors in their HR department. Although it was an in-house role, I was acting more in a consultancy capacity. It made me realise that that's what really excited me. So, I went into consulting in India – specialising in what was then known as organisation transformation.
Wanting to train further, I then decided to relocate to study Organisational and Social Psychology at the London School of Economics.
While there I met Dr Caryn Solomon – she had come to deliver a guest lecture and I ended up getting into a debate with her. Afterwards, I apologised for being so incorrigible and – much to my surprise – she said that was the core quality she looked for in team members and offered me a job! It taught me to never be scared to be yourself. I joined her team at Investec Bank, and these were really my growing up years. Caryn also became a real mentor to me, shaping my career and business thinking to this day.
Then the financial crash happened, and I moved to KPMG. It was a brilliant opportunity to get right in the thick of it, developing my expertise in behavioural and cultural change.
All of these roles helped me develop the skillset, knowledge and experience to set up my own organisational consultancy, Blacklight Advisory, with my business partner Andy Lyon in 2013. Over the last eight years there have been many ups (hiring our first employee) and downs (when we first started up and the phone didn't ring) – and these taught us to keep faith.
How did you find the process of selecting a business partner?
Finding a business partner is never easy – you are technically almost married to them. One of the most important things is ensuring you have the same goals and values. For example, family is important to both Andy and I, so we immediately introduced our families to each other to ensure everyone would get on. He has now become family, and we can have difficult conversations with the security of knowing our relationship is so strong.
A typical day
I bookend my day with activities that boost my physical and mental wellbeing. I am a Buddhist and I chant first thing in the morning.
I start my workday by checking in with my business partner Andy – we work in a hybrid, remote way so this is really important. I'll then call around the rest of the team to check everyone's okay and chat through clients, how projects are progressing, etc.
Next, I may do a coaching session with a senior leader or CEO – these usually last for around an hour-and-a-half and involve coaching them through any challenges they're facing in dealing with strategic change issues.
I'll then often sit in on a client's board or exec meeting, as an active facilitator for senior leaders. This allows me to really look at what is stopping a group of leaders at an organisation from functioning and getting to the point they need to get to in order to achieve strategic change. My role in these meetings is to hold up a mirror to what's really happening and help them through it. The key is to show that everyone has a voice, ensure everyone is being heard and ask the 'wicked' questions, as I call them – the ones no one is asking – to get the group unstuck.
Often a couple of times a week  I find myself running leadership development programmes with groups of senior leaders. This involves some theoretical input, active facilitation, and workshops.
If I'm not in a client meeting, I'm usually in a new business development meeting or pitching to win new clients. Most days I'm also on calls or in meetings with clients speaking to them about what they're going through and how to handle it.
Do you have any non-negotiable blocked out time?
Wherever I am in the world, at 7:30pm UK time I have storytime with my son. This is a non-negotiable boundary for me. If it means I need to call home from a meeting, I will. I stop the meeting or tell them I need to step out to make a call.
My days are usually quite varied, and I love that. One of the most important things for me to ensure the day ahead goes well is to make sure my appointments are spaced out sufficiently so I can do things in a considered way and have enough time to replenish before going on to the next thing. Days when I can't catch my breath don't work – you must go slow to go fast and take a second to recharge your batteries before you go on to the next thing. Otherwise, you just get overwhelmed.
I always make sure I fit in some form of exercise in the evening so I can replenish my body again. Then, last thing in the evening, I chant once again to finish the day off.
Image: Ajit Menon
You might also like these posts on this topic:
Don't miss out - get notified of new content
Sign-up to become a Friend of CMI to recieve our free newsletter for a regular round-up of our latest insight and guidance.
CMI members always see more. For the widest selection of content, including CPD tools and multimedia resources, check out how to get involved with CMI membership.